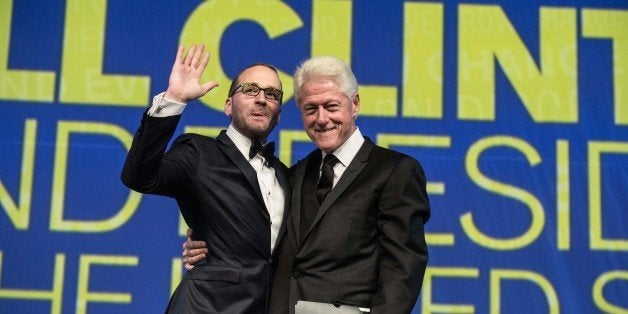 This week the Human Rights Campaign (HRC), the largest LGBT group, endorsed Hillary Clinton for president. It was a bit of a shocker not because HRC endorsed a Democrat -- the group has only endorsed Democratic presidential candidates, as the GOP has always been hostile toward LGBT rights -- but that it occurred before even one vote has been cast in the Democratic primaries and while two hugely gay-supportive candidates are so close in the polls in the first contests.
In 2008, HRC endorsed Barack Obama, but not until June, when it was clear he would be the nominee. (For 2012, the group endorsed the president, who had no major challenger, in May of 2011). In 2004, HRC also endorsed the Democratic nominee, John Kerry, in June, after all the votes in the primaries were in. And it's very first endorsement of a presidential candidate, Bill Clinton, came in June of 1992.
Only in 2000 did HRC endorse far earlier in an election in which a Democrat was not up for re-election, backing Vice President Al Gore in February. But that was after the only other major candidate in the race, former New Jersey Democratic senator Bill Bradley, who stirred the pot for that time when he said he backed adding LGBT protections to the Civil Rights Act of 1964, had lost the Iowa caucuses (held in January then) in a crushing defeat, and lost the New Hampshire primary on February 1. Looking terrible in the polls of states ahead, it was all but assured Bradley would lose the nomination.
Bradley certainly had an impact on the race and on LGBT rights in the fall prior: Though Gore didn't agree with Bradley on amending the Civil Rights Act (and many in the Democratic establishment came to Gore's defense on that, including openly gay congressman Barney Frank), Gore broke with his president, Bill Clinton, in December of 1999, a month before the Iowa contest, stating that he opposed and would work to eliminate the "don't ask, don't tell" law that Clinton had signed. That came about within days of of an interview I conducted with Frank, in which he called on Gore to make the shift amid Bradley's courting of the gay vote, a competition that was well-noted:
Candidates Bradley and Gore have been competing intensely over recent months for the gay vote. Both have made appeals before gay audiences, visited with gay organizations, and sought financial and volunteer support from gays nationwide. While Bradley supports more sweeping gay rights proposals than does Gore, the vice president has embraced the community while in office, and recently appointed a lesbian rights activist as manager of his presidential campaign.
It was certainly an example of why it's important for a minority group to hold out on an endorsement and let the candidates compete and get better and better on the issues. Had Bradley not come out for amending the Civil Rights Act in September, Gore may not have come out against DADT in December. (And it made sense to back Gore right away when it was clear he would be the nominee.) Similarly, in 2008, as Hillary Clinton and Barack Obama fought it out in state after state until the very end, they made many promises to LGBT voters, hoping to secure their votes and financial contributions. After Obama became president, activists pressured him and held him to the promises that he made in the thick of that battle.
But here we are less than two weeks from Iowa, and Senator Bernie Sanders is surging in the polls in both Iowa and New Hampshire, looking like he will take one or both. He has many LGBT donors and supporters, many of whom are HRC contributors who are, judging from Twitter, bewildered and angry. As I wrote last fall, Sanders has a stellar gay rights record, having been one of only a small handful of federal legislators to vote against the Defense of Marriage Act (when he was in the House), and he's been out front in this campaign. Last spring Sanders called for amending the Civil Rights Act to include LGBT protections -- 14 years after Bill Bradley did, but several months before Hillary Clinton did -- and he backed open transgender military service before Clinton too. Sanders wasn't always supportive of marriage equality, even when he voted against DOMA -- though he likes to cloud that fact and his own past now -- but he certainly was publicly for marriage equality several years before Clinton.
As I've also written, Hillary Clinton has responded to criticism by some LGBT donors and activists who were frustrated by what they saw as slowness on her part to publicly speak to the issues, and in recent months she released a robust, far-reaching and more detailed plan to foster LGBT equality. That's a great thing. And it's not unfair to suggest that Sanders' presence and his record had some effect.
So why didn't the largest LGBT group keep it going? Why didn't they keep both candidates competing for the LGBT vote and promising more on a range of issues, from fighting to implement the teaching of queer history in schools to taking on issues uniquely affecting LGBT seniors and LGBT people of color? Why not push Sanders more, hoping to get him to speak out more, dangling that endorsement in front of him -- he could, after all, become the Democratic nominee -- and why not do the same with Clinton?
The only answer to that question has to do with access to the White House, and perhaps what the Clinton campaign may have said to HRC, and to Planned Parenthood, the Brady Campaign on Gun Violence and other groups that have endorsed early, about the kind of access they might get -- and what they might not get if they didn't endorse now. (Let's also not forget that Chad Griffin, HRC's president, worked in Bill Clinton's administration, and raised much money as a bundler for Obama's and Clinton's campaigns.) And it is a campaign that needs those endorsements now, calling in its chips, as Bernie Sanders and his insurgency has taken the Clintonites by surprise. What seems like an early burst of enthusiasm from a group that hasn't ever endorsed any seriously contested presidential candidate before any votes took place may actually be an indication of the fear and loathing inside the Clinton campaign.
Support HuffPost
Every Voice Matters
Popular in the Community