With All Hallows' Eve quickly approaching, L'art Pour L'art has teamed up with Monster Energy Drink for their fall showcase entitled Folk Monster. Over 30 handmade, meticulously designed Folk Monster houses will be displayed by 30 individual artists. All participating artists were given identical houses as a canvas, and faced the challenge of creating unique artistic statements in relation to preconceived ideas surrounding the Folk Monster house.
The L'art Pour L'art art collective has grown rapidly over the past year, with its attendees representing a diverse audience of artists, musicians, trendsetters, and partygoers in the Los Angeles area. Baha Danesh, the founder of L'art Pour L'art, created the Folk Monster event in order to share her love of folk art and fictitious mystical stories. While creating her Folk Monster house, she describes her art as, "chaotic, multi-layered and unconsciously political."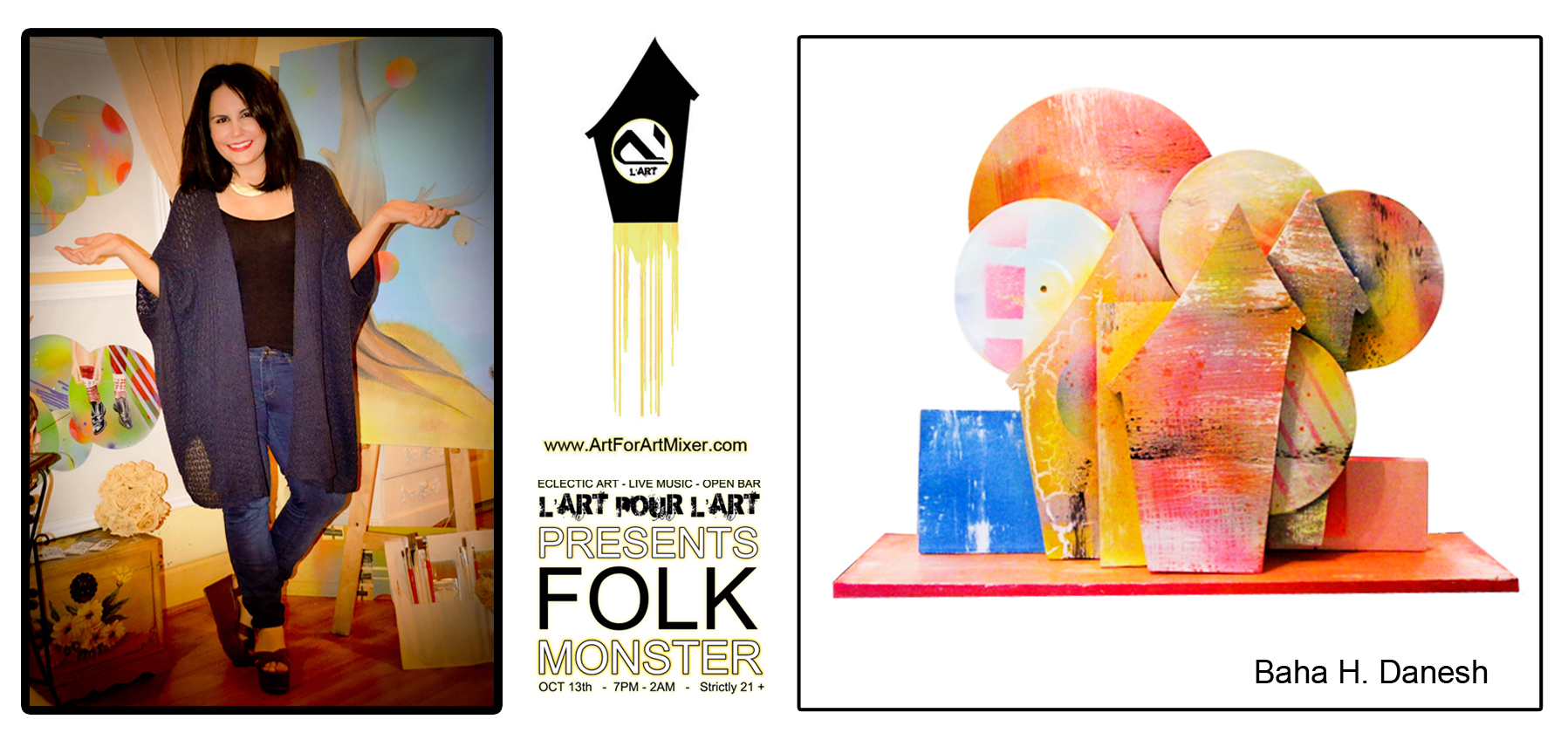 Image courtesy of Baha Danesh
Danesh started the art collective to give all artists an equal opportunity to showcase their artwork in an environment bringing together a variety of highly talented artists and musicians. She states, "I'm pleased to say we've created a place where the guest becomes the artist. This opens up the door to endless possibilities by not only showing what others have expressed but by giving each guest the tools to express what art is to them."
A few contributing artists shared some words regarding the event and their art:
YOSHAWN SMITH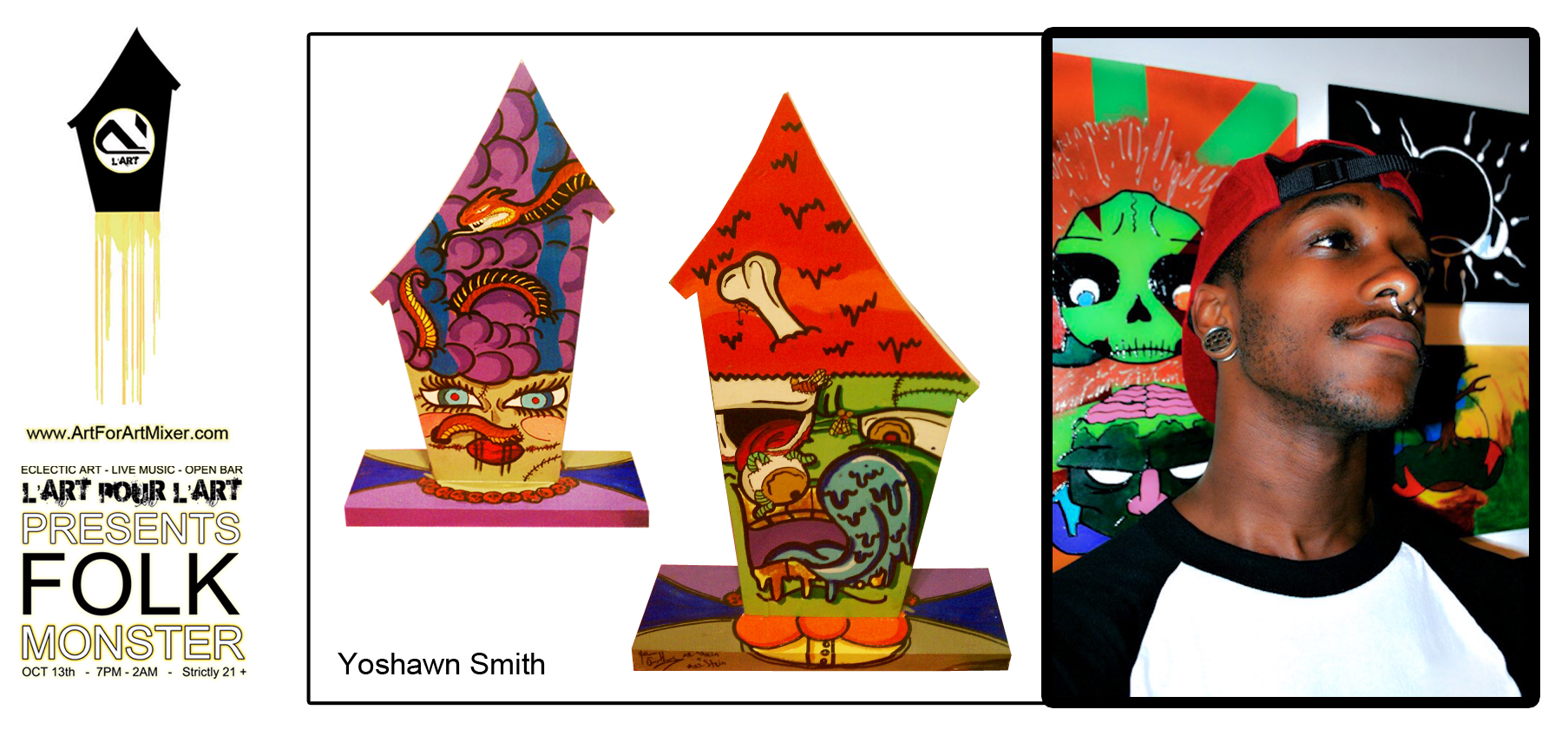 Image courtesy of Baha Danesh
Sirisuk: What inspired the idea for your monster house?
Smith: What inspired my Monster House was a mixture of cartoons, graffiti, childhood memories, and past relations that have shaped who I am today.
Sirisuk: Aside from monster houses, what other kinds of projects do you have going on?
Smith: I have about three or five projects going on. I currently am working on a painting that will incorporate my characters in different forms, a sculpture of an icecream character is in the works, and a skateboard that I have to press, shape and design. Creating is a big part of my life, which is why I started the clothing company 25Eight. All products are hand painted by me and include my fictional characters in a fun and stylized way.
Sirisuk: Are you dressing up for halloween? If so as what?
Smith: For Halloween I am planning to be The Grammar Nazi. Think of a Nazi general with the spell check symbol on his arm and hat, carrying a dictionary and punctuation marks for a mustache and beard. It's going to be an awesome Halloween this year.
ROBERT B. REYES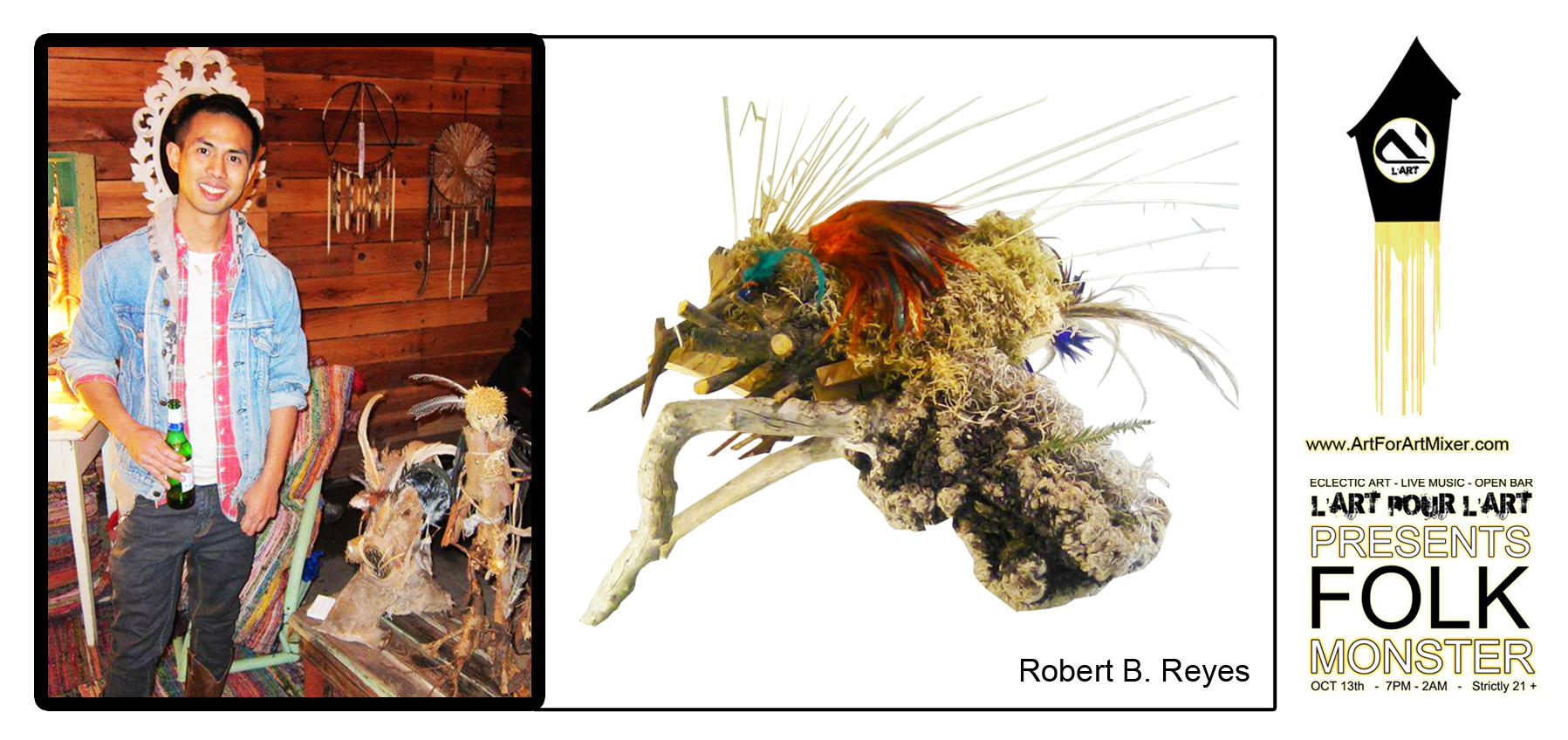 Image courtesy of Baha Danesh
Sirisuk: Please tell me a bit about your monster house.

Reyes: Well my monster house is a nest that is a home to the Treesquitoes Boor's or larvae. These creatures live inside the female Treesquitoe of the genus Anotreepheles. The Treesquitoes Boor's are born in the underbelly of the Treesquitoe and leave the mouth when they enter their youth. With my monster house I wanted to capture more than just a scary house, but more of a living home creature that is malleable and movable.

Sirisuk: Aside from building houses for monsters, what can you tell me about your art?

Reyes: I go on hikes and find spirits in the environments that I am in. These spirits are usually in forms of tree branches, drift wood, leaves, etc., etc. that are in shapes of anatomical parts such as abdomens, arms, legs, heads, etc., etc. I gather these parts and assemble them together to create these nature spirits that I see on these hikes that I go on. I basically try to create what other people can't see and put them together to create a visual identification of the being that I see in nature.

Sirisuk: What's the scariest movie you've ever seen?

Reyes: The original Texas Chainsaw Massacre. I think anybody who has seen that as a kid would have nightmares for a good long week. In a sense, thinking that this stuff can really happen makes it even scarier.
When: Saturday, October 13, 2012, 7:00 p.m. - 2:00 a.m.
Where: The Holding Co., 104 Robinson Street Los Angeles, CA 90026
(Corner of Beverly and Robinson)
21 + /// $10.00 pre-sale /// $15.00 at the door
Related
Popular in the Community