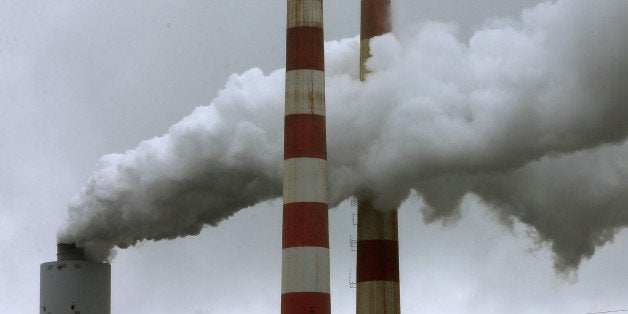 President Obama and the Environmental Protection Agency (EPA) recently took a bold step forward to act on climate change and protect public health by proposing the first-ever national safeguards limiting carbon pollution from our country's existing power plants. That's not just a victory for the Latino community's stewardship of the Earth, it's literally a lifesaver.
Power plants are our country's biggest source of carbon pollution, responsible for about 40 percent of the carbon pollution in our air. Climate change threatens our health and will lead to more asthma attacks and even heart attacks. Although there are already clean air safeguards in place to protect us from toxins like arsenic, mercury and lead, there are currently no safeguards in place limiting the carbon pollution power plans can spew into our air.
These power plants are often located near Hispanic neighborhoods, putting our families at risk. Nearly half of Hispanics, according to the Centers for Disease Control (CDC), now live in counties frequently in violation of ground-level ozone standards at a time when Latinos already visit hospitals 30 percent more frequently than whites due to asthma. And Latino children have a 40 percent higher chance of dying because of it.
The EPA safeguards translate into a healthier future for the Latino community. Taking steps to clean up power plants, increase energy efficiency and deploy more clean energy translate into significant health benefits -- the government estimates that we will have 150,000 fewer asthma attacks and 3,300 fewer heart attacks nationwide.
These safeguards aren't just good for public health, they're good for our economy. It's estimated that implementing these safeguards will create tens of thousands of jobs in the energy efficiency industry alone and provide health and climate benefits totaling up to $93 billion by 2030. It's no wonder that these safeguards are so common sense that many Americans believe they're already in place.
President Obama said it best in his weekly address when speaking about the possibility of failing to act to reduce the pollution that fuels climate change:
"It's not smart, it's not safe, and it doesn't make sense."

We couldn't agree more.

The EPA's proposal gives states the flexibility they need to craft a plan that works best for them. Each state will have a specific reduction target and the flexibility to decide how to meet the reductions, including expanding renewable-energy use and investing in energy efficiency measures. These actions will create jobs and protect our families.
And this is where our work begins. This proposal is a first step in a multi-year process and the Latino community must play a major role in shaping the solutions states put forth. Our voices are important at the ballot box, but we also need to show up at public hearings, and tell the EPA that we support this critical plan to reduce carbon pollution and flood the agency with supportive comments. We need to call, email, and write.
The President did his part, now we have to do ours. Not for his agenda, but for our own future.
Jennifer Allen is Director of the Latino Outreach Program at the League of Conservation Voters, www.lcv.org, on twitter: @LCVoters.
Support HuffPost
Every Voice Matters
Related
Popular in the Community