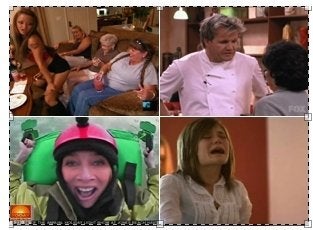 Tila Tequila Gives Grandma A Lapdance
MTV's trashy reality show (which one?) "A Shot At Love With Tila Tequila" is winding down, which means it's almost time for Tila to make her decision. Will she choose a man or a woman as her new lover? To help her decide, she visited the finalists' families and gave one lucky grandmother a lapdance she'll never forget, no matter how hard she tries.
The Customer Isn't Always Right
Anybody who has ever worked in a restaurant knows some people are just impossible to please. If they are hard to please AND from New Jersey, it could be a potentially explosive combination. So when one old Jersey lady complained a little too much for "Kitchen Nightmares" host Gordon Ramsay's taste, he socked it to her. Way to go, Gordo!
Meredith Vieira Rolls With It
"Today" started a new segment this week showcasing the wild and crazy world of extreme sports! Radical! For their first installment, "Today" put Meredith Vieira in a giant ball and pushed it down a steep hill. Gnarly! Much to viewers' disappointment, she didn't get sick, but things got pretty funny when Matt and Al joked her uncoordinated attempt to get in the ball. "Today" producers fired back in Meredith's defense with an unflattering shot of the side of Al Roker that nobody should have to see. Tubular!
American Gladiators Returns!
If the writers' strike drags on into next year we can expect a lot of crappy shows to fill our precious airwaves. But there's one show this winter that we have some serious faith in: "American Gladiators"! Hopefully the success of this show will bring a celebrity version. If so, we think Meredith Vieira has
on lockdown.
From YouTube.
Highway to Heaven
"700 Club" featured an entertaining report this week about an interstate in America's heartland that, according to many Christians, has biblical connections. Several worshipers believe that I-35 is spoken of in Isaiah 35 (get it? I:35) as "the way of holiness". Churches along the interstate, which runs from Texas to Minnesota, are organizing 35 days of 24-hour prayer sessions to pray for the unsaved souls that travel along this supposedly sacred ground. 24-hour prayer sessions! How useful! Check out the clip below to see how concerned Christians outside of one gay bar saved a homosexual from a life of sin by yelling "Fire!" in his face.
From ABC Family 11/27/07.
Calling all HuffPost superfans!
Sign up for membership to become a founding member and help shape HuffPost's next chapter