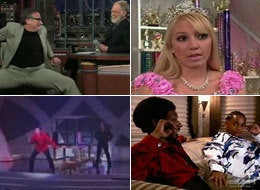 If you didn't catch "Wife Swap" this week, you missed a scary look into the world of beauty queens. Alicia is the 15-year-old daughter of a former pageant queen, and she's following in her mom's footsteps. Hilarity ensued when Alicia's mom was replaced by a feminist mom who values knowledge and independence (gasp!). I know this clip is long, but I assure you, every second of it is priceless. If you don't watch it to see the spoiled princess cry when her picture gets ripped up, at least watch it for the character study. This girl makes
look like Stephen Hawking.
I don't know what possessed me to watch the World Magic Awards this week, but I'm glad I did, because one magician displayed a pretty lewd hand gesture at the end of his act. You're gonna have to work on that one, guy. And way to go with including that poor, scared little baby tiger in the act. Clearly there's no danger in
.
Snoop Dogg's reality show is getting better, but I still need closed captioning to understand any of it. This week Snoop gave his 13-year-old son the birds and the bees talk. In usual Snoop fashion, he managed to be as poetic and nonsensical as possible, all in the same breath.
A very special episode of "Tyra" took a look at guests who have experienced embarrassing moments. Brace yourselves for this next clip folks. Cameras were rolling as a woman went to a bar, got drunk, and proceeded to... DANCE! God help her, this is obviously a cry for help. It's a long, painful road to recovery, but a sit down with Tyra is a good start. Jesus she's brave.
I was going to wrap up this week's must see videos with
of a paper airplane's journey through the skies of Manhattan, then I realized it's been on YouTube for over a year. So instead, I leave you with Robin Williams splitting his pants on Letterman. Enjoy.
Popular in the Community