Shining Star: Billy Ray Cyrus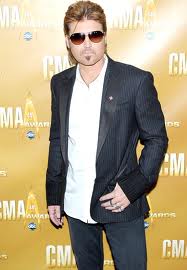 This may be a first: congratulating someone for rocking a mullet. But props must go out to Billy Ray Cyrus for bravely donning the "business in the front, party in the back" hairdo just a few weeks after announcing a split from his wife of 17 years.
The occasion for the blast from the past coif? Wednesday's Country Music Awards in Nashville. It was first public appearance by Miley's dad since filing for divorce from his wife, Tish, amid rumors that she had an affair with rocker Bret Michaels. Both Tish and Michaels deny the relationship.
Maybe Cyrus is on to something -- the best cure for an achy, breaky heart might just be a mullet.

Falling Star: Kim Kardashian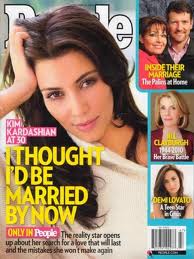 There may be only one thing that's worse than this scenario: You're a single, 30-year-old woman, crying into a tub of Chunky Monkey ice cream, and contemplating if you'll ever find a man. So what's a far more unfortunate fate? As you fill up that ice cream carton with tears, you spot the latest cover of People magazine featuring Kim Kardashian.
The reality show star solemnly poses for the glossy with the headline, "I Thought I'd Be Married By Now." That's right, the sometimes socialite/actress/model, who's known for her killer curves and for gracing the pages of Playboy magazine, is complaining about not being able to find true love. Gag me.
While the cover's headline may be a bit misleading (Kardashian does say living the single life makes her feel "powerful") she also indicates that she can't wait to land a man. She tells the mag that it's sooo tough having two sisters who have beaus, saying, "It's definitely a change for me. I have always been the one in a relationship. I like that role, I want that best friend partnership."
Feel bad for a beauty who has loads of dough and seemingly endless options in men? Three words for Kim: boo fricking hoo.