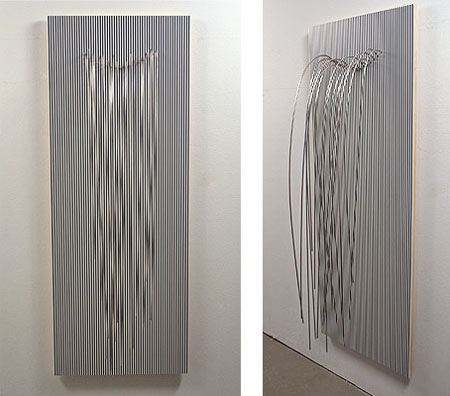 Tom Orr, "Flow," 2007, aluminum rods, wood, laminate, 59 x 26 x 16", at Marty Walker Gallery.
"Stripped: Neo-Minimal Strategies in Contemporary Art" assembles an array of talent and diverse media that handily evinces new terrain, even if it's all rather cerebral. This is art not "of" things but "about" them, a Fantasyland for thinking people. Two pieces are especially worthy of attention. One is "Four Corners" by Anna Krachey, a luridly brilliant abstract photograph of magenta and cerulean that is shot through with an India-ink blue. It's an inkjet print on archival paper that, interestingly, displays a faux matte making you literally do a double take. It's reminiscent of vivid summers and cocktails, and makes one glad to be above ground and imbibing luscious colors.
The second is Tom Orr's "Flow," definitely a work to watch. Literally. This sculptural piece, constructed of aluminum rods and wood, evokes [e]motion and, if you stand to one side, it will elicit memories of vacation-y isles and watery landscapes. Orr will be seen in greater depth in an October solo show, and it will be interesting to see how his elegant and eloquent sculptures work as a group. I suggest you unpack it somewhere to the left of your sternum. You know - in the region near your heart.

-- Patricia Mora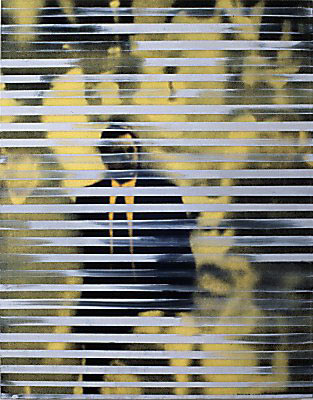 Sherry Karver, "Memory," 2004, oil and photography on panel, 24 x 19", at Lisa Harris Gallery.
In "Synchronicity," Sherry Karver's current exhibition of photo-based paintings, urban landscapes are re-imagined by centralizing not the setting -- the streets, stores and architecture that compose cities -- but rather the individuals that populate them. Cityscapes would not exist if not for the abundance of people filling them, and it can be easy to forget, in contemporary snapshots of train stations or bustling downtown avenues, that urban dwellers are not actually die-cuts of one another; they are singular living entities.
Arranged like paper dolls against candy-colored backdrops, Karver's subjects exude far less innocence than a superficial glance suggests. They stand next to but at angles facing away from one another. The disinterested proximity of these people brings an air of isolation and loneliness to the exhibit that is countered by the beauty of capturing a moment in time. For an instant, within the confines of a frame, these strangers are connected, synchronized, and while they may remain unknown to one another hereafter, for now they are part of a whole. And like all wholes, with further scrutiny comes the individualization of the parts that compose it, revealing people to be beautiful, ugly, materialistic, happy, worried, thirsty, and poor. Karver takes the personalization of her urban populace seriously, going so far as to provide small and eccentric written narratives about certain of her characters. The details -- a delivery boy who dances by night, a divorced working mother of two -- bring Karver's work out of the realm of image consumption and into the infinitely more complicated world of empathy.

- Laura Macomber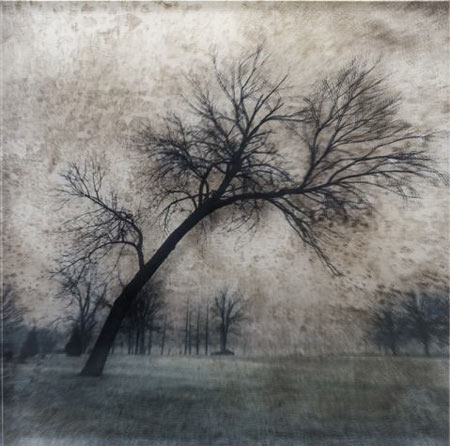 Michael Eastman, "Untitled (FP 9)," 2010, Plexagraph© Artist Proof, 12 x 12", at Gebert Contemporary.
Known for his photographs of strikingly sculptural and heroic architectural compositions from around the world, Michael Eastman chose to keep his subjects close to home in St. Louis for his latest body of work. Shooting at the abandoned Globe warehouse and at Forest Park, this exhibition consists of two sets of subject matter: the gridded, begrimed windows from inside the Globe, and the lacy, brooding trees at the park. Both subjects display Eastman's signature theme of faded beauty taken for granted: the Blanche Dubois of an inner urban setting. The window pictures are most effective and the most like Eastman's previous work in that they manage to convey depth and weight despite the given two-dimensionality of windows. Each casement has its own particular cracks and exposed, peeling grout, its own filth and the fog of aged glass.

A self-taught photographer, Eastman has developed a new process, inaugurated here, in which he prints two nearly identical shots on layers of Plexiglas, resulting in pictures that are quite painterly for their vigor and mystery.

- Kathryn M Davis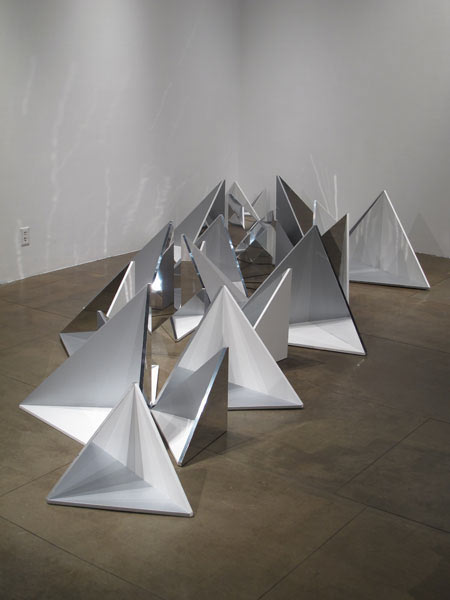 Timothy Nolan, "Pitch," 2008-10, laminate and enamel on panels, dimensions variable, 24 elements, at Marx & Zavattero.
Los Angeles-based artist Timothy Nolan delivers contemplative sculpture that is all clean geometric forms, a subtle palate of silver, black, gray, and white, and various surface treatments -- mirrored, reflective, flat. Nolan continues his investigation of patterns, repetition, and systems, both made and natural. The work easily draws the viewer into the complexity encompassed, including the exploration of visual perception and construction of illusory versus real space.

Evident throughout is the influence of minimalism and cubism; the artist is also inspired by craft and op art. The exhibition features floor and wall sculpture as well as works of silver metallic paper on panel and other two-dimensional pieces. The centerpiece -- both literally, as it takes up a large space within the gallery, and figuratively; it's enchanting -- is the twenty-foot-long "Pitch." Comprising more than twenty triangular pieces of various sizes, with several of the surfaces mirrored and reflecting off of each other, the work evolves into endless shards and crystalline structures, elegantly getting to the heart of Nolan's interests. In the wall sculpture, "Stack" -- which is also made up of a series of over twenty non-identical hard-edged shapes, these composed of printed vinyl on aluminum -- geometric shapes in five gray-scale hues also play with our comprehension of light and shadow and the shaping of space; the piece appears to be more three-dimensional than its flat surfaces really are.

While Nolan's artwork overall is hard-edged and calculated in appearance, it's not cold. This is meditative work that we not only see but experience.

- Chérie Louise Turner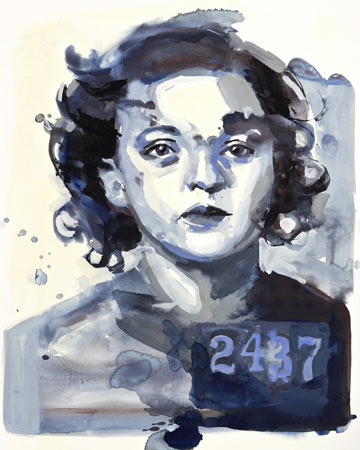 Monica Lundy, "2437," 2010, gouache on paper, at Ogle Gallery.
Continuing through September 30, 2010
Ogle Gallery, Portland, Oregon
Last autumn, Bay Area artist Monica Lundy began poring through the California State Archives in Sacramento, searching for source material for her impending M.F.A. show at Mills College. Lundy, the recipient of this year's Jay De Feo Award, came upon a treasure trove of antique books that dovetailed with her fascination for the history of incarceration, particularly the incarceration of women. In volume after brittle, yellowing volume, thousands of mug shots from the late 1800s through the 1930s showed female inmates at the Stockton, California State Mental Hospital and the infamous San Quentin State Prison, where women were interned until 1932. The reasons for the women's imprisonment ranged from the anachronistic and spurious ("hysteria") to the sinister (aggravated murder). Haunted by these images, the artist went on to use them as the starting point for several exhibitions, including the current "Obscure Histories."
Lundy's gouache-on-paper portraits of the inmates, based on the women's mug shots and titled after their identification numbers, are laid out in two grids. One of them runs two paintings high by two across, the other three by three, much like prisoners crowded into lineups or cells. While the color palette ranges from drab gunmetal blue to a more harrowing dried-blood sienna, Lundy avoids bleakness by finding the resilience and, yes, the beauty, in each troubled countenance. In works such as "2437," she exhibits a virtuosity with surface effects, leaving strategic slivers of paper unpainted, such that searing flashes of white blaze up out of the somber eddies of gouache. The technique manages to look both spontaneous and meticulously planned. With her fluid brushstrokes, intuitive compositions, and knack for conveying sumptuousness and sensuality even in the midst of abject sadness, Lundy lets us imagine what a turn-of-the-century portraitist such as John Singer Sargent might have uncovered had he trained his eye on society's disenfranchised echelons rather than its privileged.
The centerpiece of the exhibition, "Department of Mental Hygiene, 1934," stretches across the gallery's expansive south wall. A striking hybrid of painting and sculpture, it is comprised of clay slathered over an armature of nails. Viewed close up, the work is a messy, abstracted topography reminiscent of Anselm Kiefer's mutant surfaces. At mid-distance, the smears and glops coalesce into human features and garments: a beard, a pair of bushy eyebrows, a nurse's cap, a doctor's bow tie. From far remove, the piece's full impact registers, and the viewer beholds a sepia-tinted group portrait of the doctors and nurses at the Stockton asylum. The cold formality and dread-inducing, proto-Nurse-Ratched efficaciousness of this convocation affords a chilling counterbalance to the vulnerability implied in the prisoner portraits. As the clay dries and cracks over the course of the exhibition's two-month run, chunks of imagery will flake off the armature, collecting on the floor and leaving ghostly stains on the wall. It all evokes the impermanence of memory and the capacity of photography not so much to capture the fleeting moment, but to embalm it. Across the body of work, Lundy gives voice to generations of women whose voices were silenced first by the penal system, then by death. This is a historically rigorous and emotionally affecting show.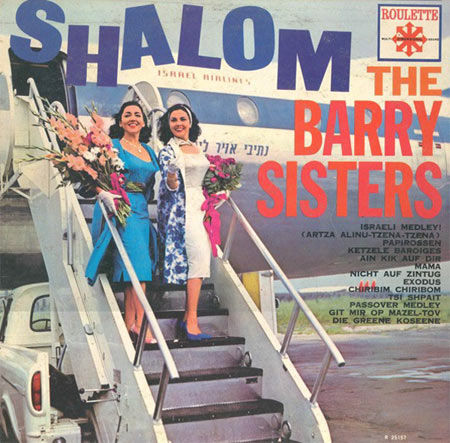 "Shalom," The Barry Sisters, Roulette, 1962, at the Skirball Cultural Center. Courtesy of Josh Kun and Roger Bennett.
While listening to LP selections in "Jews on Vinyl" I thought about the exhibition, "Entertaining America: Jews, Movies, and Broadcasting," at New York's Jewish Museum back in 2003. While the latter was more comprehensive in scope, media and time span (most of the 20th century), both shows express the pervasive effect Jewish culture has had on the larger stage of popular culture. This show is set in a 1950s living room, with expected classic songs from the 1940s to the 1980s by Barbra Streisand, Neil Diamond, Barry Manilow and the like. Yet, spending time with these showbiz giants and you'll hear them spread their artistry worldwide, while staying close in spirit and intonation to their Jewish roots.
Conversely, this mostly audio exhibition (there is one wall of album covers) includes recordings by non-Jewish artists singing traditional Jewish selections: Johnny Mathis does "Kol Nidre" and Chubby Checker sings "Hava Nagilah Twist." There are hilarious selections by Yiddish accented singer Mickey Katz belting out songs that revere and make fun of traditional Jewish foods such as gefilte fish. There are spoken word selections by famous Jewish comedians, and others by Israeli leaders Golda Meir and David Ben Gurion. This often amusing and occasionally thought-provoking show subtly points out how Jewish performers and their niche forms of entertainment have both given to and been influenced by the larger worldwide culture.
Related
Popular in the Community