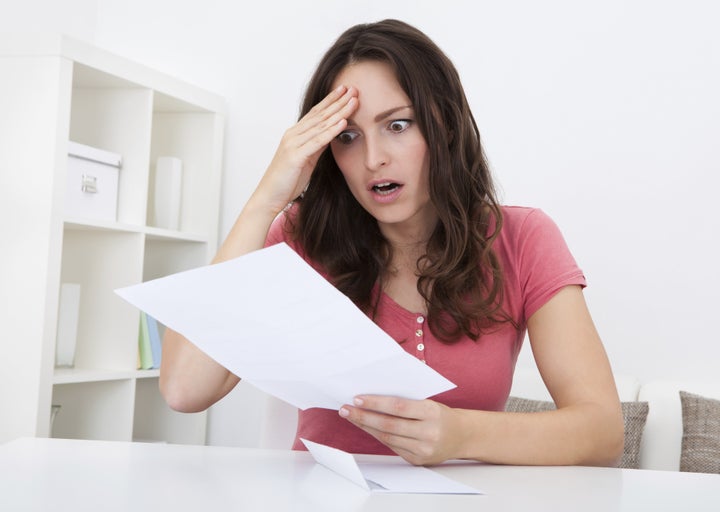 For parents whose high school seniors are starting to hear back from colleges, the "holiday" season can feel more like the "OMG we can't afford to send our kid to college" season. As fear grips them and the dancing sugarplum fairies in their heads are replaced with dancing tuition bills, we'd like to offer these tips of comfort, courtesy of Lynn O'Shaughnessy, author-speaker who blogs at The College Solution: 
1. Odds are, your child will likely get some kind of scholarship or grant.
We say this because 89 percent of them do at private schools, according to the National Association of College and University Business Officers. Note we did not say loan, but rather scholarship and grant -- free money. Scholarships and grants do not need to be repaid. How big a scholarship, you ask? Institutional grants/scholarships will discount, on average, roughly 53 percent off the tuition price. There will still be room and board to pay for and books to buy. So half off tuition is great, but it still leaves you with the other half to pay, plus some.
Things aren't quite so generous over on the public colleges and universities side where tuitions are less to start with. Public schools offer about 66 percent of their students some kind of financial aid -- which includes loans. Remember: Loans should be seen as the college payment method of last resort. They will have to be repaid and your student could graduate straddled in debt.
2. It's a buyers' market and you are the buyer.
Colleges are experiencing a buyers' market at the moment, says O'Shaughnessy. She says that with the exception of the most highly selective institutions and some research universities, schools will offer merit scholarships because they are fiercely competing against each other for good students. Yes, the best awards will go to the students they most want. While strong academic grades are absolutely a big part of that, schools also want to put together a well-rounded incoming class. Think about what your student brings to the table that makes him or her outstanding if it isn't their GPA. 
While negotiating with the college financial aid office is not quite the same as the car dealer asking you for your best offer, the two events have one thing in common: You need to be prepared to walk away. Don't assume that all the power rests with the financial aid office. Remember, the school wants your kid or they wouldn't have offered him admission. They've shown their hand. That said, colleges consider "negotiate" to be a dirty word. But should your child get a larger scholarship offer from another school, it's perfectly fine to let the first school know about it. If they want her enough, they may try to match that higher offer. To belabor the analogy, the car dealership down the road has the same model for less but you'd like to give your business to the nice salesman here if he could just work with you a little on the price.
In talking to the financial aid office, O'Shaughnessy says it's fine to even name a specific amount of how much help your student will need to afford to attend. Be realistic though. The days of the full scholarship free-ride are long gone, if they even ever actually existed. You are going to have to come up with some money for this to happen. The question is: How much?
Just a footnote, and at the risk of wagging a virtual finger in your face, you probably shouldn't have let your son or daughter apply to schools that were a giant financial leap for you in the first place. When you can't afford a Mercedes, what's the point in shopping for one?
OK, so acceptance offers for early admission and early decision applicants are trickling in. They will, in some cases, include an offer of a scholarship. Yay! But when a liberal arts school that costs $60,000 a year to attend offers you $23,000, it just still may not be enough. And schools know this.
Here's the good news: Some kids who were accepted to that school and got those same scholarship offers will chose to go elsewhere. That frees up more money for your kid! The school anticipates this happening, although it doesn't usually happen until closer to the deposit-is-due date, which for many schools is May 1. Stay in touch with the financial aid office.
"It could be worthwhile to wait," O'Shaughnessy told The Huffington Post. If the rate of deposits is low, the school may try to reel in more kids. Some schools even start calling kids in the spring to see if they can get a commitment from them. Practice saying "He'd love to come but needs more money."
The exception to the wait-a-bit rule is if you have extenuating circumstances like a job loss or sudden medical bills. Let the school know as soon as possible and ask them to reconsider what they offered in merit aid.
5. The FAFSA form is really your friend, although it doesn't always feel that way.
The Free Application for Federal Student Aid form is the faucet from which all need-based aid flows. By the information you provide on this form, your family's financial situation will be evaluated and a determination made about your financial need. Everyone should fill it out even if they think they won't qualify -- $150 billion a year and it all starts with FAFSA.
Arguably, this form is the biggest pain in the behind that was ever created by man. It is available online on January 1 (not before) and if you want to get a piece of the financial aid pie (which runs out) you need to have the completed form filed by the school's priority deadline, which is generally February. One of the problems of course is that you likely won't have filed your income taxes by the time you need to get the FAFSA filed. So you have to estimate -- guess -- on your taxes. Eventually you will have to send FAFSA your actual filing, so this isn't an opportunity to try to inflate your need. Estimated tax filings also mean an indefinite FAFSA determination. In  other words, the amount of aid they qualify you for based on your estimation isn't written in cement. It could be less or more.
Everything falls under the umbrella of "financial aid." But financial aid comes in many different shapes and forms and you need to understand what the financial aid counselor is talking about. Merit aid is based on a student's record of achievement, whether it be grades, how well she plays the violin, or the tremendous community service or sports records she holds. Merit aid is free money that the school gives you to lure you to attend. Need-based aid is what it sounds like, aid that is based on your family's financial situation. To qualify, you must fill out a FAFSA form. Lastly, there are loans, money that you and/or your student borrow that must be repaid at some point with interest. Some awards must be renewed annually. Most awards require maintaining certain grades. Some aid programs require your student work for the money. Know what you're talking about. Getting 25 percent in grants and 75 percent in loans is a different ballgame from 25 percent in loans and 75 percent in grants.
7. You don't need to pay hired help.
In fact, you really should never pay anyone who promises to help you find financial aid, even if they offer you a "guarantee." You could wind up paying $1,000 to someone who promises to find you financial aid and have that turn out to be a loan offer or a $200 scholarship. There are websites like Fastweb.com and scholarships.com that you can use to try on your own. But educating yourself about how financial aid works in actual practice, not just theory, will go much farther. Read on.
8. Think global, but shop local.
When it comes to getting scholarships, your best bet after the ones the college offers, are generally those found in your local community, says O'Shaughnessy. The local Optimist's Club grant will be easier to win than a scholarship with national or international competition. Check with your school's college guidance counselor and Google around a bit. Your student is better off spending time keeping his grades up -- which in itself just might land him more scholarship money than applying to obscure awards he found online.
PHOTO GALLERY
College Advice From Snapchatters (Follow HuffPost On Snapchat!)
Calling all HuffPost superfans!
Sign up for membership to become a founding member and help shape HuffPost's next chapter