April L. Wood is a new author with a lot to say. Winter's Curse, her debut novel, was released in October 2016, and that's not all that's keeping April busy. She is also a book blogger for A Well Read Woman Blog, an author interviewer, a professional beta reader, and a caffeinated book reviewer. I was excited to be able to interview her about her book, career, and more.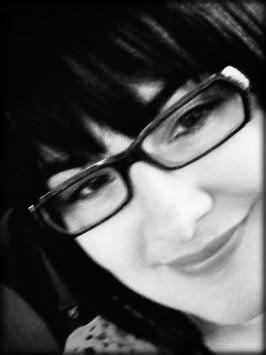 Congratulations on the publication of Winter's Curse! What has been the most exciting part of having your debut novel published?
Thank you, Robin! It's been a dream come true. The most exciting part of having my debut novel published was holding it in my hands for the first time. Flipping the pages and seeing my words in print was magical.
How did you decide on its title?
The title, as well as the main character's name, came to me before the story did. I'm one of those weird authors who decide on a title during the brainstorming phase, before writing the story.
What is something that you hope readers take away from your story?
"Resilience in the face of misfortune." Winter Rose-Thorne has her share of adversity in Winter's Curse. She finds her place in the world despite the seemingly insurmountable odds stacked against her.
If your book was made into a film, who would you want to play the title character?
I can totally see Emma Stone as Winter Rose-Thorne.
When did you discover that you wanted to be a writer?
At a very early age I would write stories in crayon on craft paper and have them laminated with contact paper as if it was a real book. I was very proud of those "books".
What inspires you to write?
A love for writing inspires me to write, but as far as world building and setting, definitely nature inspires me.
Do you remember the first time you truly loved a book?
My mother always read to me, which was very comforting and I developed my love for books and reading at a young age. I don't remember any specific books that I truly loved, just details all jumbled together. My favorites were the Piggly Wiggly series, fairy tale books, and the Chronicles of Narnia.
Who are your favorite authors?
A: I love the sassy writing of contemporary romance author Victoria Dahl. I would love to publish a contemporary romance, someday. And the late great V.C. Andrews is my other favorite because of her taboo nature and "children in peril" themed novels. I've never been disappointed with either author. They always put out great books.
What do you most want to achieve as a writer?
I want people to read and enjoy my stories. It means the world to me when people tag me on social media to let me know where they are within my story and say how it's "hard to put down". That is music to my ears and makes it all worth it!
What do you wish someone had told you before you became a writer?
I've actually been really lucky and have received a ton of support. I can't think of anything specific that I wish someone would have told me, because industry professionals have prepared me well. I can honestly say I've had help/someone to hold my hand, nearly every step of the way.

What's your favorite compliment that you have received on your writing?
A woman told me that she hadn't read a book in four years and that Winter's Curse is the first book she had read in that time that she will actually read until the end. She told me she lost her love of reading, and my book rekindled that and how she looks forward to her "reading time" at the end of the day. That blew my mind. As a book blogger, I'm passionate about reading and encouraging a love of reading in others. So, this was a double compliment!

What do you most like to do when you're not writing?
I love to read and blog about the books I read on A Well Read Woman Blog. Spending time with my husband at home, whether it be raking the yard or watching a horror movie.
What are your favorite TV shows and films?
I love the mindless entertainment of reality TV shows - all of 'em. And crime TV shows on Investigation Discovery. My favorite show is Nurse Jackie on Showtime, and my second favorite is 2 Broke Girls on CBS. As far as movies, I love 1970's and 80's Italian horror - Umberto Lenzi, Lucio Fulci, Dario Argento.
When I'm at home with my family enjoying time together.
Related
Popular in the Community