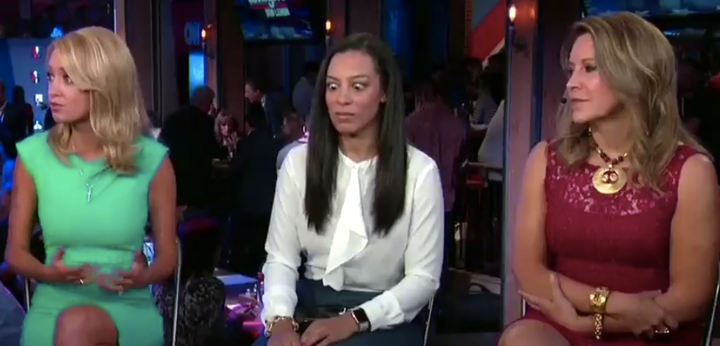 In less than 20 seconds, one woman captured the feelings of many in this country every time they hear someone say "Make America great again." 
Wednesday night, political commentator Angela Rye gave an eye-roll for the history books during a CNN Tonight segment covering the Democratic National Convention. Rye was joined by host Don Lemon, conservative correspondent Kayleigh McEnany and three other panelists. 
"I love that we have facts like Libya in disarray, Iraq in disarray, Syria in disarray, all under the tutelage of Hillary Clinton's State Department," McEnany said, criticizing Clinton. 
When Lemon asked McEnany what she thought of Bill Clinton's DNC speech, referencing Bill's call-out of Hillary's record of "helping with school and adoptive parents," McEnany shot back with: "Donald Trump has done great things too." 
"Well, that's great," she said. "You know, Donald Trump has done great things in his private time, too, for veterans, all across his foundation. He's done great things, too. We've all done great things in our lives and I commend her for helping children, that's a commendable thing."
As this conversation was happening Rye just could not contain her disgust or her eye roll. Thankfully, country star Rachel Potter captured the whole discussion in a video that she posted to Twitter. 
Rye's eye roll is impressive, to say the least. 
Rye told The Cut that she is aware that she makes facial expressions on air, mostly because "I don't have the poker face to pretend." She also explained that she is forced to be very aware of how she expresses her discontent when on TV, so as to no be dismissed as "an angry black woman." 
"For me, yesterday, it was such a historic moment. Regardless of whether you're with Hill or you're feeling the Bern, we had to appreciate the magnitude of that moment," Rye told The Cut. "To switch gears from shattering glass ceilings from Michelle Obama's dynamic speech to Cory Booker to Eric Holder the night before, to then talk about ISIS? Are we really doing this right now?" 
A few other people caught the CNN Tonight clip Wednesday night and were equally-impressed with Rye's epic eye roll.
"I think we can reach a common understanding," Rye said. "This country is not going to progress if we can't have decent civil conversations and be respectful to one another." 
REAL LIFE. REAL NEWS. REAL VOICES.
Help us tell more of the stories that matter from voices that too often remain unheard.
BEFORE YOU GO
PHOTO GALLERY
Tweets About Hillary Clinton