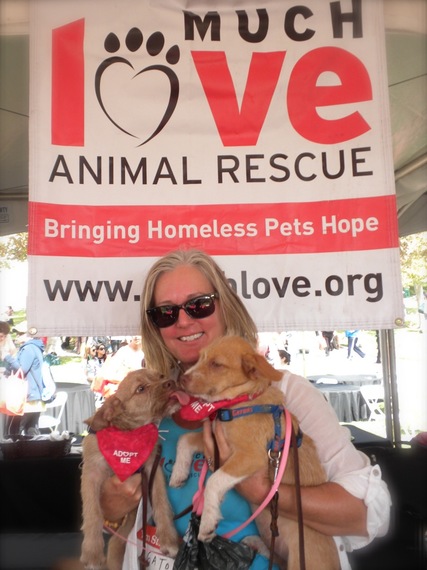 As I pet writer, I get to interview people working and volunteering in animal rescue all the time. I'm always amazed by their tireless efforts to transport homeless cats and dogs to safety, get them medical care and try to find them "forever homes."
So I was excited to hear animal lover Karin Anderson has a novel idea to help all animal shelters fund-raise -- and that she's going to donate $10,000 to one lucky shelter to get the idea rolling.
Her concept, "Name the Rescue," is simple: animal shelters allow people or businesses to name an adoptable pet (a.k.a. rescue pet) in exchange for a donation. Then the shelter posts a photo of the dog or cat on social media sites announcing the animal's new name and the story behind it (which the donor and "name gift" recipient can then share, of course). This not only makes a meaningful gift, but more importantly, spreads awareness about an adoptable pet.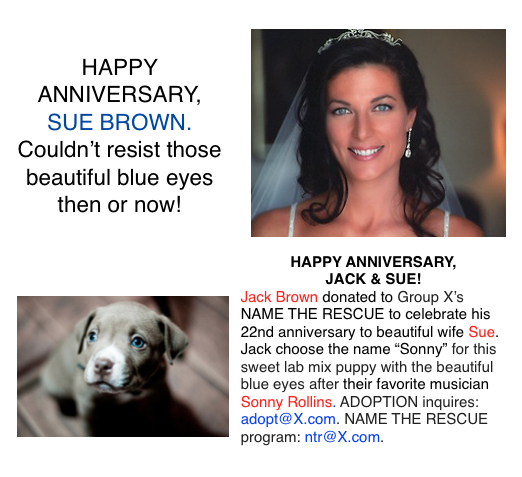 "That's how the world works today -- we connect via social media," Anderson told me. "My passion is to make the world a better place for dogs, and I think I will through this idea 'Name the Rescue.'"
She has instructions on how to implement a "Name the Rescue" program that's available free to anyone at www.NameTheRescue.com. But she's also putting out a call to rescue groups to apply to win a $10,000 donation to implement the program.
"What I'm doing is guaranteeing that I'll spend at least $2,000 a year on name gifts for a minimum of five years," she said. "I'm funding it to get the idea going."
Anderson said she and her husband, John Nave, sold their sailboat and decided most of the proceeds should go to jump-starting "Name the Rescue." She got the idea after volunteering for rescue organizations in Los Angeles, Calif. and watching staff struggle to come up with original names for pets.
"When you rescue hundreds of thousands of dogs, you run out of cute names," she said. "My dog that I adopted was named Spinner because she spun around in circles."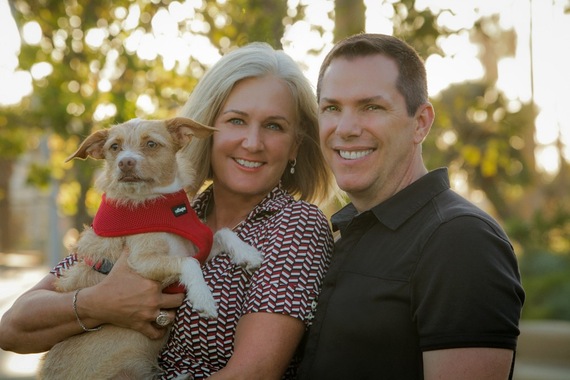 Just as Anderson renamed her dog after adopting her from Much Love Animal Rescue -- "Spinner" is now "Goldie" -- forever families will get to rename animals they adopt if they so choose. But Anderson said a pet's "Name the Rescue" name could help him get adopted by adding to his backstory.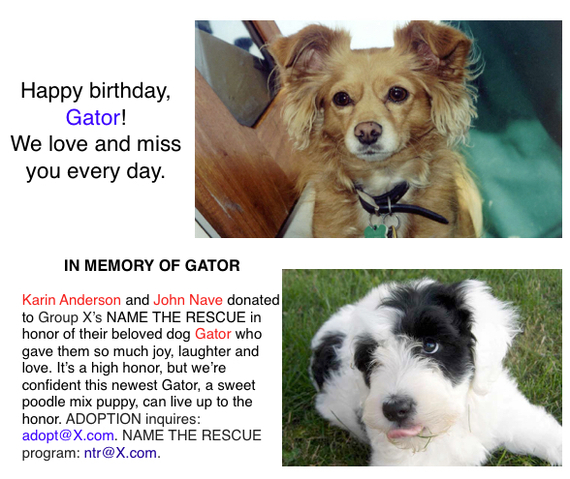 Anderson said she thinks people will love getting name gifts; her father, an animal lover, always preferred charitable donations to wrapped presents. She's excited to name pets in honor of her family, friends and clients -- and annually in memory of her beloved dog Gator -- after she selects the winning shelter in the next few months.
"I was inspired by philanthropist Sam Simon, who created an idea and used his millions to help dogs. I've always thought that if I had millions, I'd do the same. Then I realized I could do the same on a much smaller scale."
She's looking forward to hearing from shelters that apply to receive the $10,000 in name gifts.
"Sadly, there's such a need," Anderson said. "But it's also wonderful how many people want to help animals. It makes me feel good every day."
For more information, visit www.NameTheRescue.com. Registered nonprofit animal rescue organizations interested in applying for the $10,000 donation should email NameTheRescue@gmail.com with 1-2 paragraphs explaining why their group is the best one to implement the Name the Rescue awareness and fundraising program.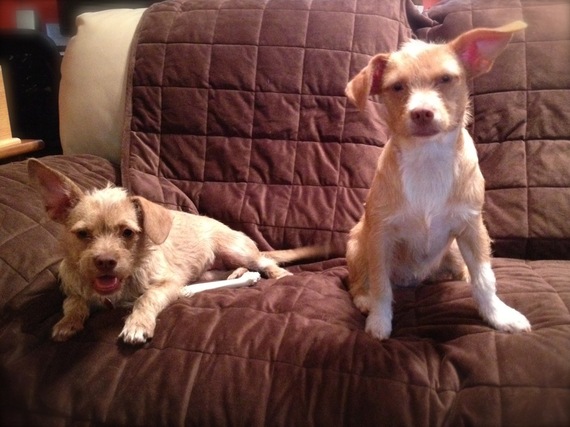 Calling all HuffPost superfans!
Sign up for membership to become a founding member and help shape HuffPost's next chapter