A Kenyan-British artist has revealed the racism and microaggressions black women deal with on a daily basis in an ingenious art project, appropriately titled "Stranger in the Village." 
When Phoebe Boswell traveled to the city of Gothenburg, Sweden, in 2015 for an artist's residency, she saw early on that it would be a choice location to explore race, gender, and identity. Born in Kenya to mixed white/black parents, raised as an expatriate in the Middle East, based now in London, the artist has had to navigate spaces and many identities.
But upon arrival in Gothenburg, Boswell was warned by her hosts that "Gothenburg society is very segregated."
"In what way?" she asked.
"In the bad way."
"I think perhaps they felt they had to warn me based on my appearance, and coming from the freedom of London, and having grown up in an expat community where most people were other to a certain degree," Boswell writes in an essay about her project. 
"I felt myself immediately stiffen, wondering what, indeed, my month there would be like," the artist told The Huffington Post.
Boswell decided to try and get a sense of what her hosts meant by exploring the city and meeting people. And the way to do that came to her quickly: Tinder.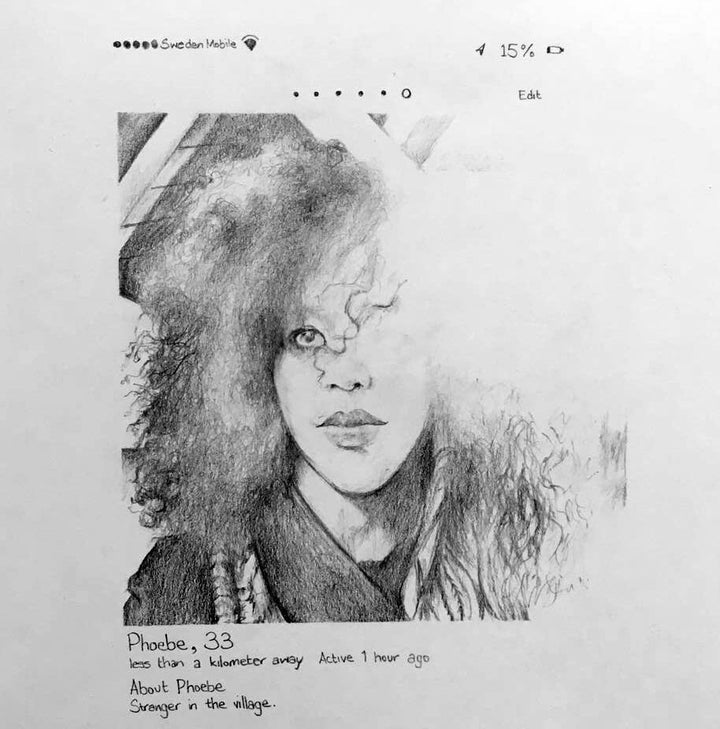 "I registered, popped my picture on it with the status Stranger in the Village after the [James Baldwin] essay," says Boswell.
"I began to swipe a smorgasbord of Swedish boys, testing out who -- within a couple of kilometres from my studio -- would swipe back. Each day of the residency, I would choose one to draw, whether they swiped me back or not... So the project began with these drawings, and slowly, as conversations started to trickle in, I started to document those too."
It's the conversations Boswell had with these men that added a new dimension to her portraits. Among the messages she received were: 
"You'd be interested to know there's a really good reggae scene here."
"It's a huge fantasy of mine to be with a black girl....it's a compliment :)"
"Wild thing, you make my heart sing....your hair's cool, I wanna touch it"
"I love African women! You are so free with your bodies!! :))))"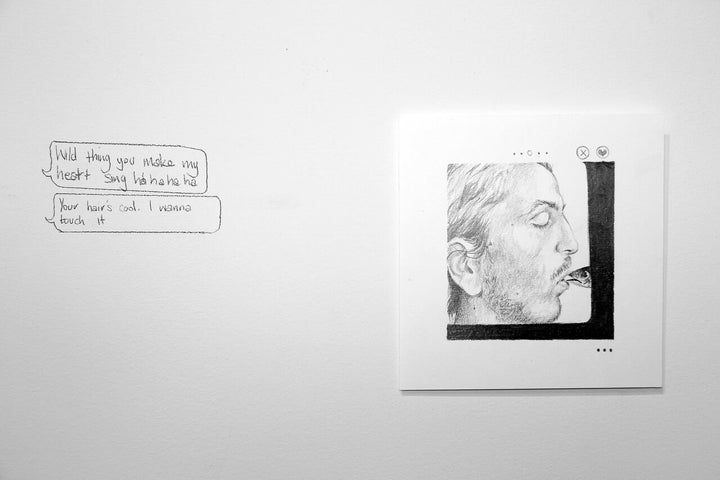 Boswell says the build-up of the project was gradual. The fetishizing, misogynist and racist tone of many of the messages didn't fully hit her until well into her residency, especially when she asked one particular man on Tinder whether Gothenburg really was "segregated." His answer?
"Yes, but you are fairly fair-skinned and sort of beautiful so you will be fine. Swedish people aren't racist, we just don't like ugly people."
"I felt a severe jolt of recognition that this project wasn't frivolous, that it was necessary and valuable," Boswell says.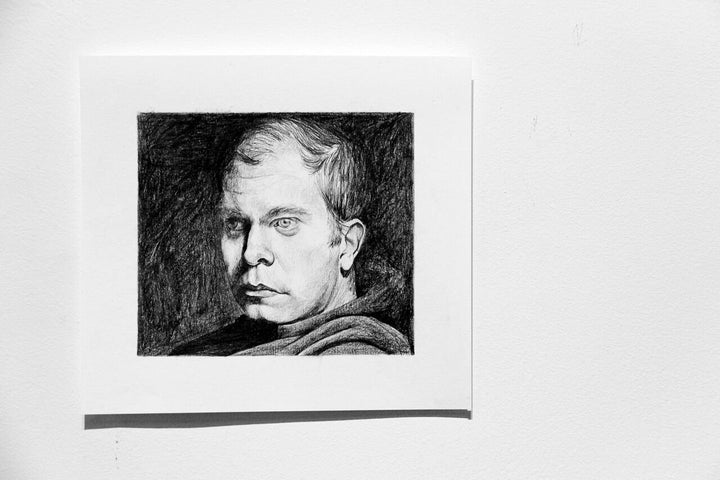 It's no secret that when it comes to online dating, black women have an especially hard time. A 2009 OKCupid study found that black women were the least likely among all women on the dating service to receive replies or new messages from potential dates.
But what often isn't part of the discussion of black women and online dating, and what Boswell's work emphasizes, is that many of the messages that black women (and other women of color) do receive are often tainted by racial stereotyping. Perhaps the most compelling thing about Boswell's piece is that it goes beyond Gothenburg, beyond the realm of online dating, and into the ways racism and misogynoir affect the way black women are treated on the whole around the world. 
"It obviously says nothing good about how we view/consume black women's bodies," Boswell says. "Not 'we,' but the 'we' that systems of power operate, the 'we' that controls our media content, our migrations, our minds. It says that there's so much work still to be done."
REAL LIFE. REAL NEWS. REAL VOICES.
Help us tell more of the stories that matter from voices that too often remain unheard.
BEFORE YOU GO
PHOTO GALLERY
Black Girl Photo Project