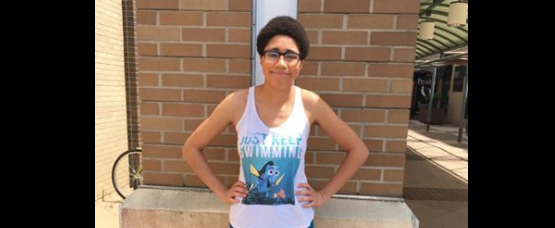 A woman in Grand Rapids, Mi. said she was recently kicked out of a shopping mall because another customer complained to mall security about her outfit.
The outfit in question? Shorts and a tank top. 
Hannah Pewee posted a photo of her outfit on Facebook after being kicked out of Grand Rapids' Woodland Mall on Saturday. In the photo, she wears what any woman might wear on a 90-degree day in June: a "Finding Nemo" tank top, jean shorts, and ballet flats. 
"As many of you know, it is NINETY degrees outside today in West Michigan," Pewee wrote in the Facebook post.
"So, of course, I decided to dress for the weather: shorts and a tank top. But apparently, how I was dressed ... was too slutty for the public, as I was kicked out of the Woodland Mall today. Yup. Apparently some anonymous person reported me to MALL SECURITY for inappropriate dress and I was kicked out."
Pewee's post went viral over the weekend, with more than 4,000 likes and close to 9,000 shares. She said in the post that experience was so humiliating she "almost cried." 
"I am so angry right now I'm shaking," she wrote. "I felt so embarrassed I almost cried. All because a stranger didn't like how I dressed."
Pewee wrote two follow-up Facebook posts after the initial incident. First, she thanked the Facebook community for their support and kind words, and in the second, she confirmed that a manager from Woodland Mall called her to apologize. 
"So I talked on the phone with the someone on the management team at Woodland and they apologized for what happened yesterday," she wrote. "Apparently they're going to revise their clothing policy on their website so it is clearer what is and isn't acceptable. In addition, security will be discussing how to properly handle situations like this."
"Appropriate attire, including shirts and shoes, is required," the policy guidelines read. "Clothing with inappropriate words, phrases or graphics is not permitted and is subject to mall management approval." 
HuffPost has reached out to both Pewee and representatives of Woodland Mall for comment and clarification, and will update this piece accordingly.  
Calling all HuffPost superfans!
Sign up for membership to become a founding member and help shape HuffPost's next chapter
BEFORE YOU GO
PHOTO GALLERY
11 Horrifyingly Sexist Vintage Ads