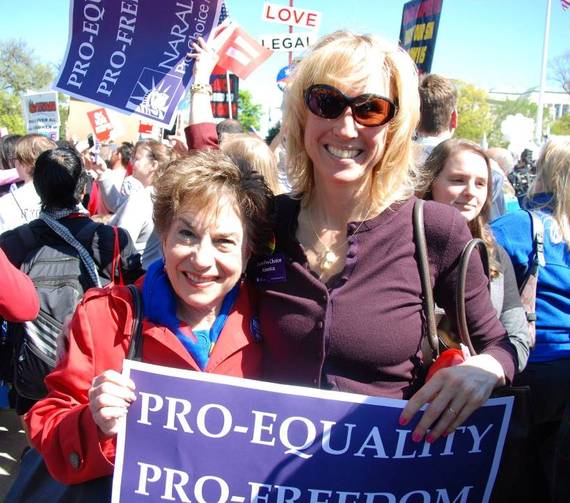 I join many across the country today in celebrating Women's Equality Day. Ninety-five years ago, advocacy from a dedicated group of women and like-minded men led to the 19th Amendment -- ensuring that women in the United States have the right to vote.
This right was not secured overnight. Countless suffragettes and their supporters marched, petitioned, faced imprisonment and showed tremendous courage in the struggle for women's rights. The first major women's rights conference in our country took place in Seneca Falls, New York in 1848 -- 72 years before the 19th Amendment was adopted.
We have come a long way. I am proud to be one of 100 women serving in Congress -- a historic number that we reached this year. Few things give me more pride and hope for our future than when I see women, of all ages and backgrounds, in leadership roles. We need even more women in elected office, running businesses and guiding organizations.
However, we still have a long way to go to reach full equality for women. We need equal pay for equal work. Women still make only 78 cent for every dollar men make -- and it is even less for women of color. We must end all attacks on women's reproductive rights. We must protect and expand Social Security and Medicare because women rely on these programs even more than men. We must ensure that there's paid sick leave and child care for all, so women can balance life at work and at home.
In addition, earlier this year we celebrated the 50th anniversary of the marches in Selma, Alabama and the enactment of the Voting Rights Act. Unfortunately, some want to take us backward. Republican leaders in many states across the country are trying to make it harder for Americans to vote. We must reject these efforts and work together to pass a restored and strengthened Voting Rights Act.
As a member the Democratic Women's Working Group and Co-Chair of the Congressional Seniors Task force, I will keep fighting for women's rights until they are completely secured. My daughters and granddaughters, and millions of women and girls nationwide, deserve our tireless efforts until we become a country where there is truly equality for all.
Calling all HuffPost superfans!
Sign up for membership to become a founding member and help shape HuffPost's next chapter