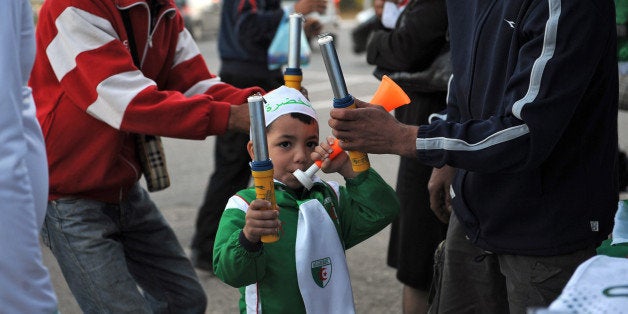 Today marks the official start of the 2014 FIFA World Cup in Brazil. Here, World Cup fever is palpable and the world's attention will be fixated on what's happening inside the stadium. Today also marks another very important day which risks getting lost in the fray -- the World Day Against Child Labor. What's the link?
Those of us who have been to mega sporting events have come across children selling souvenirs and some of us may have inevitably conceded to a wide-eyed wily salespersons somewhere in our travels. But make no mistake, child labor is a serious violation of children's rights that leave them extremely vulnerable to other violations such as physical and psychological violence, abuse and sexual exploitation. Despite laws barring children under 16 from working in Brazil, today there are approximately three million Brazilian boys and girls, aged 10 to 17 years, who are victims of child labor.
While we tend to downplay its importance, child labor was the form of child exploitation most often registered on the Brazilian government's Secretariat of Human Rights hotline during two major events in Brazil held in 2013.
Thus, the concern with protecting Brazilian children and adolescents from child labor during the World Cup is both legitimate and necessary, particularly since many of these children come from already vulnerable groups such as girl domestic workers, boys recruited by the drug trade, black and indigenous children.
Schools will be on holiday for the duration of the World Cup, making many Brazilian children even more vulnerable to different forms of child labor including the use of children for sexual exploitation purposes, pornography, forced labor and all forms of work that are likely to harm the safety, health or morals of children.
While talk has centered around Brazil's stadium preparations, other types of infrastructure have been in the making. Brazil has been preparing for this moment by strengthening its child protection system's ability to prevent and respond to violence and child exploitation - including child labor. It has been raising public awareness, mobilizing law enforcement agencies and reinforcing specialized services for children. The Government also recently approved new legislation that has stricter penalities on the sexual exploitation of children and adolescents by defining it a heinous crime.
A further step take was taken with an innovation that is putting child protection in the hands of citizens. The Government of Brazil, UNICEF and partners recently launched the 'Projeta Brasil' application which allows fans with a few taps on their smartphone or tablet, to immediately report cases of abuse, violence or exploitation of children, including child labor.
With this app, witnesses as well as victims of child exploitation can report the time, location and circumstances to local child welfare authorities by telephone or in person triggering immediate responses from law enforcement and child protection authorities. This tool, together with a large-scale communication campaign in the 12 host cities where the games are taking place is making the invisible phenomenon of child exploitation a shared responsibility for Brazilians and tourists attending the games. This app can be downloaded from Google Play and the Apple Store, and is available in English, Spanish and Portuguese and has already been supported by numerous celebrities.
As we kickoff this World Cup, let us keep in mind the lessons and legacy from South Africa's Nelson Mandela who said, "Sport has the power to change the world. It has the power to inspire. It has the power to unite people in a way that little else does. It speaks to youth in a language they understand. Sport can create hope where once they was only despair." Let's use that hope and work together as a team to make the start of these games the end of all forms of child labor.
Calling all HuffPost superfans!
Sign up for membership to become a founding member and help shape HuffPost's next chapter