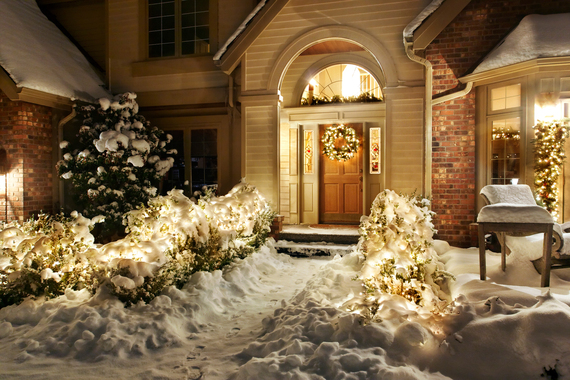 Photo Courtesy Shutterstock.com
Sometimes I think of the frenzy that surrounded Christmas preparations when I was a young mother -- and it makes me glad I'm not a young mother, anymore!
Cutouts. Snowballs. Buckeyes. Fudge. Pecan tarts. Date balls... When my children were little, I thought a perfect holiday season required baking up to 10 types of cookies.

That was just the beginning. I was determined to go to every holiday party. Help with every church pageant and outreach effort. Find gifts for everyone and her aunt Thelma. And... well, the list never seemed to end.
I wanted to do everything because Christmas was such a special time for me as a child. Life's challenges seemed to recede when my huge Catholic clan gathered for the holidays. At least in my memory.
I wanted my three kids to have memories that felt just as special.
But little by little in adulthood, year by year, a sense of burnout started to chip away at my enthusiasm for the holidays. I noticed myself dreading the mess of wrapping and unwrapping SO MANY gifts. And I noticed that it was becoming the norm for me to catch a cold, my immune system worn down and exhausted.
I didn't want that trend to continue. I didn't want a sick, grouchy mom to be a part of my kids' memories!

So I started making a decision each year to take a harder look at all that I might do or be asked to do, and comparing that list to one of what I truly loved and looked forward to.
I truly loved the smell of pine needles. When I was a child, my dad took my siblings and me to a tree lot to pick out just the right one to haul home. So that memory-making excursion was a keeper on my grown-up to-do list.
I truly loved to celebrate family, to rekindle that sense of connectedness I had as a child with more than 20 cousins. So even when we couldn't see everyone, we made a point of sending out a Christmas newsletter and taping the Christmas cards that we received to the inside of our front door.
And I truly loved to emphasize our faith and community. So midnight Mass on Christmas Eve, neighborhood caroling, and driving around to look at holiday lights remained on the schedule.
In fact, a lot of other activities stayed on the schedule -- more than I expected when I decided it was OK to pare down. I even added a few. The trick, I discovered, was eliminating the feeling of pressure and realizing that what I most wanted to give my family for the holidays was my best self. Once I felt free to say no to other things, I found myself wanted to say yes again.

So confession: I still go a little overboard with Christmas cookies sometimes.
But only when I want to.
REAL LIFE. REAL NEWS. REAL VOICES.
Help us tell more of the stories that matter from voices that too often remain unheard.