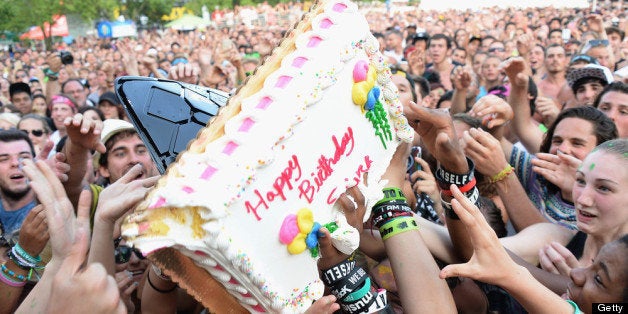 "Best Day Ever" was Warped Tour 2013's motto, and it surely was the best day ever! Spread out across the summer, this tour is an all-around fun way to spend a summer day. This year was my fourth year of attendance, and just like always, it will definitely be considered one of the best days of not only my summer, but probably my year, too!
Of course, since I went in the middle of July, I was drenched in my own sweat all day. Thankfully, though, they had a water bottle refill station, a tent that sprayed water on you (kind of like an outdoor shower) and a huge inflated Slip 'N' Slide for the people who were looking to be a little more playful than your average Warped Tour attendee.
I was very happy with the fact that I got to see a few bands that I never really listened to before. It's always a good feeling to discover a new band that you actually like the sound of. One of the more memorable bands that I saw were called The Chariot. They came out to "Swing Low, Sweet Chariot," then as soon as that was over, they immediately started their own music. I really think it would be safe to say it was the craziest, heaviest music I've ever heard in my life. The energy they had was unreal. The lead vocalist was hanging from the ceiling and standing on the drum-set while screaming! Then, because it was his birthday, they threw a chocolate cake into the crowd, which started a massive chocolate cake fight. Talk about a crazy performance!
Next, I got to see one of the bands that basically helped me through middle school, The Used. This was my third time see them, and once again, they did not disappoint! They played all of their "classics," like "The Taste of Ink" and "All That I've Got." The crowd they had was so huge. It literally took up two crowd spaces of two different stages. They've been around over ten years, so it really wasn't any surprise.
However, the band that I was the most excited to see was Bring Me The Horizon. They played a lot of music off of their newest record, Sempiternal. When they were singing one of their biggest songs, "Chelsea Smile," he made everyone in the crowd sit down in the middle of the song, and directed everyone to jump up when they got to the breakdown. It was so sick to see. It made me realize how big their crowd was. They were completely amazing -- hands down the best band of the day.
Overall, the day was a success. The only downfall of the day that I had was letting the heat get to me and passing out. But it didn't take long for the music of some of my favorite bands to bring me back up to speed! I think Warped Tour is an experience that anyone would love, whether or not they think they will like the music. You discover new music and you can meet some really cool friends in the process. It's a win-win situation!
Calling all HuffPost superfans!
Sign up for membership to become a founding member and help shape HuffPost's next chapter