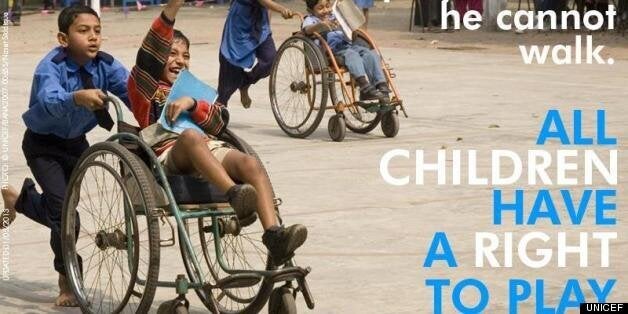 A new social media campaign is using uplifting stories to raise awareness for grim facts.
Social media users can upload inspiring photos of their own abilities or those of friends to UNICEF's Facebook, Twitter, or Instagram pages. The top 15 winning photos will be displayed at UNICEF's Manhattan headquarters.
About 93 million children worldwide suffer from a mild or severe disability, according to the report.
Despite this alarming reality, more than one-third of the world's countries are failing to provide these children with adequate resources and services, according to the campaign. The study points out that this specific problem starts with a lack of information and attention to the importance of the needs of children with disabilities.
"Exclusion often stems from invisibility," the report states. "Few countries have reliable information on how many of their citizens are children with disabilities, what disabilities they have or how these disabilities affect their lives. Children thus excluded are unknown to, and therefore cut off from, public services to which they are entitled."
In order to mobilize political action on an international level, UNICEF advocates for the full ratification of the Convention on the Rights of Persons with Disabilities - a human rights treaty that demands social liberties for people with disabilities. 27 countries have still not signed the treaty, some of which include Somalia, Zimbabwe, Gambia, Angola, and Iraq.
Abid Aslam, the UNICEF report's editor, said he hopes that this year's examination will bring attention to the urgency of the issue and also promote full international ratification of the treaty.
"This means making a serious commitment to finding the children with disabilities, understanding their needs, including them in the design of solutions as well as the evaluation of supports and services that are intended to give them a fair chance at surviving, thriving, exceeding," he says in a UNICEF video.
See examples of #ThisAbility below and add your own. The deadline for submissions is Monday, June 10.