We weren't able to make it to Thom Browne's menswear show in Paris on Sunday night, but Jenny Barchfield of the Associated Press was in attendance and she's dubbed it "the dinner party from hell." And the AP never uses four letter words! Ne'er! What was so off? Cue Barchfield:

Rumor has it that Browne's banquet -- featuring models in period dress and knit wig caps and others with Howard Stern wigs and sweatbands -- was supposed to represent America's first Thanksgiving dinner, but the message was clearly lost on the audience of fashion editors, journalists and stylists. They were busy making dinner plans on their cell phones while the models shuffled around the table -- the performance art version of a runway show. The audience chalked up the whole plodding thing up to a bizarre reenactment of some obscure (and boring) episode of the French revolution.

From the rest of the Associated Press review:
The setting was sumptuous and the spread was plentiful, but Browne's menswear banquet Sunday wasn't a dinner party you'd want to attend.

The New York-based designer followed up on his enthralling, over-the-top Paris debut last season with a display that had all the trappings of a blockbuster show -- with fashion and theatrics in equal doses. But ultimately it fell flat, lacking life and drained of all spontaneity.

Fashion insiders filed into a gilded salon, taking their seats around a banquet table laden with a cornucopia of fruits and pies, roasted turkeys and wine. But the banquet's 42 guests -- models decked out in caps knit in the shape of colonial powdered wigs and oversized John Lennon sunglasses -- nibbled only kernels of corn and lima beans, spearing and consuming them one by one, like lifeless automatons.

Up till there, fine, but then the models began to change seats. All 42 of them. One by one, walking around the mile-long table at what can only be described as a geriatric shuffle.

As the minutes dragged on and the audience began to sweat under the cinematic spot lights, you just wanted to shout at them to get a move on, already.

True, the laborious musical chairs gave the fashion journalists, editors and stylists ample time to inspect the garments, but by then they'd already seen them close up.

A departure from the shrunken suits that have become Browne's trademark, the collection was full of volume. Fitted 18th century-style jackets had tails that were as full as antebellum ladies' skirts, and for once Browne's models didn't look as if they'd been vacuum-packed into the tweed and plaid pants.

A brilliant idea on paper, show ended up being a tedious ordeal, like that dinner party you'd long looked forward to attending but couldn't wait to escape.
Take a look and tell us what you think.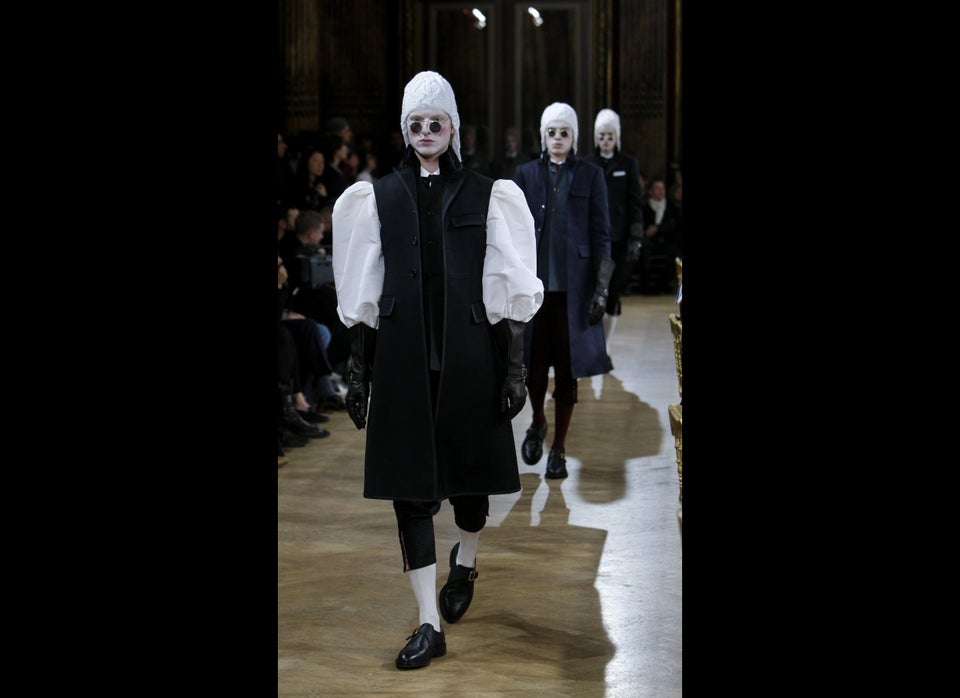 Popular in the Community