WASHINGTON ― Sen. Thom Tillis (R-N.C.) announced on Thursday that he is trapped in a Randian nightmare where members of Congress seek to "beat down" the virtuous organization Goldman Sachs ― a benevolent force in American democracy that goes to great lengths to "employ the little guy."
"I feel like sometimes I'm living a reality TV version of Atlas Shrugged," Tillis declared at a Senate hearing. "There are a lot of people in this Congress that wanna just beat down job creators and employers ... People want to demonize Goldman Sachs. That's an easy thing to do, right? Just beat up on a financial services institution. An institution that's committed to, let me look at the general numbers here ― they have 36,500 employees. There's probably a lot of little guys in there. They've contributed billions of dollars to nonprofits."
"Demonizing employers that employ the little guy isn't looking out for the little guy," Tillis concluded.
Tillis was speaking at the confirmation hearing for Jay Clayton, President Donald Trump's nominee to chair the Securities and Exchange Commission. Clayton is a top Wall Street attorney who helped Goldman Sachs with its 2008 government bailout. Tillis' outburst appeared to be a response to earlier questioning from Sen. Elizabeth Warren (D-Mass.), whom Tillis griped about in a previous hearing for highlighting a conflict of interest involving President Donald Trump and federal affordable housing programs.
Under government ethics rules, Warren noted, Clayton would have to recuse himself from any enforcement actions the SEC takes against companies that he represented, or companies that his law firm Sullivan & Cromwell represents in cases before the SEC. That creates a scenario in which the agency's two Republican and two Democratic commissioners are likely to deadlock about enforcement ― a common occurrence during the tenure of SEC Chair Mary Jo White, who was also a prominent corporate attorney before going into government.
"Based on your personal client disclosures then, for half of your tenure as SEC chair, you would not be able to vote to enforce the law against several big banks, including Goldman Sachs, Deutsche Bank, Barclays and UBS," Warren told Clayton at the hearing. "Those banks have repeatedly violated securities laws in the past few years. But if they violate securities laws again in your first two years as SEC chairman, you can't vote to punish them. And I think that's a problem."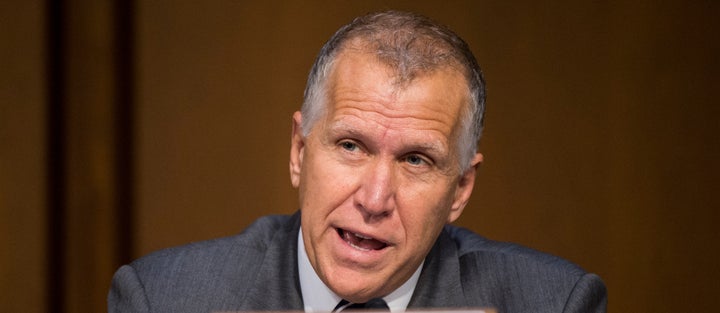 And indeed, Goldman Sachs has faced a long list of charges that it's run afoul of the law. Last year, the bank agreed to pay $5 billion to settle charges that it defrauded its clients by selling them toxic mortgage-backed securities. It paid a $120 million penalty to settle charges that it manipulated foreign exchange markets. It paid a separate $36.3 million penalty to resolve charges that it accepted confidential regulatory information from the New York Fed and used it to get clients. In 2014, the company paid $3.15 billion to settle charges that it defrauded Fannie Mae and Freddie Mac. In 2012, the bank paid $12 million to settle "pay-to-play" campaign contribution violations involving the Massachusetts state treasurer, paid $22 million to settle charges that its research and sales teams were holding meetings that allowed them to improperly share insider information, and paid $1.5 million and $7 million to settle two other supervision problems. A member of Goldman Sach's board of directors was sentenced to prison the same year for illegally tipping off a hedge fund manager to the company's boardroom secrets. In 2010, the bank paid $550 million to settle charges that it defrauded its own clients by selling them mortgage-linked securities that were designed to fail, and which Goldman Sachs itself bet against.
That just covers the years since the financial crisis. Prior to that, Goldman Sachs had settled charges that it had rigged the auction-rate securities market, cheated while managing initial public offerings, and illegally traded government bonds.
Goldman Sachs did not respond to a request for comment for this article.
"Any financial services executive or anybody in a financial services business that acts badly needs to suffer the consequences," Tillis said Thursday. "But if we just make the American people think that they're all bad, you are hurting the little guy."
Still, Tillis' most grievous error at the hearing was one of literary interpretation. Tillis simply does not understand the book he referenced during his tirade. Atlas Shrugged is a novel about a railroad tycoon who has an affair with a married steel magnate before joining a clan of very bright rich people who go on "strike," letting society collapse without their talents while they enjoy the ubermensch lifestyle in a peaceful valley.
Atlas Shrugged is not a novel about all the charities supported by good-hearted corporations. Its heroes literally abandon society to chaos and destruction rather than deploy their talents for the public good. Ayn Rand, the author of Atlas Shrugged, would not have approved of Goldman's philanthropic work, because she believed all charitable activity fostered weakness and opposed it on principle. She literally wrote a book called The Virtue of Selfishness, which celebrates people who act in their own interests at the expense of their communities.
It's not exactly an alien worldview on Wall Street.
Popular in the Community