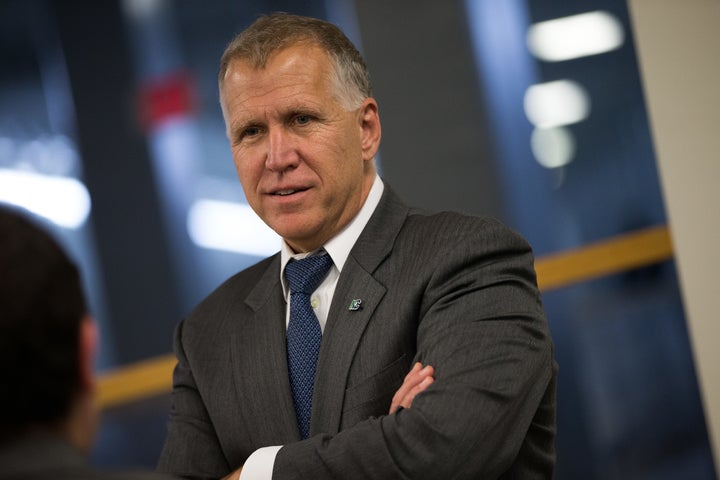 WASHINGTON ― Republicans have never made it easy for President Barack Obama to confirm judges. But Sen. Thom Tillis (R-N.C.) came up with a new reason the Senate shouldn't be filling empty court seats: It's not our job.
Democrats including Sens. Elizabeth Warren (Mass.) and Mazie Hirono (Hawaii) made repeated requests Wednesday to confirm a batch of Obama's judicial nominees who are ready for votes. Each time they tried, Tillis objected and suggested the Senate shouldn't be spending time on judges.
"What we get are things that have nothing to do with doing our jobs," he said. "I'm doing my job today and objecting to these measures so we can actually get back to pressing matters."
Democrats seemed perplexed by Tillis' rationale.
"I'm not sure what version of the Constitution you're reading that doesn't say confirming judges is part of your job in the United States Senate," Warren said.
"Of course confirming judges is part of the Senate's job," Hirono said. "In fact, only the Senate can do that."
Tillis spokesman Daniel Keylin later declined to clarify to HuffPost why Tillis said it isn't the Senate's job to confirm judges. Instead, he criticized Democrats for "refusing to do their jobs" by using Senate floor time to request votes on judges when Republicans wanted to debate bills relating to veterans and troops.
"Rather than pontificating your own personal political views, you should refer back to his remarks, which put judicial confirmations into historical context," Keylin said.
Congress is about to recess until early September, and since it's a presidential election year, when judicial confirmations tend to peter out in the fall, Democrats have been pushing to confirm at least some judges before they leave. At least 24 judicial nominees are ready for votes. None are controversial, and all have bipartisan support. In fact, 23 of them were confirmed unanimously by the Judiciary Committee, of which Tillis is a member.
But they've stalled because of politics. GOP leaders want to leave those court seats empty until next year, when they're hoping Donald Trump will be in the White House and put forward more conservative nominees.
The problem with that is some courts really need vacancies filled ― some have been waiting years ― and because the Senate has been moving so slowly to fill them, court vacancies have been skyrocketing. Cases are getting backed up for years and judges are burning out trying to keep up. Even some Republicans are urging their leadership to let nominees get votes.
"Talk is cheap. Real cases are piling up. Real courts are starved for help," Warren said. "If Senate Republicans leave town without putting a single one of these highly qualified, non-controversial judicial nominees on the bench, they are making it clear that for them … politics trumps everything. Even an independent judiciary."
Watch Tillis' exchange with Democrats below.
This post has been updated with comment from Tillis' spokesman.
Popular in the Community