A Los Angeles pornographer wants to expose the hypocrisy of porn consumers by offering an X-rated film contract to the Duke University student who outed a female classmate as an adult actress.
The offer is legit, Kulich claims, but the point is to poke fun at two-faced porn fans.
"There's a saying in porn: 'People j*** off with the left hand and point their finger with the right,'" Kulich told The Huffington Post. "I want people to know that porn stars have families and they're just trying to make a living. If you're enjoying their work, why ruin their lives?"
"Ten grand is a lot of money for a kid like you," Kulich wrote in an otherwise NSFW open letter to Bagley. "Do you know how many porn memberships you could buy with that?"
In addition, Kulich will give Bagley "an additional $1,000 for every inch he's packing over four."
Kulich recently sent the proposition to Bagley's Facebook page and via Twitter, but has not heard back.
Bagley allegedly promised to keep "Lauren's" extracurricular source of income a secret but outed her at a fraternity rush event almost immediately, according to an article in the Duke Chronicle last month.
She immediately started receiving threatening messages from fellow students, according to her XOJane.com article.
"I did not expect that every private detail about my life would be dissected. I did not expect that my intelligence and work ethic would be questioned and criticized. And I certainly did not expect that extremely personal information concerning my identity and whereabouts would be so carelessly transmitted through college gossip boards. I was called a 'slut who needs to learn the consequences of her actions,' a 'huge f***ing whore,' and, perhaps the most offensive, 'a little girl who does not understand her actions.'"
Bagley has also come under criticism for his actions.
OregonLive.com columnist Steve Duin wrote that the Duke Porn Star scandal shouldn't be a discussion over whether women should do porn, but about the tragedy of betraying a friend's trust.
For his part, Bagley said he regrets outing "Lauren."
She told me that I ruined her life," Bagley told the Duke Chronicle. "I certainly would take it back. I would take pretty much that whole night back."
Kulich's offer may seem like he's rewarding Bagley for outing "Lauren," but he doesn't see it that way. He figures many of the students who allegedly threatened "Lauren" once they discovered she was working in porn are just as likely to hassle Bagley about his own porn offer even if he doesn't accept.
"I offered [Bagley] the money to show him how much he values his privacy," Kulich said. "I know he probably won't take the money, but maybe by making the offer public, he'll see how everyone is entitled to privacy regardless of what they do."
Before You Go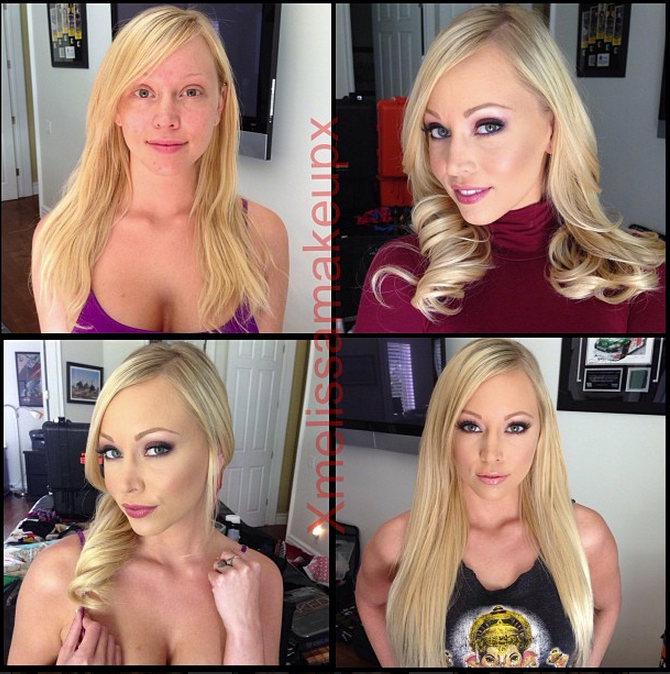 Porn Stars Without Makeup
Popular in the Community