One of the largest rooms of dOCUMENTA (13) is dedicated exclusively to the work of German artist Thomas Bayrle. Bayrle, born in 1937 in Berlin, has already participated in Documenta 3 in 1964 and in Documenta 6 in 1977 in Kassel (Germany). Nearly 50 years after his first participation Thomas Bayrle is now celebrating his impressive comeback to one of the most important art events of the world. In this conversation with Dr. Bettina Krogemann, Thomas Bayrle talks about the works he is showing at dOCUMENTA (13).
Framed by two monumental works on the wall, eight kinetic sculptures draw the visitors into their spell. These works are engines that are cut open. If you ever wanted to know how the motor of a Porsche 911, Moto Guzzi bike or the radial engine of an airplane works: It can be seen here. Thomas Bayrle's exhibition at dOCUMENTA (13) is appealing both to art lovers as well as to technology enthusiasts. Bayrle himself has great respect for the skills of the engineers:
"The engineer is a creative profession that deals with matter in a very real way, much like a doctor. I see this as an incentive, we who make art must strive for precision in our thinking and acting."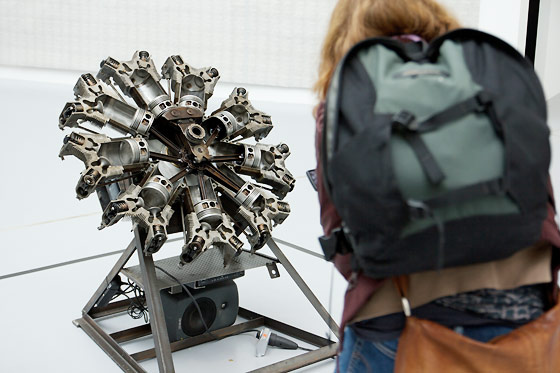 For Thomas Bayrle the machines are compressed cathedrals, the beauty and complexity of a cathedral in a small space. Bayrle's kinetic sculptures at dOCUMENTA (13) draw on works he created in 1966, when he built machines. This time, he combines the engines that are cut open with soundtracks that he recorded in a church. He merges the rosary prayer with the engine noise and composes a sound jelly, as he calls it, from their uniform and repetitive sound.
"In fact, I think, in short, rosary prayer and machines belong together. In general: Meditation and machines belong together. It's the rhythm. Because, our heart has a rhythm, everything we make is serial and the serial sustains us physically, mentally, but also the machines that are actually a reflection of our body."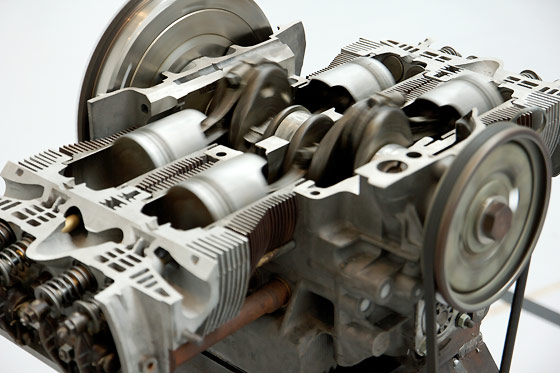 Rhythm, repetition, and the aesthetic principle of the serial have always been an essential element of Thomas Bayrle's work. In the tradition of artists like Andy Warhol, Roy Lichtenstein and Sigmar Polke, Thomas Bayrle draws his motives and themes from the world of goods and the consumer society. Bayrle was trained as a weaver and then studied at the Arts and Crafts School in Offenbach. He learned the technique of lithography and etching. From 1972 to 2002 he was professor at Städelschule, State College of Fine Arts in Frankfurt am Main (Germany).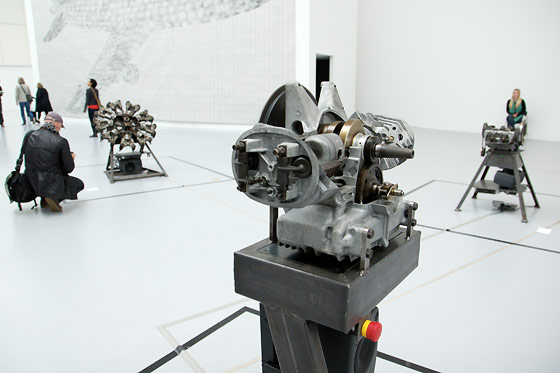 For more videos covering contemporary art go to VernissageTV.
REAL LIFE. REAL NEWS. REAL VOICES.
Help us tell more of the stories that matter from voices that too often remain unheard.