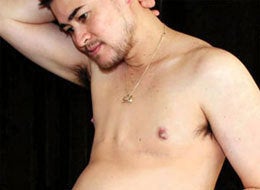 ***Scroll down for photos***
Thomas Beatie, who is being touted as the world's first pregnant man, was born a woman. While he had his breasts removed and is legally a man, his vagina is still intact.
Initial reports said that Thomas Beatie had planned on a cesarean birth, but according to ABC News, the pregnant man has not yet revealed how he delivered the baby.
UPDATE: TMZ is reporting that pregnant man Thomas Beatie gave birth via C-section, while ABC News is claims that "that earlier reports that Beatie had planned a caesarean section are false" and the birth was "natural."
2nd UPDATE: People.com is reporting that, "despite previously published reports, Thomas Beatie says the baby was not delivered via C-section."
We're hearing the whole thing was totally cloak and dagger. He checked into the hospital in Bend, Ore. under a fake name after going into labor early Monday morning and his room was sealed off, away from other expectant moms.
The birth of his daughter will presumably be a crucial aspect of Thomas Beatie's memoir, titled "LOVE MAKES A FAMILY: A Memoir of Hardship, Healing and an Extraordinary Pregnancy."