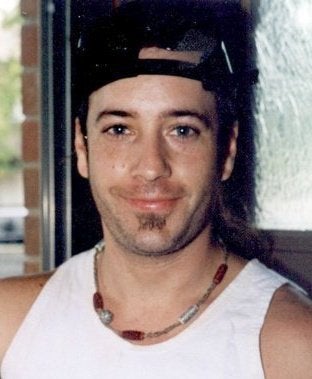 Pete Skelton remembers his son as a gifted mechanic, a talented bass player and "one of the sweetest guys you ever knew."
"He liked to build bicycles," Skelton, 74, of Nashville, told The Huffington Post. "He would make them for other kids."
But around Thanksgiving 2011 when the whole family was together, his 43-year-old son's health suddenly turned. Skelton said he was shocked. "Before I left [their home one evening], Cody and I were just sitting at the edge of the bed -- talking like normal." said Skelton. "When I came back, that's when I learned from his mother, of him going into that mental condition."
On Nov. 28, 2011, Cody Skelton's family members were stunned by their first look at his dark side. That morning, Skelton attempted to gouge his own eye out.
Paramedics brought him to the Southern Hills Medical Center in Nashville, where doctors said he had "acute psychosis" and "dangerous impulses to injure himself," according to court documents. At about 2 p.m., doctors executed an involuntary transfer and moved Cody to the Middle Tennessee Mental Health Institute.
That night, Cody killed himself.
"Cody Skelton was found by staff face down in the toilet, a shower curtain wrapped around his neck and around the commode," a legal complaint against Guardian Health Care Providers says. "A blanket was wrapped around the doorknob of the bathroom. Cody Skelton had hung himself with the shower curtain and drowned himself."
Pete Skelton filed two lawsuits, one against the state of Tennessee and another against Guardian Health Care Providers, a private organization hired by the state mental health facility which Skelton said failed to properly treat his son.
"Cody Skelton was showing signs of suicide and needed care and constant observation to ensure that he did not harm himself," the complaint against Guardian says. "Unfortunately, [he] did not get the care, observation and attention he desperately needed."
Hospital policy is to check a patient in Skelton's condition every 15 minutes. According to both complaints, medical records show that Skelton was last checked at 9:30 p.m. on the day he was brought in, "approximately four hours before he was found dead."
Surveillance footage of the room reviewed by the State of Tennessee Department of Mental Health shows that the 15-minute policy was not followed, according to the complaints.
Cody's father was horrified. "I couldn't understand because he was supposed to be under suicide watch," he said. "Someone was supposed to be there every 15 minutes, right there with him."
Michael A. Rabkin, director of communications for the Tennessee Department of Mental Health and Substance Abuse Services, said the state was unable to comment at this time. Calls from The Huffington Post to Guardian Health Care Providers were not returned.
"Cody Skelton was found to have no pulse," according to the Guardian complaint. "CPR was initiated and Emergency Medical Services called. However, their efforts to resuscitate him were unsuccessful. It was too late to save his life."
Hospital employees took Cody to Summit Medical Center, where he was pronounced dead at 2:35 a.m.
Following the incident, Guardian fired at least two employees who worked the night of Cory's suicide, according to documents obtained by Skelton's attorney.
Today, the 1965 Mustang Cody planned to paint still sits, coated with gray primer, in his father's driveway. Pete Skelton knows he will never have his son back, nor will they ever play music together like they used to. "It killed me, it was just everybody crying," he said. "I couldn't believe it. Everyday I get tears for him."
Skelton seeks $2,500,000 in damages from Guardian and another $300,000 from the state for his son's death, according to the complaints.
"I'd like to see them punished," he said. "And the only way you can punish them is with money.
Related
Popular in the Community