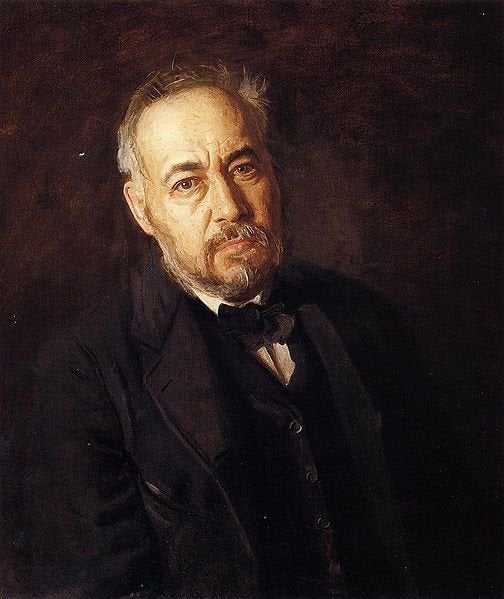 In honor of Thomas Eakins' birthday, we are revisiting a post originally published last year honoring the artist's life and work.
Today is the birthday of American Realist painter, photographer and sculptor Thomas Cowperthwait Eakins. The artist and arts educator would turn 169 if he were miraculously still alive today.
Eakins was born on July 25, 1844 in Philadelphia, the city where he would live for many years. He began studying at the Pennsylvania Academy of the Fine Arts in 1861, developing an interest in the nude human body and anatomy. In the mid-1800s, the young Eakins studied art in Europe with French realist painters Jean-Leon Gerome and Leon Bonnat, the latter being known for is emphasis on anatomical accuracy in his work. During his stay abroad, Eakins showed no interest in the emerging Impressionist movement in Paris, instead gravitating toward Spanish realists such as Diego Velazquez. It was also in Europe that he was exposed to photography, a medium that would later become integral to his studies of motion.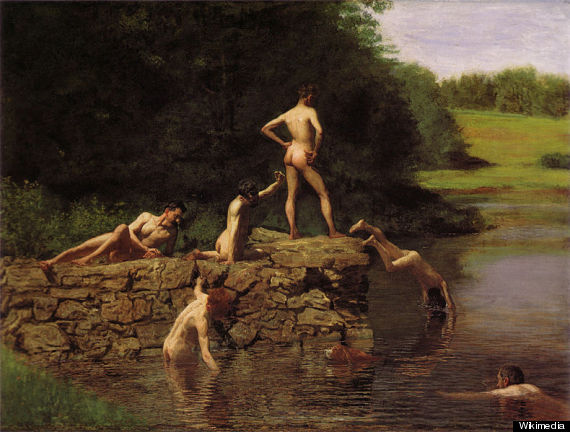 "The Swimming Hole," 1884-5
Eakins returned to the United States and immediately produced one of his most famous pieces, "Max Schmitt in a Single Scull," one of many depictions of large group rowing scenes. The young artist also created a series of paintings of Victorian interiors, frequently using his family members as models for his work. In 1876, Eakins took his European-training back to the Pennsylvania Academy, volunteering as a teacher and later signing on as a salaried professor. He introduced all new artistic methods to his students, urging them to use photography in order to effectively study anatomy and motion of the body. Eadweard Muybridge's use of the camera as a study of sequential movement influenced Eakins greatly, but instead of using multiple cameras, the professor opted to use a single mechanism to produce a series of exposures on one negative, as seen in his "Study in Human Motion."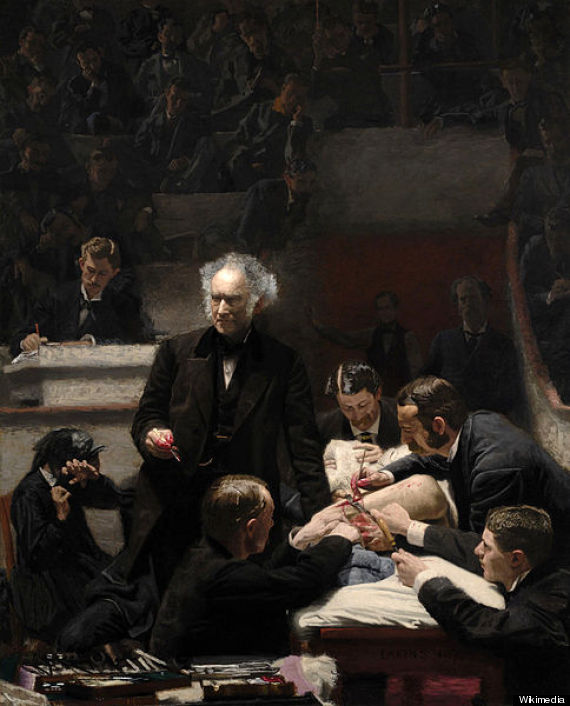 "The Gross Clinic," 1875
One of Eakins' most well-known artworks, "The Gross Clinic," was created in 1876 and represented the artist's ongoing curiosity with surgical procedures and dissection. The painting shows a Philadelphian surgeon, Dr. Samuel Gross, supervising an operation on a patient's leg. Eakins spent nearly a year working on the scene, and the end result amounted to one of the artist's largest paintings ever produced.
Eakins died on June 25th, 1916 at the age of 71. A year after his death, the Metropolitan Museum of Art celebrated the artist with a memorial retrospective, which the Pennsylvania Academy replicated soon after. Since then, Eakins has been studied for his portrayal of male and female nudes as well as his realistic depiction of American life.
So in celebration of Thomas Eakins' birthday, check out the slideshow of the great American painter's work below!
PHOTO GALLERY
Happy Birthday Thomas Eakins!
REAL LIFE. REAL NEWS. REAL VOICES.
Help us tell more of the stories that matter from voices that too often remain unheard.