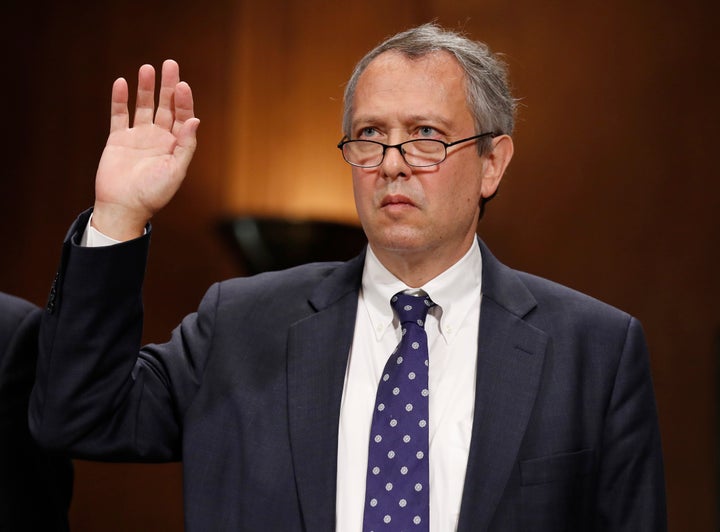 WASHINGTON ― The Senate on Wednesday inched closer to confirming Thomas Farr to be a lifetime federal judge, despite strong opposition from civil rights groups and Democrats over his long career of trying to weaken black voters' rights.
The Senate voted 50-50 on a procedural step to advance Farr's nomination to the U.S. District Court for the Eastern District of North Carolina. Vice President Mike Pence came in to break the tie. Every Democrat voted against Farr, as did Sen. Jeff Flake (R-Ariz.), who is opposing all of President Donald Trump's nominees until he gets a vote on a bill to protect special counsel Robert Mueller.
Farr's final confirmation vote is expected later this week.
Civil rights groups and the Congressional Black Caucus have been trying to sink Farr's nomination for nearly a year. The 64-year-old attorney wrote North Carolina's extreme voter ID law in 2013, which was later struck down by a federal appeals court. The court found the law targeted black people "with almost surgical precision." Farr also defended the state's racially discriminatory gerrymandering in federal court in 2015 (and lost), and he may have lied to the Senate about his role in disenfranchising tens of thousands of black voters when he worked for the late Sen. Jesse Helms (R-N.C.) in 1990.
"It is unconscionable that the Senate would even consider someone with Thomas Farr's record," Sherrilyn Ifill, president of the NAACP Legal Defense Fund, said Tuesday. "In 2018, this should simply be unacceptable."
It would only have taken one more Republican voting with Democrats to stop Farr's nomination. Democrats had been eyeing Sens. Lisa Murkowski (R-Alaska), a moderate who sometimes sides with them, and Tim Scott (R-S.C.), the lone black senator in his party, as potential allies. But despite a dramatic delayed vote by Scott, both voted to advance Farr's nomination.
But Scott said he remained undecided on whether to ultimately support Farr's confirmation. He explained he had more questions about the nominee's work as a lawyer on Helms' campaign and his role in an effort to discourage black people from voting.
"I've been in the Senate long enough to see a whole bunch of questionable nominees, frankly from both parties, but Thomas Farr is unquestionably one of the worst."
Ahead of the vote, Democrats took turns ripping Farr as unfit for the federal bench.
"I've been in the Senate long enough to see a whole bunch of questionable nominees, frankly from both parties, but Thomas Farr is unquestionably one of the worst," said Senate Minority Leader Chuck Schumer (D-N.Y.). "It's hard to believe President Trump nominated him; it's even harder to believe Senate Republicans are considering him again. This is a man who stands for disenfranchisement of voters, particularly minority voters."
Republican Sens. Thom Tillis and Richard Burr of North Carolina, who are ushering Farr's nomination through the Senate, have dismissed Democrats' concerns about Farr and noted that he was rated "well-qualified" by the American Bar Association.
"It's basically downsized Kavanaugh tactics, as far as I'm concerned," Tillis told Roll Call on Tuesday, suggesting Democrats are unfairly attacking Farr in the same way he thinks they unfairly attacked Supreme Court Justice Brett Kavanaugh during his confirmation process this summer.
In a development late Tuesday, the Lawyers' Committee for Civil Rights Under Law cited new revelations in a 1991 memorandum from the U.S. Justice Department showing that Farr played a central role in voter suppression schemes targeting black voters as far back as 1984.
"The Justice Department described Farr as the 'primary coordinator' of these schemes," said Kristen Clarke, the group's president and executive director. "Moving forward with this nomination in light of this new evidence would make a mockery of the Senate's advice and consent obligation."
It's not clear how much that detail could affect Farr's confirmation. A spokesman for Senate Majority Leader Mitch McConnell (R-Ky.) said Farr is on track to be confirmed no later than Thursday night.
Igor Bobic contributed reporting.
This article has been updated with additional information about Scott's vote.
Popular in the Community