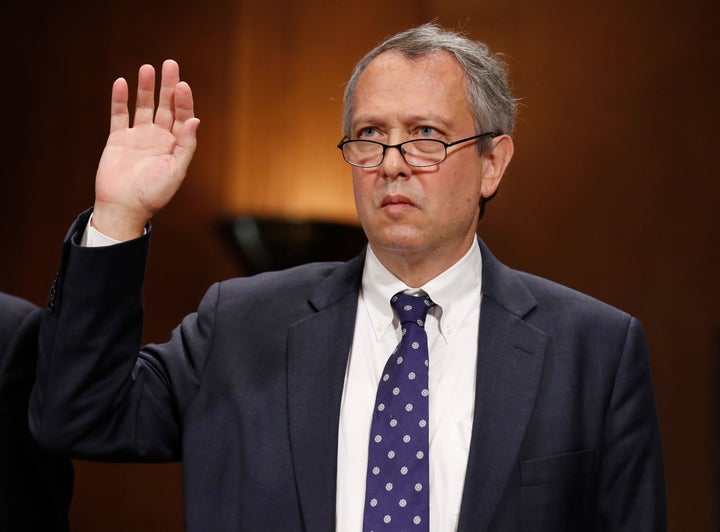 WASHINGTON ― The Senate is expected to vote this week on whether to confirm a judicial nominee who helped draft North Carolina's voter suppression law and defended racially discriminatory gerrymandering, and who was accused of lying to lawmakers about his role in disenfranchising black voters in the 1990s.
The Senate Judiciary Committee voted along party lines in January to advance the nomination of Thomas Farr, 64, a lawyer whom President Donald Trump picked for a lifetime seat on the U.S. District Court for the Eastern District of North Carolina. The nomination has faced particularly vocal opposition from black lawmakers, civil rights groups and the NAACP, who claim that Farr intentionally disenfranchised voters of color and undermined workers' rights.
"For the Senate to first bring up the judicial nominee known as the 'vote-suppressor-in-chief' adds insult to injury," said Hilary Shelton, director of the NAACP's Washington bureau. "It makes crystal clear who stands for voting rights and who stands for voting wrongs."
All of the 49 members who caucus with Democrats in the Senate have pledged to vote against Farr. Sen. Jeff Flake (R-Ariz.) has indicated he will not support any more of Trump's judicial picks until Senate Majority Leader Mitch McConnell (R-Ky.) allows a vote on legislation protecting special counsel Robert Mueller. This means Democrats would only need to pick up one more vote to sink Farr's nomination.
As an attorney, Farr helped write a 2013 North Carolina law that activated a number of voting restrictions, including cutting early voting and requiring voter ID. The GOP-led legislature then hired Farr to defend the law in a federal lawsuit challenging it. During a hearing in the case, Farr denied that the law was intentionally discriminatory, and said it was "not a nefarious thing." But in 2016, the U.S. Court of Appeals for the 4th Circuit struck down the law, saying North Carolina lawmakers enacted changes that they knew would disproportionately affect African-Americans. The law, the court said, targeted black people "with almost surgical precision." The U.S. Supreme Court declined to take up an appeal of the decision.
North Carolina Republicans also hired Farr to defend their state and congressional legislative plans. Some of those districts were struck down as unlawfully racially gerrymandered in decisions upheld by the U.S. Supreme Court.
The timing of Farr's vote in the Senate ― after the midterm elections, and nearly 10 months after he was advanced out of committee ― suggests that Republicans recognized they'd have an easier time pushing through his nomination during the lame-duck period before a new Congress is seated in January. Democrats, meanwhile, are hoping to pick off at least one moderate GOP senator, like Sen. Susan Collins (Maine) or Sen. Lisa Murkowski (Alaska), to join them in defeating Farr's nomination. They are also targeting lawmakers like Sen. Tim Scott (S.C.), the GOP's lone African-American senator, and Sen. Marco Rubio (Fla.), both of whom helped sink a Trump judicial nominee this summer over his racist writings.
Farr's vote "is a litmus test for voting rights in the Senate," Sen. Brian Schatz (D-Hawaii) wrote on Twitter last week. "I think we stand a good chance of succeeding."
During his confirmation hearing, Farr faced questions about his work as a lawyer for former Sen. Jesse Helms (R-N.C.) in 1990. Just before Election Day that year, Helms' campaign targeted black voters with over 100,000 postcards that had incorrect information about voter qualifications. The postcards warned readers that they could face criminal charges for illegally voting, an intimidation tactic.
Farr told senators he did not know about the postcard scheme until the Justice Department contacted the campaign about it, but a former Justice Department official said Farr attended a meeting about "ballot security" before the postcards were sent out.
Asked about the discrepancy, Farr later told senators he had attended the meeting but did not discuss the postcards there.
Farr's nomination has also attracted controversy because he would fill the longest judicial vacancy in the country. The Eastern District of North Carolina, which is about 27 percent black, has never had an African-American judge. President Barack Obama nominated two African-American women to the court, but Republicans stalled both their nominations.
Popular in the Community