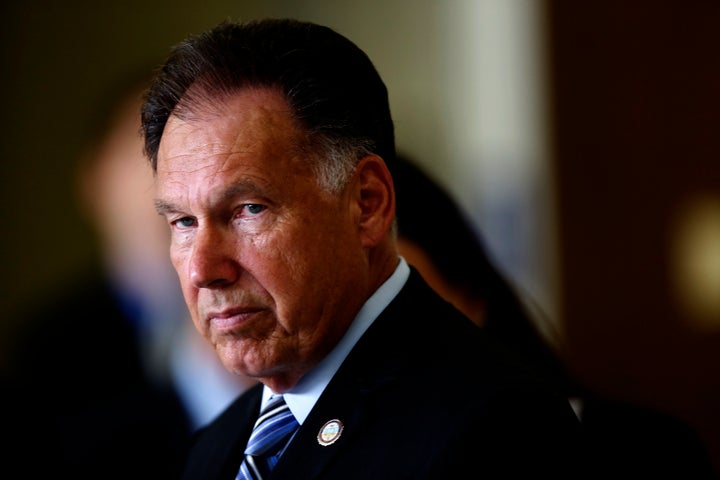 LOS ANGELES -- The Orange County District Attorney's Office has unconstitutionally "disrupted" justice in the county by blocking murder cases from being heard by a judge who exposed misconduct, a local judge ruled.
Superior Court Judge Richard King, in a strongly worded Dec. 3 ruling, wrote that the prosecutors' actions "have substantially disrupted the orderly administration of criminal justice in Orange County, the sixth largest county in the nation," by repeatedly disqualifying Superior Court Judge Thomas Goethals from hearing their murder cases.
"It has negatively impacted not only the assignment of murder cases, but all felony cases as well," King wrote.
County prosecutors recently requested that Goethals be removed from a murder case, and King issued the 46-page ruling as a rejection of that request. In the ruling, he says that during a three-year span from 2010 to 2014, Goethals was assigned 35 murder cases and was disqualified only once by OCDA prosecutors. However, from February 2014 through September 2015 -- during the same period when Goethals' rulings found that county prosecutors and police had committed misconduct -- Goethals was assigned 49 murder cases and was disqualified by county prosecutors in all but three.
"This disparity is not coincidental," King writes. He spends a large portion of the ruling linking the disqualifications to multiple controversial rulings from Goethals, one of which booted the OCDA office -- all 250 prosecutors -- from the penalty phase trial for Scott Dekraai. Dekraai pleaded guilty last year to shooting and killing his ex-wife and seven other people in a hair salon in 2011, in what remains the largest mass murder in Orange County history.
Dekraai's attorney, Deputy Public Defender Scott Sanders, unearthed violations within the county's secret jailhouse informant program, as well as internal records from the program that may have been improperly concealed for over 30 years.
While both prosecutors and defense attorneys are legally entitled to remove a judge from a case, King argues that what the OCDA office is doing is an abuse of that provision.
"Not only did this remove one of the most experienced, independent, and capable judges from hearing cases which require such independence and expertise," King wrote in his ruling, "it sent a clear and loud message to other local judges that they could expect similar treatment if they allowed the defense to inquire into similar allegations of misconduct."
King says the disqualifications are in violation of the Separation of Powers Doctrine of the state and U.S. constitutions.
The DA's office disagreed with King's ruling in a statement issued Wednesday and said that the office would seek an immediate appeal.
"Even following his ruling recusing the OCDA ... prosecutors have consistently litigated their cases in front of Judge Goethals, including a serious robbery case in his courtroom today," Wednesday's statement from the prosecutors' office read.
But King says that the "blanket" disqualification of Goethals has caused "murder cases and other felony cases to languish unnecessarily." As a result, "the court's responsibility to ensure the orderly administration of justice has been severely impacted."
District Attorney Tony Rackauckas has maintained that no one in his office intentionally behaved inappropriately. In an attempt to resolve the controversy, his office has assembled its own commission to investigate claims of prosecutor misconduct. But the size and complexity of the county's problem with its tainted informant program has prompted some legal experts to call for a sweeping federal investigation into the OCDA's office.
And just last month, more than three dozen former prosecutors and legal experts called on the Department of Justice to conduct a full investigation into the OCDA office as well as the Orange County Sheriff's Department over claims that county prosecutors have been obstructing justice, possibly for decades.
Popular in the Community