I recently read an article about a 1951 Thomas Hart Benton painting that sold for nearly $1.9 million at a Southeby's auction. The painting, Flood Disaster, was created to highlight the devastating flooding of the Kansas and Missouri rivers in July 1951 that killed 17 people and displaced more than half a million residents. The painting seems timely in light of the current flooding of the Mississippi River. It also seems to eerily foreshadow the destruction we're seeing from Sunday's tornado in Joplin, Missouri -- the town where a young Thomas Hart Benton worked as a cartoonist for the local newspaper.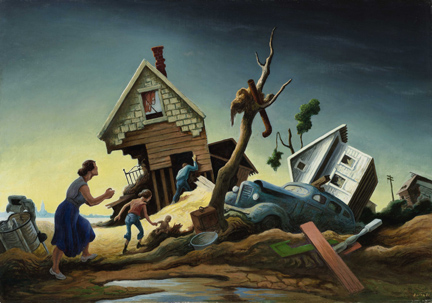 Thomas Hart Benton, Flood Disaster, 1951, Courtesy Southeby's

Ken Burns' "America: Thomas Hart Benton" paints a portrait of a hard-working, hard-drinking man full of contradictions. Born into a political family, he was named after his famous great-uncle, U.S. Senator Thomas Hart Benton, champion of Manifest Destiny. Benton's father was a U.S. Congressman who wanted his son to follow in the family footsteps to become a lawyer and a politician. But from an early age Benton wanted to be an artist and later said of his father, "that I should even think of becoming an artist gave him a sense of outrage. It would never do for a Benton to descend so low."
Benton left home at 17 and got a job as a cartoonist for the Joplin American newspaper, in Joplin, Missouri. Convinced he could make a living as an artist, he demanded to go to art school. Instead, his father sent him off to military school, determined to drive the art out of him. When his son proved a failure at military school, the elder Benton relented and sent him to the Chicago Art Institute. From there Benton went on to study in Paris and ultimately landed in New York where he tried his hand at all the artistic "isms" of the early 20th century.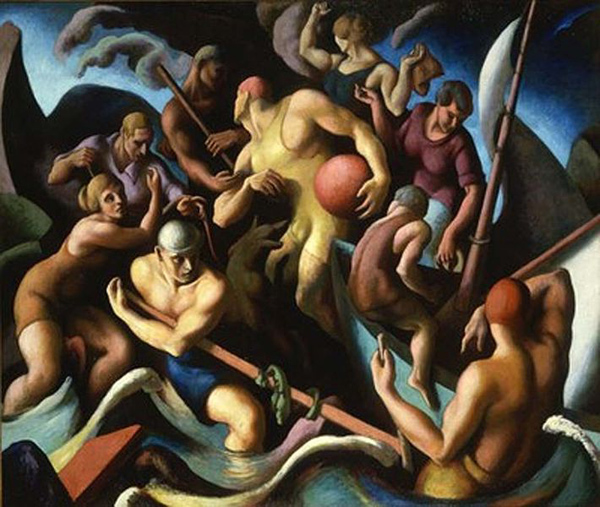 Thomas Hart Benton, People of Chilmark (Figure Composition), 1920, in the Hirshhorn Museum collection, Washington, D.C.
Drawn to the compositional principles of the Renaissance masters, Benton's breakthrough came with his discovery of Tintoretto's method of sculpting wax figures and lighting them to use as models for his paintings. For the next 55 years, Benton sculpted clay figures for every painting he painted. He abandoned any theoretical constructs of painting and embarked on a three dimensional story-telling that he believed was purely American in character.
He began to roam the rural areas of America making drawings of the people he encountered. He churned out paintings and murals at a breathtaking rate. He enjoyed success but was not without his critics who derided him as a "regionalist," a label that he proudly adopted and that has stuck to him to this day.
Fed up with the New York art world, which he saw as "morbidly narrow, highly critical of innovation and under the domination of homosexuals," at the age of 45 Benton moved back to Missouri to become the head of painting at the Kansas City Art Institute. He had dreams of making Kansas City the new Athens of America, dreams for the heartland that were never realized.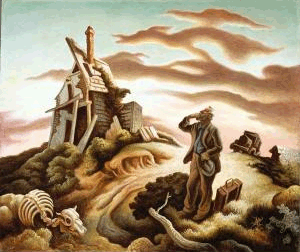 Thomas Hart Benton, Prodigal Son, c. 1939-1941, Dallas Museum of Art, Dallas Art Association Purchase
Benton fell out of favor after World War II and continued his battle against New York and the dominance of Abstract Expressionism. How ironic that a former student, Jackson Pollock, should become the most famous Abstract Expressionist. Pollock claimed he had learned nothing from his old teacher, saying that "Benton had come face to face with Michelangelo and lost."
And yet Pollock craved the approval of his teacher. Benton's sister, Mildred Small, recalls:
"He [Pollock] used to call Tom, in the middle of the night, always was, asking, well, really begging for Tom's approval. He felt attached to him always, I think. And Tom never gave it. He said 'Jack it's all right, whatever you want to do -- successful, you're successful, don't bother yourself about it, it's all right.'"
Benton remained in Kansas City until his death at the age of 85. On a January evening in 1975, he finished his dinner and went out to his studio to sign a mural he had just completed. He was found on the floor in front of the lower right hand corner of the unsigned mural. His grief-stricken wife of 53 years, Rita, died 10 weeks later.
(There was no trailer available for the Ken Burns film.)
Ken Burns' documentary, first broadcast in 1988, masterfully tells the story of Benton's high-powered life, artfully weaving together interviews with art critics, family and friends, original footage of Benton and reproductions of his work. You hear from both fans and foes of his work and legacy. Whether you're familiar with Benton's work or not, the film is a highly entertaining and informative look at a truly American artist.
Popular in the Community