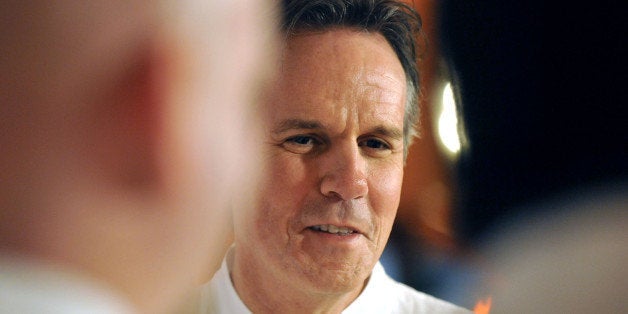 It would seem Chef Thomas Keller would have reason to be satisfied.
His flagship restaurant, The French Laundry, has been called the best in the world (twice), he's created an empire but maintained his impermeable brand and he's the only American chef to have been simultaneously awarded three Michelin Stars at two different restaurants.
But even the mighty are not without their critics.
In a recent feature in Vanity Fair, famed food journalist Corby Kummer assaulted Keller and chefs like him, calling his lengthy tasting menu and its required time commitment "tyrannical." The illustration featured Keller as a dictator, menacingly holding a whisk and wooden spoon.
But still, Keller marches on, dazzling diners from New York to Napa and recently launching a gluten-free flour, Cup 4 Cup, with Lena Kwak, the French Laundry's Research and Development Chef. (Yes, The French Laundry has an R&D Chef.)
Keller sat down with HuffPost SF on a recent afternoon to talk about the Vanity Fair critique, his endless pursuit of perfection and what's next for America's most famous restaurant.
Chef, you bought the French Laundry in 1994 when Yountville was a ghost town. How has it been to watch the area change over the years? I think that's pretty much common knowledge; you can find that on the website. Did you do any research on me whatsoever? I'd rather just talk about what you really want to know.
Alright, alright. In a recent Vanity Fair piece, Corby Kummer condemned the several-hour tasting menu experience at French Laundry, calling it "a form of torture." How do you respond to this critique? It's fine. I can't control what people write and Corby has to make a living. I'm not sure what the point of the article was.
Corby sent me two emails before that piece came out and when was he here last? 1997? His argument was that diners don't have a choice when they come to French Laundry, but as [San Francisco Chronicle Executive Food and Wine Editor] Michael Bauer pointed out, you make the choice when you make the reservation.
The tasting menu exists to make things easier for the guest. Coming to a restaurant like the French Laundry and having too many choices truly creates anxiety. Here you are coming into a famous restaurant and the last thing you want to do is make a mistake.
At the end of the day, I disagree with Corby's critique. From my point of view, if you come into my restaurant and you want a bowl of Corn Flakes, my job is to give you a bowl of Corn Flakes. I have no ego attached to what we do.
Does criticism like this make you rethink what you're doing? As chefs, we are our own worst critics, and we criticize ourselves to death. We don't often champion our successes so sometimes we have to take a step back, have a glass of champagne and say, "look at what we've done."
But we can never be satisfied. If I serve you a piece of fish and I have to make a compromise and for whatever reason I didn't get it exactly right, and then you come back in the kitchen and say, "Thomas, that was amazing, the best fish I ever had," to me, you're a schmuck. Because I know I could have done a better job.
Has there ever been a point where you've felt like you've made it? Never. It's an endless pursuit.
The product that you recently help launch, Cup 4 Cup, is a gluten-free flour that can now be used in your restaurants when needed. This seems to be a departure from the recent fine dining movement towards no substitutions. That's never been my philosophy and I've never understood it. It's like walking into an Italian restaurant and they can't split a bowl of pasta, which is the easiest thing in the world to split. If you can take your ego out of it, you can do anything the guest wants.
Speaking of ego, what do you think of the rise of the celebrity chef? I should turn that question on you. We didn't create the celebrity chef, the media did. I never said I was a celebrity chef. I can only express to you my ideas and it's up to you to decide how you write about it.
With that said, I encourage the media to redefine what the modern chef is and reduce this idea of celebrities. I didn't begin cooking because I thought it might lead to fame or fortune. I began cooking to nourish people. I wish that you would call them leaders in the profession. We don't call people in the medical field "medical celebrities."
You have four restaurants and a bakery, cookbooks, wines, a line with Williams Sonoma and now Cup4Cup. Do you ever worry that you're spreading yourself too thin? I would be if I were the one cooking at all of my restaurants. But the point is not to be everywhere at once; it's to create a team that you trust entirely.
I have people who have been with me for 13 years. When I hire someone, I commit to them 100 percent, and teach them to come in tomorrow and do a little bit better of a job than you did today. When we are all doing that together, we can do something impactful.
What's next? Do you think you'll ever open another restaurant? I don't know if I'll open another restaurant. You know, I'm 57 years old and I can't stay in the kitchen forever.
I get that question all the time: what's next? There's this fascination with always needing to be doing something else. Why can't we just continue doing what we're doing? It's hard for a chef, because if I open another restaurant I'm "spreading myself too thin" and if I don't it's "why aren't you opening another restaurant?"
If you had to close all of your restaurants and keep only one, would it be French Laundry? Of course. You and I both know that.
I've heard you're quite the baseball fan. Who's not? If there were something else I could have done I would have been a professional baseball player. Unfortunately I didn't have the talent for that.
Going to a baseball game is very stimulating; I think it has to do with the green grass and the white uniforms--that beautiful contrast. It's like a ballet. I love that in restaurants, too. Have you been to the Four Seasons Restaurant in New York? If you ever get to New York, go there. Not necessarily for the food; the food's good, it's very simple and old school. But the restaurant's design is extraordinary. It just sends goose chills up my back when I walk into that restaurant.
Are there any restaurants in San Francisco that make you feel that way? We don't have those iconic restaurants here; they're all gone. I don't know why that is. Maybe it's people's commitment to restaurants or the need for change.
What about the French Laundry? I hope it stays here. The goal is for it to become someone else's restaurant. Whoever takes it from me will take what I've done and do better.
Interview has been edited for brevity. Want to whip up some of the Keller experience at home? Check out the recipe below for Ad Hoc-inspired gluten-free fried chicken courtesy of Cup 4 Cup:
Ingredients:
• 1 whole chicken, broken down into 10 pieces
• 3 cups C4C flour
• 2 cups buttermilk
• 4 tablespoons onion powder
• 4 tablespoons garlic powder
• 3 tablespoons kosher salt
• 1 tablespoon cayenne pepper
• 1 tablespoon black pepper
• Hot sauce, we like Tabasco
• Peanut Oil
• Maple Syrup
• Fresh rosemary sprigs, washed and dried
Procedure:
1. Place the chicken in a shallow baking dish and cover with buttermilk and a few liberal dashes of your favorite hot sauce. Season with a big pinch of salt and pepper.
2. Allow the chicken to sit in the refrigerator for at least 1 hour.
3. Combine all dry ingredients in a bowl.
4. Heat peanut oil to 350° C.
5. Remove chicken from the marinade and dredge into flour mixture. Coat it evenly and all over. NOTE: Thicker pieces lend to more crunch.
6. Gently place chicken into hot oil and fry for 3-4 minutes on each side or until golden brown.
7. Place chicken on rack to rest before serving.
8. After all the chicken is cooled, fry the rosemary sprigs until crispy for an attractive garnish.
9. To assemble, serve with waffles and drizzle with maple syrup.
Take a look at the businesses that make up Keller's empire below: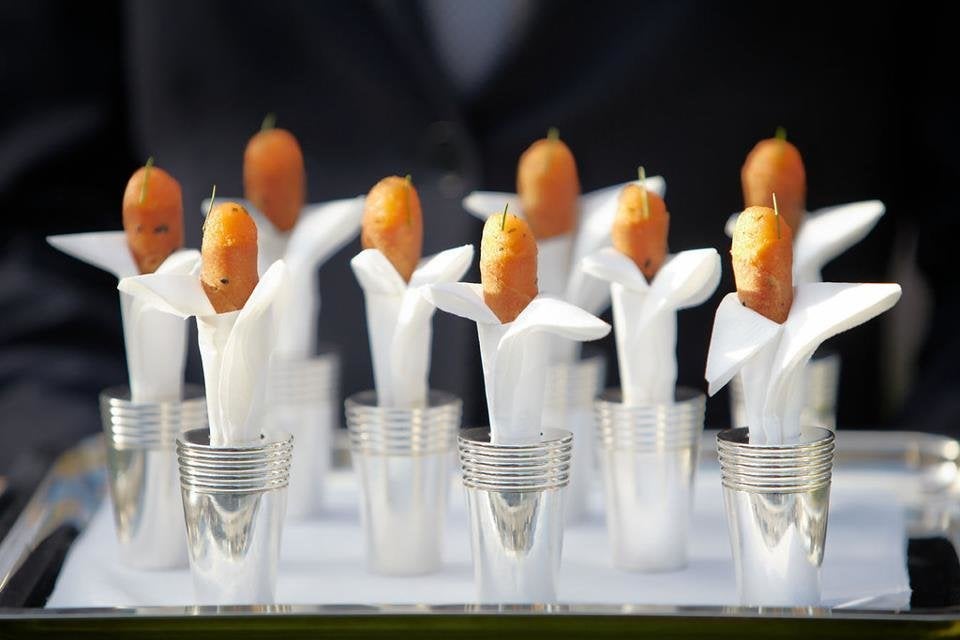 Thomas Keller Restaurant Group
Support HuffPost
The Stakes Have Never Been Higher
Related
Popular in the Community