Despite assurances he would stop giving interviews about his daughter Meghan, Duchess of Sussex, Thomas Markle can't quit talking to the press.
The former lighting director recently spent nine hours ― over the course of three days ― talking to the Mail on Sunday about the Duke and Duchess of Sussex in an interview published over the weekend.
Among his many bombshell quotes, he said that it would be easier for Meghan if he died, due to the fact "everybody would be filled with sympathy for her."
"I refuse to stay quiet. What riles me is Meghan's sense of superiority. She'd be nothing without me. I made her the Duchess she is today. Everything that Meghan is, I made her," he said.
Markle also brought up the late Princess Diana and said she wouldn't have allowed this treatment of him.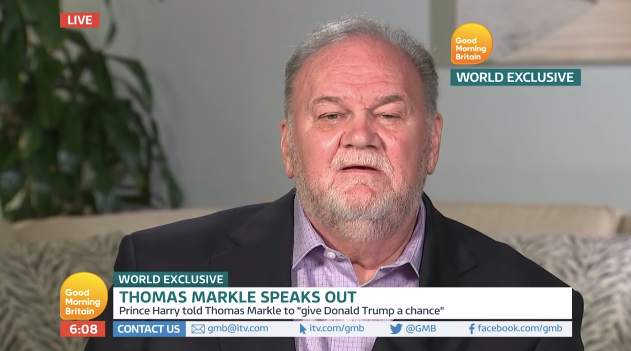 ″[The royal family] have Meghan treating her father in a way that Harry's mother, Princess Diana, would have loathed. That's not what Diana stood for," he said.
He added that he likely won't be able to see Meghan and Prince's Harry's future children because of their lack of contact.
"What's sad is that some time in the next year Meghan and Harry will have a baby and I'll be a grandfather, and if we're not speaking I won't see my grandchild," Markle said. "How tragic is that, to deprive a child of its grandfather because I said a few things critical of the Royal Family?"
Chrissy Teigen slammed the former lighting director for his willingness to badmouth his daughter.
"This guy...this guy sucks. what is wrong with him? let your daughter be happy, please. this is embarrassing," she wrote.
Thomas Markle isn't the only family member that continues to hit out at Meghan. The "Suits" star's half-sister, Samantha Grant, repeatedly attacked the duchess in a series of tweets two weeks ago.
"My father is not an embarrassment for loving his daughter! The Royals are an embarrassment for being so cold," she said. "You should be ashamed of yourselves @KensingtonRoyal."
She didn't stop there, adding, "How about you pay tribute to your own father?! Enough is enough. Act like a humanitarian act like a woman! If our father dies I'm holding you responsible, Meg!"
Kensington Palace has yet to issue a response to any of Markle's family comments.
The Duke and Duchess of Sussex haven't commented on the repeated interviews either. The two continue to put on a united front at the recent events they've attended together.