Markle, a former Hollywood lighting director who has been estranged from his daughter, spoke about misleading Meghan and Harry in a Channel 5 documentary released Wednesday.
Just days before the royal wedding on May 19, 2018, the Mail on Sunday broke the story that photos of Markle that appeared to show him preparing for the nuptials had been staged. The paper reported it had video showing Markle meeting Los Angeles-based photographer Jeff Rayner of the Coleman-Rayner picture agency.
Markle was photographed reading a book about Great Britain and an article about Meghan and Harry. He also was shown getting measured for a suit and lifting weights.
The now-Duke and Duchess of Sussex contacted Markle after the photos were published to ask if they were staged, but he said in the new documentary that he denied it.
"All Harry asked me was did I pose for measurements for a suit, and I said, 'No, I wasn't posing for a measurement for a suit, I was being measured for a new hoodie," Thomas said, according to clips obtained by the Mirror. "That's what I told them."
"And of course that was a lie," he added. "I lied to him. I'm not proud of that, but I did. I didn't do it for money. I did this to change my image."
Despite his claim, Markle admitted he's still making money off of the photos.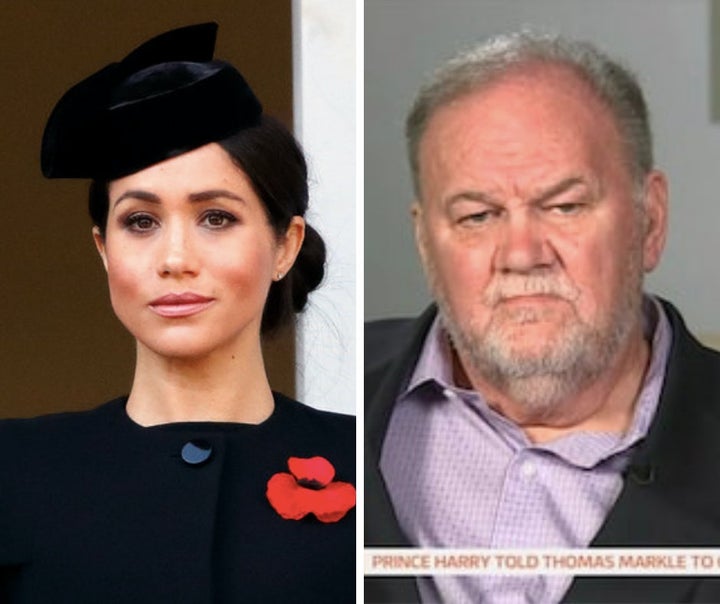 "Absolutely, those pictures will sell forever," he said in the documentary. "At this point, they owe me. The royals owe me. Harry owes me, Meghan owes me. What I've been through I should be rewarded for."
Meghan has reportedly not spoken to her father, who has repeatedly attacked the duchess in the press, since the day after the royal wedding. Harry has never met him in person.
Neither Kensington Palace nor Buckingham Palace has commented on any of the claims raised by Thomas Markle or by Meghan's half-sister, Samantha Markle, who's also known as Samantha Grant.
It is possible that Thomas Markle will be a key witness in Meghan's court case against Associated Newspapers, the company that owns the Daily Mail and Mail on Sunday.
The lawsuit centers around a letter that Meghan wrote to her father in August 2018, pouring our her heartbreak over his repeated criticisms of her in the tabloids. Parts of the letter were published in the Daily Mail in February 2019.
Prince Harry said last year that the publication omitted parts of the letter to twist its meaning. Meghan's lawyers say in the lawsuit that "the omitted or suppressed parts of the letter amount to almost half of the actual contents."
A Mail on Sunday spokesperson said in a November statement that the company would be "defending this case with the utmost vigour."
Popular in the Community