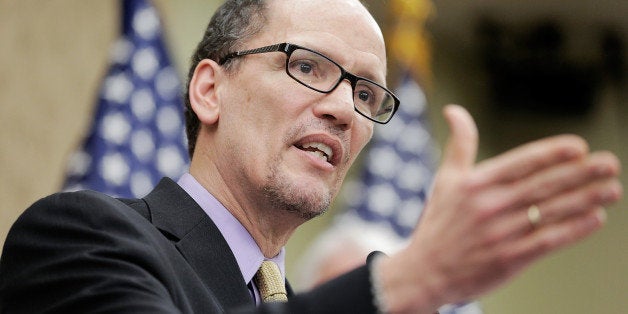 WASHINGTON -- When members of Congress suggest unemployed Americans aren't trying hard enough to get jobs, U.S. Labor Secretary Thomas Perez gets mad.
"When I hear people on Capitol Hill say the long-term unemployed are unemployed by choice, I wanna punch 'em," Perez said Tuesday during a meeting with reporters.
Perez paused and smiled. The reporters laughed. Perez said he felt strongly about the hardship of unemployment because as a youngster in Buffalo, New York, he'd witnessed his surrogate father struggle after a layoff -- and because of his conversations with unemployed people today.
"The thing they say that angers them as much as anything is when politicians suggest they're unemployed by choice, they're just sitting at home eating bonbons," Perez said. (He didn't cite a specific example of a politician alleging bonbon consumption by unemployed people.)
Perez has previously waded into the Capitol Hill policy debate on joblessness, repeatedly calling on Congress to revive extended unemployment insurance for the long-term jobless after lawmakers let the benefits expire last December. Republicans have tended to argue unemployment insurance doesn't do enough to create jobs, not that it actually stops people from taking them.
The Labor Department held the on-the-record meeting with several dozen journalists Tuesday to discuss ways for the Bureau of Labor Statistics to improve how it shares its vast data about the economy. Among many other things, several reporters pressed Perez and BLS Commissioner Erica Groshen to provide more data on the phenomenon of workers dropping out of the labor force. Jobless workers are only counted as participating in the labor market if they've sought jobs within four weeks of a government survey; if they haven't, they don't count as unemployed at all.
One reason the unemployment rate has fallen over the years is that the participation rate has fallen. Economists disagree about how much the decline in participation stems from the Baby Boom generation reaching retirement and how much it stems from people simply not trying to work anymore. Additional info from BLS could help settle the question.
Most of Tuesday's 90-minute discussion concerned data -- that's why Perez talked up individual stories toward the end of the event.
"I talk to long-term unemployed folks with regularity. We make a habit of doing focus groups because I'm a firm believer that if you just sit here and talk in the numbers, you get numb," he said. "These stories just keep me up at night, especially the long-term unemployed."
Calling all HuffPost superfans!
Sign up for membership to become a founding member and help shape HuffPost's next chapter
BEFORE YOU GO
PHOTO GALLERY
Distinguishable Members Of Congress