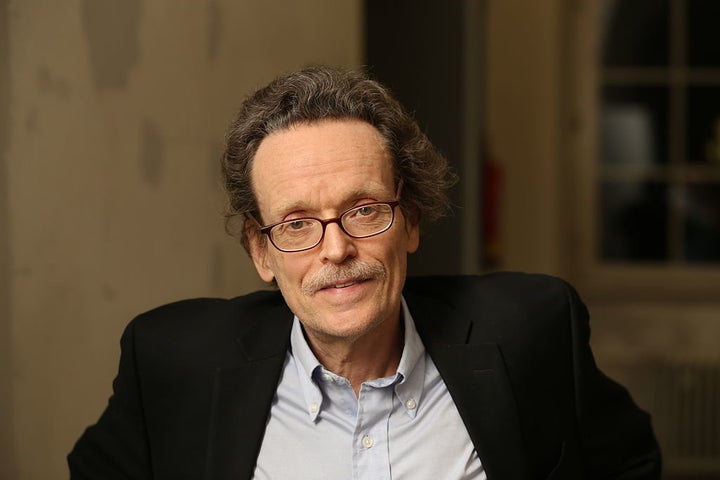 A group of 169 philosophy professors signed an open letter condemning the behavior of Thomas Pogge, a well-known ethicist based at Yale University, as more allegations come to light accusing him of harassing young women.
In the letter released Monday morning, they express hope that the U.S. Department of Education's Office for Civil Rights will investigate Yale's response to reports that Pogge sexually harassed Fernanda Lopez Aguilar, a former student of his, and that he had acted inappropriately with other young women of color. He was previously accused of sexual harassment as a professor at Columbia University in the 1990s.
Some of the professors who signed the letter are also pledging to skip out on conferences in which Pogge is involved and to remove his work from their curricula.
The "academic community must make its own decision about how to respond in light of what has been made public," the letter states. "We write, then, to express our belief that the information now in the public domain ... suffices to demonstrate that Pogge has engaged in behavior that violates the norms of appropriate professional conduct."
"We strongly condemn his harmful actions toward women, most notably women of color, and the entire academic community," the letter concludes.
The letter is signed by faculty from elite universities throughout the U.S., including 16 from Yale -- about half of the philosophy faculty there -- as well as professors from Belgium, Canada, the United Kingdom and Norway. Though he is based at Yale, Pogge also holds academic positions at the University of Oslo, King's College London and the U.K.'s University of Central Lancashire.
Stephen Darwall and Olav Gjelsvik, the chairs of philosophy at Yale and Oslo, both signed the letter. Alison Jaggar, a well-respected philosopher who edited a book on Pogge's work, signed the letter. More than 150 other students and faculty added their names on Monday afternoon, putting the total signatories over 300.
"I'm saddened by the fact that this was necessary, and that getting to this point has required the courage of so many victims, informants, and activists, all of whom have made significant sacrifices and will receive nothing in return," said Heidi Lockwood, a Southern Connecticut State University professor who helped organize the missive. "Public shunning is a last resort, to be used in cases in which the formal university channels fail -- in this case, due to technicalities about the boundaries of jurisdiction, and perhaps also due to a lack of will."
"If Columbia had not let Thomas get away with his behavior in the 1990s, many young women would have been spared his mistreatment."
Pogge was reprimanded for sexual harassment at Columbia around the academic year of 1994-95. He was also barred from entering a building whenever the student whom he was accused of harassing had classes there, according to documents submitted with Lopez Aguilar's complaint to the Education Department's Office for Civil Rights.
One of those documents was a signed affidavit submitted by professor Christia Mercer, who has taught philosophy at Columbia since 1991. Mercer cited as evidence an internal report about Pogge's behavior that she'd seen and a conversation with someone who had been an administrator at the time.
The university allegedly instructed several people with knowledge of these incidents not to speak about Pogge's case publicly or to others in the philosophy department.
"If Columbia had not let Thomas get away with his behavior in the 1990s, many young women would have been spared his mistreatment," Mercer told HuffPost.
Columbia declined to comment on the allegations against Pogge or its response to them.
But Pogge denied harassing anyone and disputed that he was asked to avoid any building on campus.
"Instead of a formal investigation and hearing, the issue was resolved through 'mediation' where I committed not to seek contact with her, not to seek access to her records, not to retaliate against her, not to participate in departmental deliberations about her and not tell others about the complaint," Pogge told HuffPost on Monday.
Yale knew that the professor had been accused of sexual harassment at Columbia when it recruited him in 2007. Pogge has confirmed that himself, even while insisting the charges he faced were fallacious.
However, in 2010, Lopez Aguilar told Yale that Pogge sexually harassed her during a conference in Chile hosted by the university's law school and that he withdrew an employment offer after she rejected his advances. She had just earned her bachelor's degree from Yale and was working briefly for the professor.
Pogge has said that "none of the alleged misconduct ever took place" and made public emails between him and Lopez Aguilar that he said should help clear his name.
Yale initially paid Lopez Aguilar $2,000 in exchange for her signing a gag order about her claims. The following year, the school, by then under a federal Title IX investigation of its own, looked into her allegations. It found Pogge responsible for professional misconduct, but not harassment. Lopez Aguilar filed complaints over Yale's handling of the case with the Education Department in 2011 and 2015.
"Yale has dropped the ball," said James Sterba, a University of Notre Dame philosophy professor.
Yale declined to offer any comment.
"You don't need him. He carries too much baggage -- he doesn't have to be cited anymore."
Since Lopez Aguilar went public with her story in May, additional women have said that Pogge acted inappropriately toward them.
Princeton University philosopher Delia Graff Fara, one of the people who signed the letter, released a brief statement last month saying that Pogge had harassed her during her senior year at Harvard in 1990-91 when he was a visiting professor. He kept her late after dinner one night and started rubbing her thigh, she said.
Erin Kelly, a philosopher at Tufts University, came forward over the weekend with a brief comment stating that Pogge had invited her to stay in his apartment in 1984 when she was considering going to graduate school at Columbia. Kelly said he had displayed "inappropriate behavior," but she did not sign the open letter.
Pogge told HuffPost he does not recall either interaction, but said that "lots of people stayed in my apartment in NYC, and I might well have offered her to stay there while looking at apartments and might then have sent her the key if I expected to be out of town."
Prior to news articles published last month by BuzzFeed and HuffPost, some professors had been working behind the scenes to share what they knew about Pogge's behavior and to encourage other academics to shun him. Those sorts of individual efforts are continuing in light of the public allegations.
Sterba, for instance, said he's no longer including Pogge's work in exams for his graduate students.
"You don't need him. He carries too much baggage -- he doesn't have to be cited anymore," Sterba said. "He's a negative image and we don't need that. Maybe if he was Einstein we'd have to cite him, but he's not."
Wendy Brown, a philosopher at the University of California, Berkeley, was invited to participate in a conference that Pogge was co-organizing. But she said she declined in part due to his behavior that was at the very least "exploitative of subordinates."
"The careers of the sexual harassers are essentially being protected by the institutions," Brown said, "and the careers of the objects of harassment are being sacrificed -- that's why I signed the letter."
Support HuffPost
The Stakes Have Never Been Higher
Related
Popular in the Community