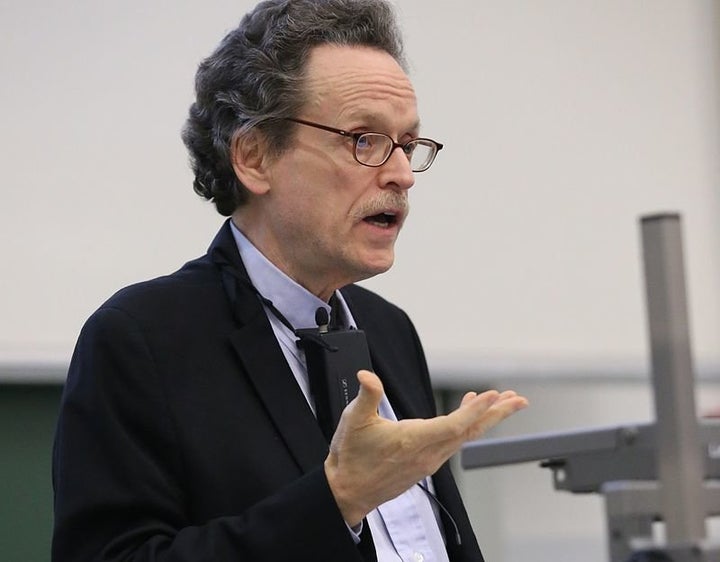 Aye decided two years ago that famed philosophy professor Thomas Pogge, the "global justice hero" she had dated for several months, had deceived her enough.
Aye, at the time a Ph.D. student at a European university, wrote a blog post about her relationship with an unnamed man who she suggested had abused his status as a renowned scholar based at Yale University to have affairs with several students. The website Thought Catalog published her essay on April 26, 2014.
"My tone in Thought Catalog is that this person is odious who is lying and cheating -- I wasn't thinking there was something bigger," she told The Huffington Post. Aye is not her real name, but a nickname she used to retain her anonymity in a BuzzFeed article published last month that details allegations of sexual harassment and misconduct against Pogge.
But academics in the philosophy world have felt for years that the universities would not adequately address the allegations against Pogge, and have tried to warn others who work with him about the complaints. Aye's Thought Catalog essay spurred a movement among some feminist professors to actively work to shun Pogge, suggest interviews with several professors in multiple countries and emails obtained by HuffPost.
The Decision To 'Warn Other Women'
Aye connected with Lopez Aguilar in April 2014 through the authors of the "What is it like to be a woman in philosophy?" blog. Aye agreed to help Lopez Aguilar with a potential lawsuit or federal complaint, and wrote an affidavit for her attorneys.
In her affidavit, obtained by HuffPost, Aye said she met Pogge at a conference in 2013, and began emailing with him soon after. He offered to help her career, she said, stating early on in an email, "Lots of job openings cross my desk, so maybe I can help you find a place where you can be productive in the [global justice] universe." She said she always denied his offers. Their relationship became intimate during his visits to Europe in late 2013.
But Aye said she decided in early 2014 to "warn other women" that Pogge had deceived her repeatedly, including hiding that he had been married for about 30 years.
Pogge has denied acting inappropriately with any graduate students.
Aye believed she was one of Pogge's "secret mistresses," she wrote in her affidavit, and that some of the other women were graduate students for whom he'd written recommendations. She alleged these relationships bordered on being "quid pro quo" arrangements.
Pogge said in an email to HuffPost that he had written a recommendation for one of the students he became intimately involved with, but said he did so before he "had any romantic relation with her." He said he was familiar with her academic work because he had taught her in the summer of 2010.
"His modus operandi is to befriend pretty young women in various cities, young women who admire his work," Aye wrote in her Thought Catalog essay. "He will not get involved with someone who is officially his student, but he will 'befriend' pretty women who aren't officially his students."
After the publication of the essay, rumors swirled about what famous philosopher the anonymous writer could be referring to. Some people correctly guessed Pogge was the subject of the piece. Yale's Title IX coordinator, Stephanie Spangler, reached out to Aye privately, and put out word that anyone with information about Pogge was encouraged to contact her directly.
"Everyone knows," Pogge told Aye in a phone conversation a day after the blog post was published, a recording of which was obtained by HuffPost and which is cited in a federal complaint against Yale.
He told her many people had emailed him about the blog post.
"Yeah, everything's true … I'm sure you're an honest person trying to depict it as accurately as you can," Pogge added at the time.
Pogge told HuffPost that Aye had recorded their phone conversations without his knowledge, claiming she gave information "to the Olivarius law firm which used it to find people with grudges against me and to tell people confidential things in order to turn them against me."
Professors Start Spreading The Word
Yale never charged Pogge with harassment after the blog post ran. However, Aye set up a website asking people who had experiences with the philosopher to contact her with corroborating information, which she thought could assist Lopez Aguilar's potential legal action against the school. Eric Schliesser, then a professor at Ghent University in Belgium, was among the academics who openly supported the cause and tried to take things further.
"Often, when I saw where he was on the program and I knew people organizing the conference, I alerted them to the controversy surrounding him," Schliesser told HuffPost.
Conference organizers would sometimes respond with annoyance that Schliesser was "meddling" with their program, he said, and many declined to remove Pogge from conferences since none of the accusations were public at the time.
Monique Deveaux, a global ethics professor at the University of Guelph in Canada, was scheduled to speak on a panel with Pogge at a conference in Belgium in fall 2015. She decided she would still speak, but make a point to bring up the issue of sexual harassment and gender inequalities.
Leading philosophers of global justice had a "blind spot to structures of power that subordinate women and racialized minorities," Deveaux said at the conference, according to her notes from the event. At another event, one of her European colleagues made a point about sexual assault just as Pogge was entering the room, she said.
"For some people that's too subtle," Deveaux said. "I don't know how many people understood what was going on."
One academic based in Europe, who spoke with HuffPost but requested anonymity, recounted that Pogge was scheduled to come to their campus for a workshop in 2014 with postgraduate students. The faculty there asked him to Skype in instead of actually coming to campus after learning privately of allegations of his misconduct.
Many faculty have turned to shunning as a strategy of dealing with Pogge, Deveaux said.
"It's a very old concept," she said. "But it was brought back in the absence of effective legal measures."
Universities Knew About The Allegations Against Pogge
Martha Nussbaum, a longtime professor at the University of Chicago, learned from a colleague a decade ago that Pogge had been sanctioned for harassment when he was at Columbia University. She did not invite him to events. "But I do not think Pogge's work is very good," Nussbaum noted.
Yale recruited Pogge away from Columbia in 2007. When Pogge faced university charges of sexually harassing Lopez Aguilar at Yale in 2011, he told the school investigator that Yale was fully aware of the allegations against him at Columbia, according to BuzzFeed. Yale hired him anyway.
Aye said Pogge had told her a different story about what happened at Columbia.
"He said that when he was at Columbia, he had a stalker who was crazy and eventually she entrapped him and performed oral sex on him, but the woman was crazy," she said. "Harassment never even came up, it was just him sharing a story about crazy women he's encountered in his life."
Pogge disputed part of that claim in an email to HuffPost: "I cannot recall ever telling her that I was stalked by anyone (nor was I in fact stalked by anyone -- at Columbia or elsewhere)."
Christia Mercer, who has taught philosophy at Columbia since 1991, said she was aware of allegations that Pogge had behaved inappropriately with a student at the school. Mercer said she warned professors at the University of Oslo in Norway, where both she and Pogge held academic positions, about the claims against him after she read the Thought Catalog essay in 2014. Pogge was reappointed later that academic year, and still holds a position with the university.
"I genuinely believe he is dangerous," Aye said. "I've spoken to a few other [students who had relationships with him]. He's caused a lot of harm and had some very lasting damage on others."
Related
Popular in the Community