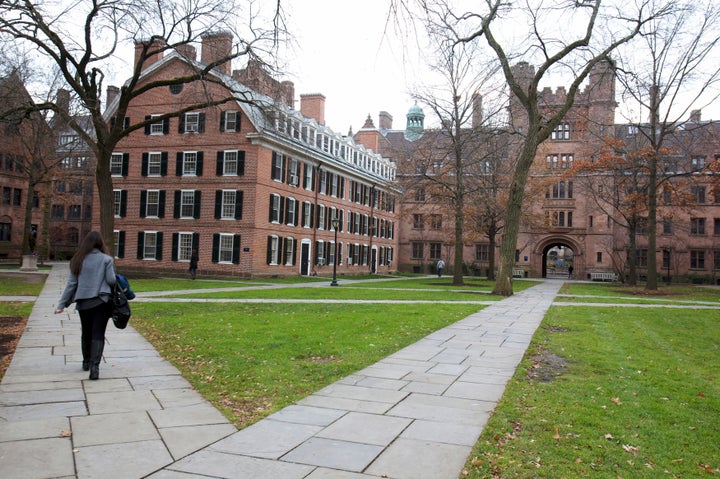 The star Yale University philosophy professor accused of sexually harassing a former student attempted to halt an investigation into her claims, confidential documents obtained by The Huffington Post reveal.
Thomas Pogge accused McAllister Olivarius, a law firm investigating the allegations, of spreading lies about him and causing stress that contributed to his heart attack, according to a 2012 complaint he filed with the New York Committee on Professional Standards.
The committee ultimately dismissed Pogge's complaint, and legal ethics experts say his allegations appear to have had little merit.
Former Yale student Fernanda Lopez Aguilar formally accused Pogge of sexually harassing her in 2010. Yale initially settled with Lopez Aguilar and got her to sign a university-drafted gag order, but the following year, after the school came under a federal investigation for other sexual misconduct cases, it began investigating her claims. In a hearing, Yale ultimately found Pogge not responsible for sexual harassment, but cited him for professional misconduct. Details of Lopez Aguilar's case only surfaced this past weekend.
Pogge has always denied the harassment accusations, and continued to do so in a statement this week. In his Oct. 2, 2012 complaint, he said the law firm lied about him while cold-contacting students he'd worked with to ask them about his behavior. He demanded that it be investigated, sanctioned and forced to reveal the full list of individuals it had contacted, according to a copy of the complaint obtained by The Huffington Post.
Additionally, Pogge alleged the firm's staff members lied about having "testimony that they did not in fact possess," causing him undue stress.
"I remember the heart attack vividly," Pogge told HuffPost on Tuesday. "Its proximate cause was an article I read. The article convinced me that Olivarius could just write anything they like to all my students, former students and anyone they choose even if they know it to be false (as their letters were). There was no recourse, no way to make them stop."
"The behaviors attributed to me go fundamentally against what I believe, teach and write about.""
But the New York Committee on Professional Standards didn't agree that McAllister Olivarius had acted unprofessionally and dismissed the complaint.
"Upon analysis and report by the staff, and review by the [Committee on Profession Standards], the Committee determined that there is an insufficient basis for a finding of professional misconduct by the attorneys in question and, therefore, we are closing our files in this matter," the committee wrote to Pogge on Jan. 31, 2013.
Legal experts who spoke to HuffPost say they aren't surprised Pogge's complaint was dismissed.
"It seems to me that his allegations are ridiculous," said Nancy J. Moore, an expert in attorney ethics at Boston University School of Law. "They are investigating her claims, and to the extent there was any kind of pattern here, that would be relevant to the lawsuit."
New York University law professor Stephen Gillers agreed. He said that if someone felt a law firm was defaming them, as Pogge claimed, it would have been more appropriate for him to file a lawsuit against the attorneys.
"The fact [the committee] dismissed it even without a lawsuit pending tells you that they thought the complaint had no merit," Gillers said.
"The fact they dismissed it even without a lawsuit pending tells you that they thought the complaint had no merit.""
Lopez Aguilar served as a research associate at McAllister Olivarius in 2013, a year after the firm originally considered whether to sue Yale for mishandling her case. Ann Olivarius, a founder of the firm, is herself a former plaintiff in the first Title IX sexual harassment case against Yale.
Olivarius declined to comment for this story, but sources with direct knowledge of Pogge's complaint told HuffPost that law firm staff began contacting students who had worked with Pogge in 2012. They added that other academics in the philosophy world told the firm that he had acted inappropriately toward other students.
Some of the firm's messages indicated that the firm already had testimony of Pogge's inappropriate behavior in its possession and suggested he "may be a serial predator." Pogge alleged in his complaint that they didn't have this evidence.
On July 21, 2012, Pogge contacted the firm, questioning whether it was "acting in good faith" for a forthcoming lawsuit or was just on a fishing expedition. The next day, Olivarius responded to Pogge, saying the firm hadn't decided whether to take legal action over his "inappropriate conduct," but would follow protocol to let him know and allow him a chance to respond. In the end, the firm did not file the lawsuit due to delays at the Equal Employment Opportunity Commission.
A few months after hearing from Olivarius, Pogge filed his complaint. "The behaviors attributed to me go fundamentally against what I believe, teach and write about," he wrote in the filing. "By the end of this summer I suffered a heart attack with my [primary care physician] commenting that I am the very last person he would have deemed at risk. I don't drink, I don't smoke, (never have), I am not overweight (143 lbs), I have not owned a car for decade (doing everything by bicycle), and my cholesterol on the day of the heart attack was in the 160s."
A student who later dated Pogge, and wrote anonymously about her affair with him in April 2014, said he told her that his heart attack had been caused by something else entirely -- the stress of ending a relationship with another student in 2012.
The first student made the claim in a 2014 affidavit and reaffirmed it in a recent conversation with HuffPost. Lopez Aguilar cited the affidavit in her federal complaint against Yale in 2015, also obtained by HuffPost, as evidence that Pogge had acted inappropriately with multiple students but the school had not investigated properly.
Support HuffPost
The Stakes Have Never Been Higher
Popular in the Community