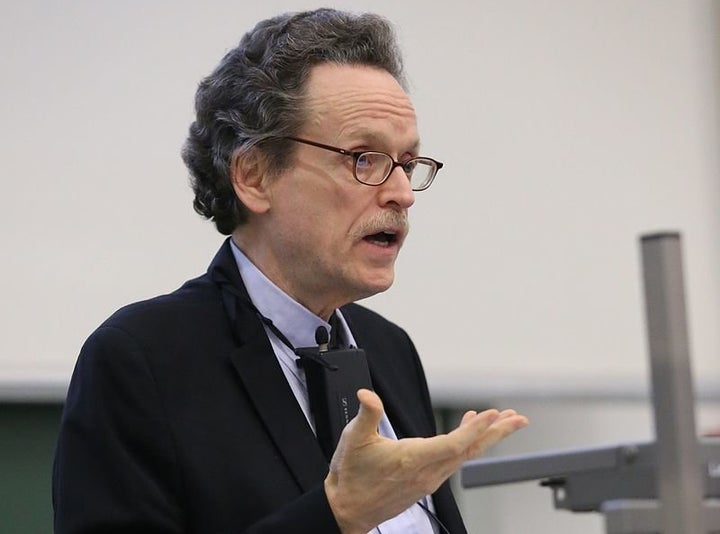 World-famous ethicist Thomas Pogge has crossed the line and violated professional standards, the former chair of the Yale University philosophy department said. 
"It's pretty clear that he's engaged in some pattern of behavior -- the precise contours of which remain contested -- but they nevertheless strike me as inappropriate and need to be condemned by the profession," Shelly Kagan, a philosophy professor at Yale, told The Huffington Post in a new interview.
Pogge was accused of sexual harassment at Yale in 2010 and when he was a professor at Columbia University in the 1990s. The allegations were first reported last month, and he is additionally accused of several instances of behaving inappropriately toward young graduate students. Pogge has denied any wrongdoing. 
Kagan, was previously served as an acting chair of Yale's philosophy department, was one of 169 philosophers who signed an open letter last week denouncing Pogge's conduct with students and calling on the academic community to respond, regardless of whatever action Yale may take. A majority of Pogge's colleagues in the Yale philosophy department put their name on it, and the total number of academics signing the letter now tops 1,000.
"There's no question he's done damage in my department," Kagan said. "I'm confident that's why so many of my colleagues signed the initial letter."
Kagan said he's particularly worried about the allegation that Pogge wrote letters of recommendation for people "for whom he had little or no academic contact, perhaps as part of maintaining or initiating a sexual relationship." 
"And that means it calls into question the value of letters he has written or might yet write for undergraduates or graduate students in our own department, which then harms the reputation of our students, and makes it difficult or impossible (or less attractive) for our students to work with him," Kagan said in a follow up email elaborating on this point. "All of which makes it less useful (or worse) to have him as a colleague. Now much of this sort of damage gets done regardless of whether these charges against Thomas are true: it suffices that there is a pattern of behavior that makes them credible."
French social scientist Dan Sperber declined an invitation to take part in a conference that Pogge is helping organize for spring 2017. In his response to the invitation from an Italian academic, Sperber called Pogge's involvement in the conference "just sick."
"Professor Pogge should not, until he has cleared his name (if he can), even think of organising an academic conference: asking people to participate to a conference of which he is a co-organizer is tantamount to asking them to pretend that Prof. Pogge's moral authority is not at issue, that, for instance, the academic benefit conferred by such an invitation couldn't be used by him as what he might consider an aid to seduction and what might be better described as a tool of sexual harassment," Sperber wrote in his emailed reply, according to a copy shared with HuffPost. 
"To accept such an invitation is, in fact, to give him tacit support," Sperber continued. "When, moreover, the conference involved is intended to honor the legacy of a man of such moral integrity as Albert Hirschman, this is just sick."
Melissa Williams, founding director of the Centre for Ethics at the University of Toronto, shared a copy of a letter she wrote to Pogge in which she admonished him for his "long train of abuses" and inappropriate behavior with young students. 
As long as "you continue to deny that your conduct has been seriously problematic," many colleagues will "have no choice but to refuse association with you," she wrote. 
Calling all HuffPost superfans!
Sign up for membership to become a founding member and help shape HuffPost's next chapter