Among top chefs, Thomas Schauer is widely known as one of the best food photographers in the world. Over the years he's worked with many notable chefs, among them José Andrés, Daniel Boulud, Dan Barber and Mario Lohninger. And this year, two of the cookbooks he photographed won the prestigious Gourmand Cookbook Award: Cocktails, The Best Drinks From The Legendary Apotheke Bar in Manhattan by Albert Trummer, and Kim Kocht Neu by Sohyi Kim.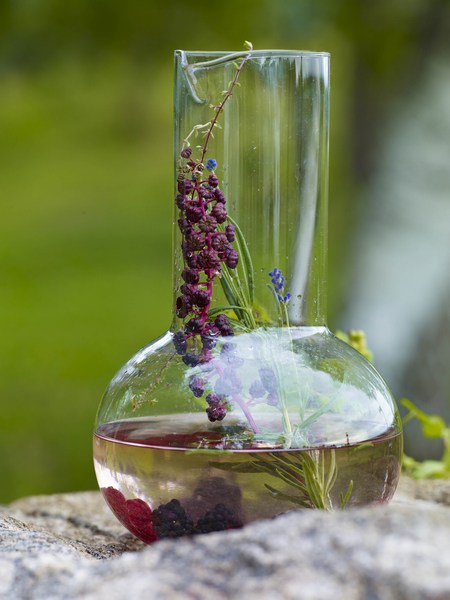 From "Cocktails, The Best Drinks From The Legendary Apotheke Bar in Manhattan" by Albert Trummer (Photo Courtesy Thomas Schauer)
Born in Austria, Thomas Schauer splits his time between his studios in Vienna and New York City, where he works with both U.S. and European chefs and food magazines. While he didn't start his career as a food photographer, his love of food that was nurtured since childhood eventually moved him from portraiture and advertising into gastronomy.
"Food has always been close to my life," said Schauer in an interview at his Manhattan photography studio. "I grew up cooking with my dad, and my grandparents and uncle had farms where they raised animals and produced all our own vegetables. So I always had respect for food and ingredients."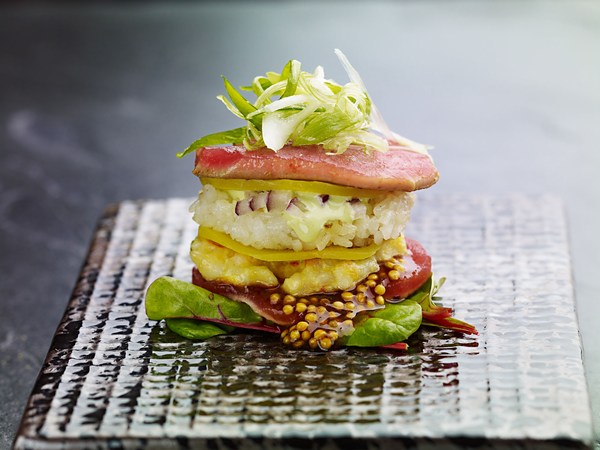 "Tuna Burger" From "Kim Kocht Neu" by Sohyi Kim (Photo Courtesy Thomas Schauer)
It's that respect that has kept Schauer's food photography all natural. "I don't like doing fake food to achieve any kind of result. The food I photograph doesn't have to look perfect, it should look like -- it should be -- exactly what the chef created."
This philosophy in his work can make for a challenging photo shoot. Sometimes he only has seconds to capture the shot, like the image of the baby vegetables for Dan Barber of Blue Hill at Stone Barns. Other times it requires the chef making multiple versions of the same thing so that each time it's photographed it's fresh.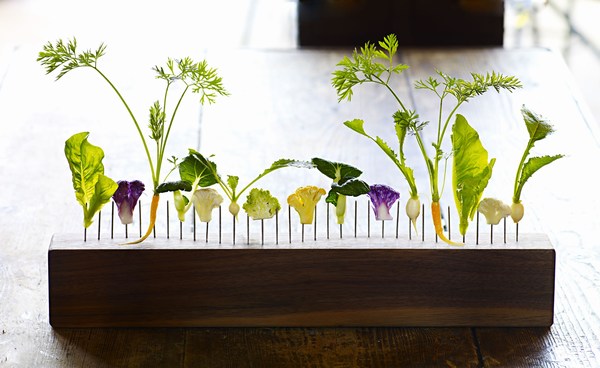 Dan Barber's Fall Vegetables, Blue Hill at Stone Barns (Photo Courtesy Thomas Schauer)
Thomas explained, "I like to capture the energy of the food, and for that you have to always have something fresh. Sometimes that means the chef has to make something five or six times. You have to capture the ingredients immediately because even within seconds, the appearance of a dish can change because the ingredients change. Like with the image of Mario Lohninger's sushi, it's fresh and it's glossy, but wait a few seconds and the cream would spread too much and the rice would dry out. Or Dan Barber's baby vegetables, they can start to wilt so quickly."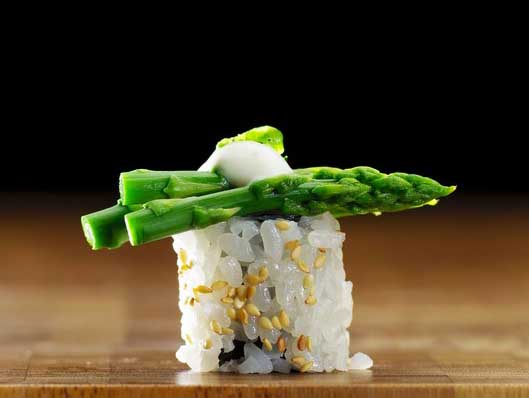 Sushi by Mario Lohninger (Photo Courtesy Thomas Schauer)
But the chefs don't mind. They respect the fact that Schauer values their work enough to want to capture it in its freshest and best state, without using any fake ingredients to prolong its beautiful appearance, and without using food stylists. When Schauer works with chefs, it's just the two of them, and they both care deeply about the food and the images.
"When you work with a chef on a book, it's great because the chef--the decision maker--is always right there. When I work with José or Daniel, they're on the shoot and they care so much. As we work, we can stop and look at the images on the screen together, and they can decide right then if it's good, if they want to change anything, it's a very intimate and immediate process."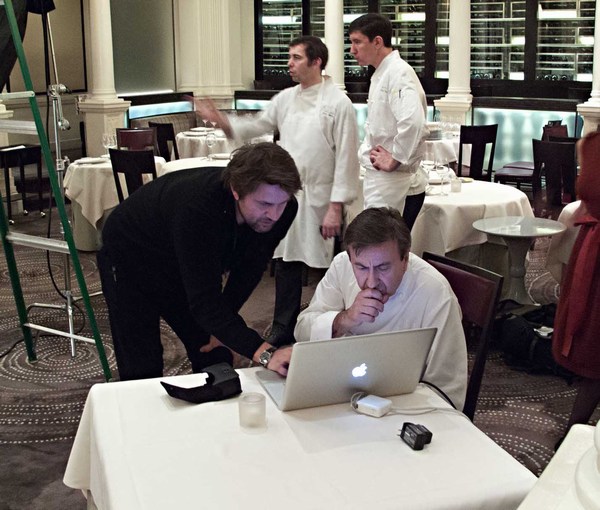 Thomas Schauer at work with Daniel Boulud on his upcoming cookbook (Photo Courtesy Thomas Schauer)
Thomas Schauer has worked with The New York Times, Harper Collins, Warner Music and Grand Marnier (to name just a few), and he does photo shoots for both U.S. and European food magazines about twelve times per year.
"When I do magazine work, I get total freedom to do what I want with the food. I'll only do magazines when they let me have this kind of creative freedom. For this one shoot I was working with regular recipes, but I wanted to present the ingredients in a totally new way, not just an image of the finished dish. I applied a completely different photo ascetic to regular recipes."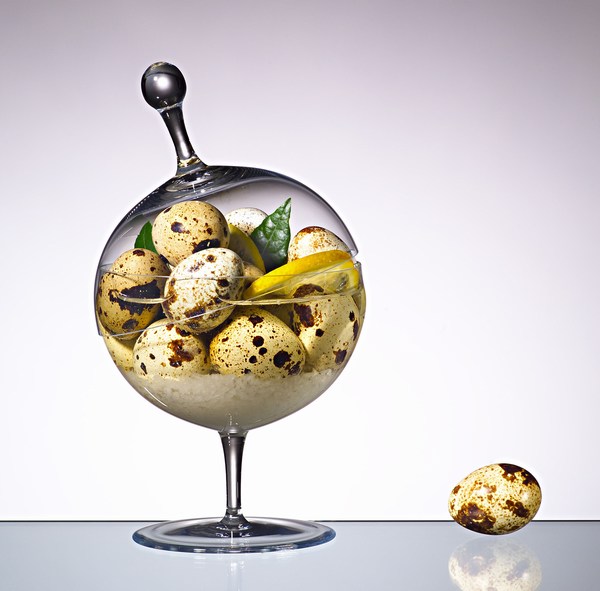 European magazine shoot, recipe for "Salted Quail Eggs" (Photo Courtesy Thomas Schauer)
Although Schauer enjoys the creative freedom that magazine shoots present for him, photographing the creations of the world's best chefs remains his deepest passion. "I love working with chefs, they're so interesting and creative. I get more and more knowledge about cooking and I get to talk to the chefs in depth about what they're making. They respect my work so much, and I feel so lucky to get to know them. We get very connected personally with each other."
When he was working on José Andrés' cookbook, the entire project was shot in Andrés' home, and every dish was made in José's home kitchen. "José is a really fun and crazy guy, so much energy. I love the way he thinks. When he brings me a dish he's made he says 'It will change your life when you taste this!'"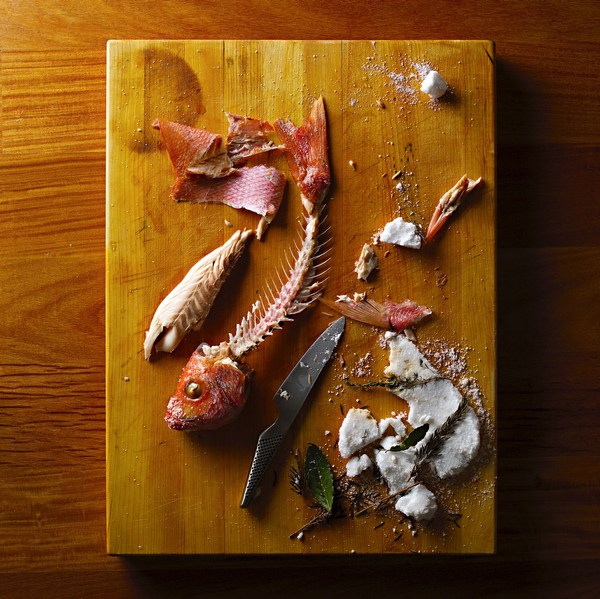 For José Andrés (Photo Courtesy Thomas Schauer)
Of Dan Barber, Schauer said, "Dan is very cool and focused when he works. His style is so unique and I love his approach to food. At Stone Barns Dan is more than a chef, he's a farmer and a scientist."
Thomas is currently shooting the upcoming cookbook from Daniel Boulud, a book that Boulud considers a compilation of his life's work in the kitchen. "Daniel is so talented and serious about his work, but at the same time, he's one of the nicest people you'll ever meet."
When I asked Thomas if he had a favorite project that he's worked on, he responded, "I can't compare the books I've done, each chef is has their own unique style. I have great memories with all of them, and I've made great friends with every chef I've worked with over the years."
The work of Thomas Schauer will be on display in a solo exhibition at La Boite Gallery and Spice by Lior Sercarz www.laboiteny.com
from September 27 through February 2013.
Check out this slideshow of Thomas Schauer's beautiful photography!
PHOTO GALLERY
Food Photography by Thomas Schauer
Calling all HuffPost superfans!
Sign up for membership to become a founding member and help shape HuffPost's next chapter