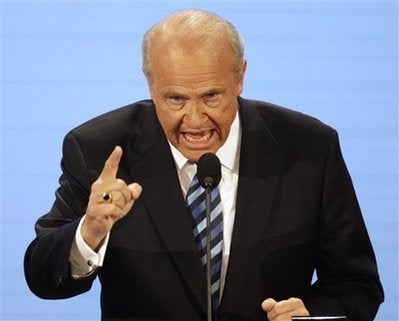 Sarah Palin couldn't name a Supreme Court case that she disagreed with because she had yet to be given a "list of cases to see," Fred Thompson explained Thursda, on the Early Show with CBS.
"You know, I think you got the answer there of probably almost 100 percent of non-lawyer candidates if they have not been given a list of cases to see; `They might ask you about this one, they might ask you about that one.'"
Thompson's odd defense came a the morning after CBS Evening News posted a clip of Palin unable to name a specific case she disagreed with other than Roe v. Wade. In a way, it was reflective of the tough bind in which the Alaska Governor has put her Republican defenders. While some conservatives have abandoned ship (calling on Palin to gently step out of the race), others have tried to lower the bar for acceptable standards for vice presidential candidate performance.
Thompson, for instance, suggested that it was okay for Palin not to have rudimentary knowledge of judicial history because she was not a lawyer. Of course, Palin is a journalism major but still couldn't name a news source she reads.
"Now, you could say she should have had time to go over that list," said Thompson, "and of course she will, and she'll have a chance to deal with the whole judicial side of things, which is new to people who are not lawyers."
Challenged by correspondent Maggie Rodriguez over the claim, the former Tennessee Senator -- as other members of the McCain campaign have -- turned his scorn on members of the media.
Mr. THOMPSON: She's coming in here with an array of things against her like nobody else ever has. There's a lot of people vested in her not doing well. The media...
RODRIGUEZ: But the Republicans want her to do well.
Mr. THOMPSON: She was not--she was not vetted by the media, she was not on the media short-list, the media does not like surprises, she's not giving the media access that they want. They're irritated about that.

Calling all HuffPost superfans!
Sign up for membership to become a founding member and help shape HuffPost's next chapter