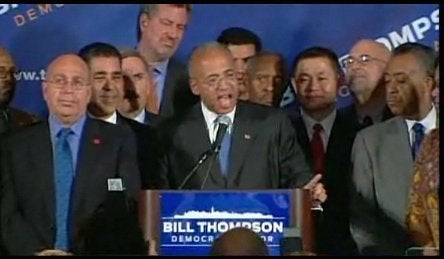 New Yorkers won't learn until after Thanksgiving just how much Mayor Michael Bloomberg spent on his 2009 re-election campaign. But the going estimate of "more than $100 million" seems pretty safe. And that number is so very, very large that it means the mayor's campaign was not only better budgeted than dozens of city agencies, larger than the combined annual income of people in many of the city's census tracts and more than many countries spend on their armed forces but also more expensive that many of the economic stimulus projects going on in New York.
Thirty million to repair the Brooklyn Bridge? The mayor spent more than that on television ads. Ten million for fixing Head Start centers? The mayor topped that on campaign consultants and professional services.
So maybe the mayor's largesse was a very personal way of making good on the promise that underlay his revision of term limits last year: that he was the guy to get New York through the economic crisis. The mayor has his own jet, his own Fortune 500 company—why not his own stimulus package?
Of course, not every stimulus package is the same. During the New Deal the feds spent millions to put shovels in the hands and dollars in the pockets of guys off the street. The Bloomberg campaign routed most of its cash through ad makers and buyers, but spending of any kind has a multiplier effect. John Maynard Keynes wrote that unemployment could be reduced by simply burying bottles full of bank notes and letting wealthier people pay other people to dig them up; by comparison, the Bloomberg campaign's spending on food, rent, salaries and even TV time looks like a far wiser program.
But if campaign finance records are any indication, a good deal of the economic impact of the mayor's campaign was felt outside the city and even the state.
Filings to the Campaign Finance Board attach an address to every campaign expenditure. The address reflects where the mayor's campaign sent its checks. To be sure, this is a crude indicator of where the mayor's money actually ended up. If the campaign bought supplies at a Staples in Manhattan but sent payment to the company headquarters in Boston, the check went to Bean-town but the money obviously has some impact on the local store and its workers. Large chunks of money sent to a communications consultant get chopped up and spent all over the place. Campaign operatives might have out-of-state mailing address, but actually work and live in New York during the campaign.
Keeping these flaws in mind, here's how the mayor's spending breaks down.
Of the $84 million in expenditures disclosed to date, Bloomberg sent $25 million in payments to addresses in New York State; $55 million to Washington, D.C. and a million each to mailboxes in California and Georgia. Illinois addresses took $428,000, New Jersey $290,000 and Massachusetts $210,000. The campaign sent smaller amounts to billing addresses in Connecticut, Virginia, Florida, Texas, Nebraska, Delaware, Missouri, Montana, Washington, Nevada and Tennessee.
The vast majority of his New York State spending hit, not surprisingly, in Manhattan—some $19.8 million ended up there. He spent $2 million in Queens ($1.2 million of that in Long Island City, specifically), a million and a half in Brooklyn, half a mil in the Bronx and $362,000 on Staten Island. Of the $800,000 or so the mayor spent elsewhere in New York State, the biggest chunk went to an address in East Greenbush where campaign staffer Michael Avella lives. About $100,000 went to addresses in the state capitol.
Democratic nominee Bill Thompson also cut checks for a healthy amount—$3.3 million—to out-of-state addresses, but most of the comptroller's spending went to New York mailboxes. Thompson's campaign routed $2.2 million to Pennsylvania addresses. The rest went to seventeen other states (including Minnesota, New Hampshire and Utah), the District of Colombia and Puerto Rico. And yes, the Democrat dropped $5,634 in Tennessee to the mayor's $570.
Overall, of course, the comptroller spent $6.6 million, far less than the mayor. If Thompson's campaign were a stimulus project, we might do better burying bank notes.
REAL LIFE. REAL NEWS. REAL VOICES.
Help us tell more of the stories that matter from voices that too often remain unheard.