By Emily Claire Brozyna, Penn State University
The Penn State IFC/Panhellenic Dance Marathon (THON) is more than its title could ever portray. THON is a year-long effort to raise money and awareness for the fight against pediatric cancer, which culminates in a climactic 46-hour no-sitting, no-sleeping dance marathon, and it's driven by college students.
In a time when millennials are looked to as an empowered generation, THON is a perfect example of what we can do as college students.
THON dates back to 1973, when 39 couples danced for 30 hours straight. They raised about $2,000 for charity that year, but 1977 was the year that the Four Diamonds Fund came into play. Since then, college students have helped to raise over $114 million benefitting the Four Diamonds Fund at Penn State Hershey Children's Hospital. Over $13 million was raised last year alone.
The Four Diamonds Fund helps kids fight cancer through financial support, medical team support, and research support. What is great about the fund is that it covers the expenses for the care and treatment of the kids that is not covered by insurance. This allows the families to focus solely on the health and happiness of their children. Each year, THON connects students to these brave children and the miracles that come out of this community are, to say the least, inspiring.
THON weekend is a time when the glimmer of hope that families hold is amplified into a crystal clear vision that cancer will be beat. It is a time when a burst of light shines on the darkest experiences of these children's lives. All weekend long, the excitement in the Bryce Jordan Center is as strong and steady as the torrent of multi-colored beach balls bouncing above the crowd. For 46 hours, State College becomes a ghost town, as every ounce of positive energy in the "Happy Valley" is channeled into this event and children that spend far too much of their childhoods in a hospital get to come play with the "big kids."
THON is where Penn State students defy the "careless college kid" stereotype and everyone (including the frat boys) sheds some tears. Despite how tired the dancers get, they know the fight to stay awake and on their feet does not compare to the fight against cancer these children are up against.
Brian Dunn, senior and THON 2014 Director of Morale, describes walking into THON as "a feeling that cannot be replicated anywhere else." When asked to share a prominent THON memory, Brian described a time when he truly realized how big of a difference we, as Penn State students, were making. When he was a Morale Captain, he was told to bring a family upstairs from the event floor to the concourse via elevator. While he was on the elevator, the THON child was bouncing off the walls.
"I looked at his mom, and just smiled," Brian said. "She told me how she hadn't seen her child smile or laugh that hard since well before he was diagnosed with cancer."
THON 2014 Public Relations director, Dana Giacobello, had the job of overseeing the Public Relations Committee, which serves as the voice of THON. This committee spreads awareness about THON and the fight against pediatric cancer on local, state, and national levels. Throughout the year, Dana was involved with planning major events that PR plays a huge role in, like the 100 Days Until THON celebration and the Mr. and Mrs. THON Pageant. Having being actively involved with THON since coming into Penn State, Dana said that THON makes a school of 40,000 students a tight-knit community. Putting it perfectly, she said, "Being in the Bryce Jordan Center during the final four hours of THON, the community feeling is palpable."
I've always thought that it was difficult to explain THON to people outside of the Penn State community. But it is not THON that is hard to explain. Rather, it's just that words cannot express the magnitude of the altruism that permeates every fiber of our being and our mission as Penn State college students.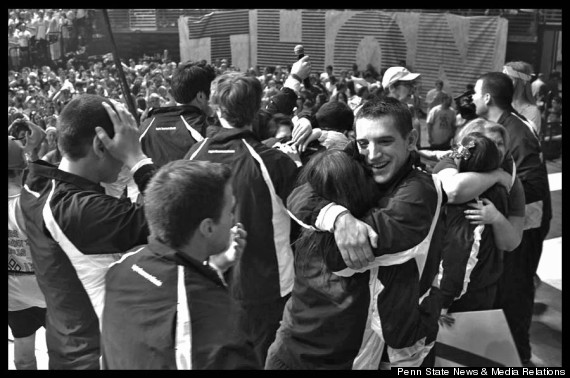 To donate to the Four Diamonds Fund please visit:
https://thon.org/about/fourdiamondsfund
Calling all HuffPost superfans!
Sign up for membership to become a founding member and help shape HuffPost's next chapter