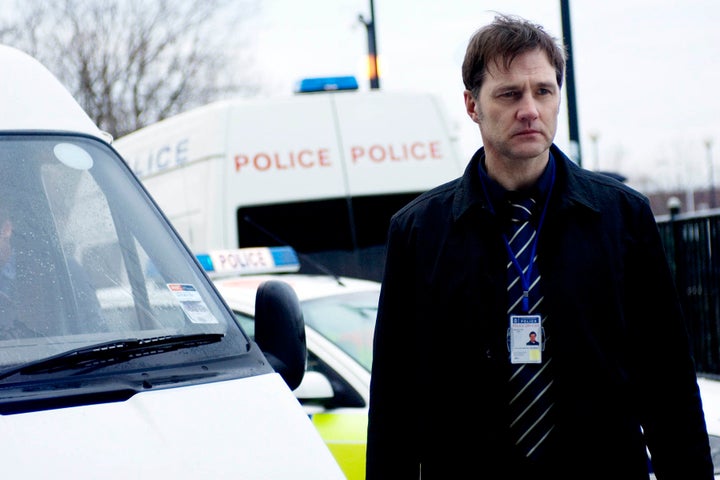 It's good to be David Morrissey -- not only did the British thesp recently land the iconic role of The Governor in Season 3 of "The Walking Dead," he also stars as the titular detective in Encore's tense crime thriller miniseries, "Thorne," which debuts Tuesday, June 12, at 9 p.m. ET. Part Two airs the following night, Wed., June 13 at 9 p.m. ET.
The two-part miniseries is adapted from Mark Billingham's bestselling novel, "Sleepyhead," and boasts an array of familiar TV faces, including "Grey's Anatomy" star Sandra Oh (with a plummy British accent, no less), Natascha McElhone of "Californication" and "The Wire" alum Aidan Gillen (most recently seen as the conniving Littlefinger on "Game of Thrones".)
According to Encore, Part One (titled "Sleepyhead") follows Thorne as he finds himself dragged back into the nightmares of his past while looking for a mysterious serial killer after a series of unusual attacks on young women. His first three victims are found dead. The fourth victim, Alison Willetts, survived an excruciating attack. Thorne knows that there are more deaths to come, as the killer enjoys toying with Thorne just as much as he gets a thrill out of pursuing his sick fantasy.
HuffPost TV has two exclusive clips from "Sleepyhead." The first features Morrissey and McElhone trading words over the condition of the serial killer's surviving victim, Alison, while the second sees the detective paying a visit to Gillen's character, medical examiner Phil Hendricks, in a morgue. Check them out below.
Caution, the first clip includes an instance of strong language.

"Thorne: Sleepyhead" and "Thorne: Scaredy Cat" air Tues., June 12 and Wed., June 13 at 9 p.m. ET on Encore.
Popular in the Community