The buzz that travels from the Sundance Film Festival bubble to the real world every January typically revolves around a small crop of Oscar hopefuls. But for every "Boyhood," there's an "Obvious Child" ― a discovery with passionate fans who want to shout its name from the cinematic rooftops. For me, this year's was "Thoroughbred." 
Sleek and delicious, "Thoroughbred" is a 90-minute romp through the spoils of suburbia, where decadent facades conceal murderous impulses. It blends the popular-girl pastiche of "Heathers" with the sensual psychodrama of Ingmar Bergman's "Persona."
Writer and director Cory Finley cast two self-proclaimed "Sundance kids" in his debut feature. Olivia Cooke, the dying girl in "Me and Earl and the Dying Girl," plays Amanda, a sociopathic Connecticut teenager who's become a social leper after slaying her family's horse. Sharp and resourceful, Amanda rehearses emotions but feels nothing. Anya Taylor-Joy, the witch in "The Witch," plays Lily, an estranged junior-high friend who reconnects with Amanda for study sessions. In truth, Amanda's mother has paid Lily to spend time with her daughter as a sort of arranged playdate. Lily is the picture-perfect classmate, preppy and beautiful and poised ― or so it seems. One problem: It's driving Lily mad to live with her vicious stepfather (Paul Sparks), who wants to ship her off to a boarding school for troublemakers.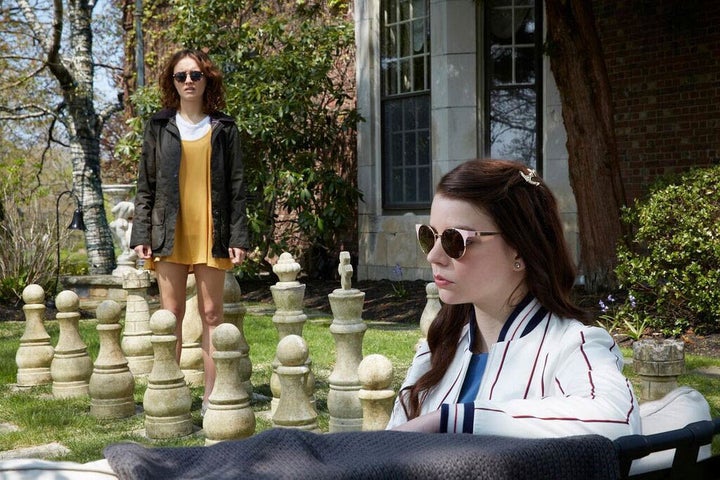 "Thoroughbred" was first a play, which Finley wrote as a "conversation about the relationship between emotions and morality." In keeping, Amanda and Lily's tainted virtues weigh heavily on the movie. Both are seeking relief from their prosaic realities. As often seen in teenagers, the more time they spend together, the more Amanda and Lily's personalities merge. And then, like a spark, they hatch a plan to murder Lily's stepfather with the help of a local drug dealer (a manic Anton Yelchin, in his final screen role).
"I thought it was interesting to set this story in a world that might be very morally insulating, but to have characters who are of an age where they're just starting to build their own value systems," Finley said.
As "Thoroughbred" continues, Amanda shows possible glimmers of normalcy, while Lily's temperament grows more cutthroat. Early in the film, Finley employs a standard shot/reverse-shot dialogue technique to place the girls on opposite sides of every conversation. By the end, they occupy the frame together, opposing the forces that cross their paths. All the while, Erik Friedlander's tribal score ― reminiscent of "The Witch" ― crescendos toward a bloody climax. 
"As the movie goes on, we start to resemble each other," Taylor-Joy said. "It's like we move in sync. My voice gets deeper, and I start speaking in a similar way that Amanda does. ... Lily's on this level of tension, but underneath this perfectly composed and preppy little girl, I just thought, 'It must be bloody exhausting to keep that up all the time, and there must be something going on underneath all of that that she's repressed.' She's really lonely and she's just in a toxic situation that I think is starting to seep into her own skin."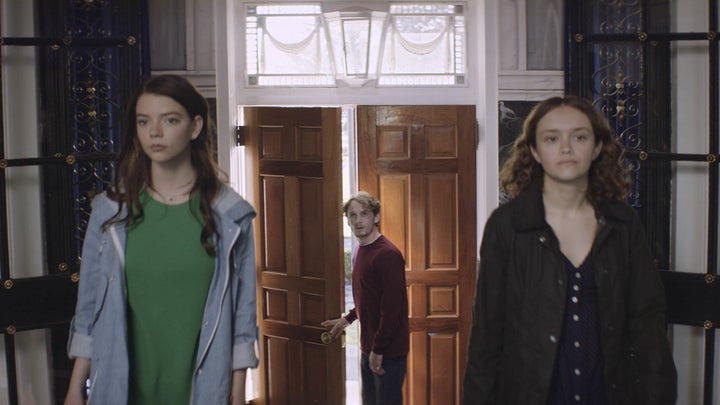 For the work of a first-time director, "Thoroughbred" is remarkably assured, mastering its satirical tone and portraying suburbia as a demented WASP playground. Finley cited "Mulholland Drive," the David Lynch thriller with similar themes, as his inspiration for becoming a filmmaker. Elements of "Mulholland" are evident in "Thoroughbred," as are hallmarks of "The Shining," chiefly in eerie long takes that snake through Lily's palatial home. The ending of Finley's movie is less enigmatic than those two, but the director was deliberate in leaving Amanda and Lily's psychology open to interpretation. 
Cooke was drawn to the role because it's the antithesis of "Me and Earl and the Dying Girl" and the "Psycho" prequel series "Bates Motel," in which she portrays hyper-emotional teens. As for Taylor-Joy, Lily complements her work in "The Witch" and M. Night Shyamalan's "Split," in which she personifies young women who refuse to become victims of their gloomy circumstances. Cooke and Taylor-Joy are aces in this movie, their characters peeling away at layers, as if in a constant tug-of-war with themselves, each other and the viewer. 
"I would hesitate to boil any part of their motivations down to any single factor," Finley said. "But I think who these characters are, as is true with all of us, is a mix of where they grew up, the people they grew up around, something ineffable about the way they were born, just how they were put on Earth, and then their influence on one another. I think that's the key piece in that motivational puzzle. But I also hope that it's a cause for discussion among audiences and people come away with their own takes."
REAL LIFE. REAL NEWS. REAL VOICES.
Help us tell more of the stories that matter from voices that too often remain unheard.
BEFORE YOU GO
PHOTO GALLERY
2017 Sundance Film Festival