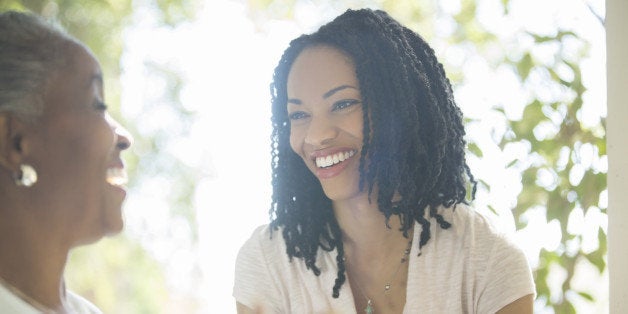 The other day, I was visiting New York City with my 26-year-old daughter, Kara. She asked me to help her rearrange closets (one of my favorite things to do) and get rid of clothes that she does not need. I was flying back to Santa Fe that evening, so we got to work early in the morning. The night before, we watched Whitney Houston movies -- The Preacher's Wife and The Bodyguard. So, of course, I downloaded the music so we could listen to it on repeat while we worked. We were both so happy in our sweats, dancing around the apartment, rearranging furniture and putting bags of clothes together to donate.
Kara and I both know when you get rid of things, you make room for new, amazing things to enter your life. Whenever we want to manifest something new and good in our lives, we start cleaning closets, getting stuff out from under the beds and passing them on to other people who could really use them. It's a win-win situation. The items get circulated back into the world, you create room for new things to come in. It's one of the most powerful, spiritual tools that I've used over the years. Teaching your children to give things away when they no longer need them helps them learn to detach from material possessions. Holding on prevents new and exciting things coming your way, the sooner we all learn this, the better.
Kara is a professional dancer. So when she dances for fun, it's always quirky steps and moves that look like something from a Saturday Night Live skit. She is hysterical -- I could not stop laughing. I remember the moment so clearly when I realized that we were having one of "those" moments together. Kara and I laughing and dancing was so special and amazing. I took it in and smiled, knowing how precious these moments are. They're unscripted, unplanned, and there are no photos of them. And the best part is: You never know when they're going to happen.
So many children are overscheduled these days. Parents plan wonderful vacations, sign their kids up for afterschool classes and fill up their time with things to do. Doing nothing allows special moments to happen and gives children the tools to be creative. Why not try some unscheduled scheduling? Like eating pancakes in bed on a Saturday morning, enjoying the local farmers market, going for a tech-free walk in nature. When you are there for your child, being present, mindful and joyful, the unplanned moments just happen like magic. It's like looking for a shooting star; You never know when they're going to happen. But when they do, your heart soars. With everyone's busy, hectic lives, my wish is for you to allow time in your busy lives for those cherished moments to happen.