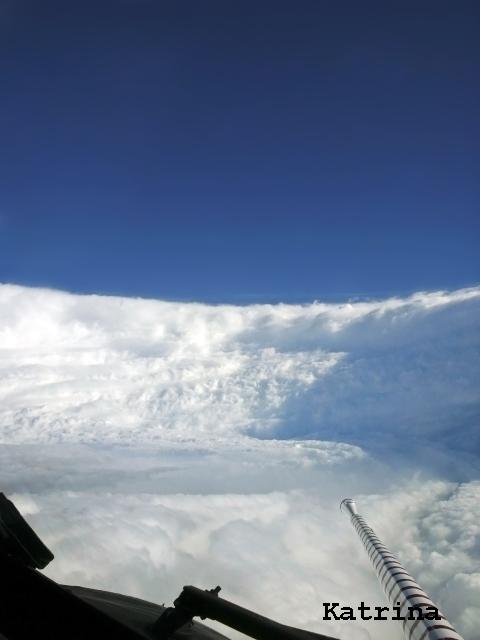 Like clockwork it is "hurricane season" again.
And like clockwork, the skilled and courageous men and women from the 53rd Weather Reconnaissance Squadron (WRS) at Keesler Air Force Base in Mississippi are literally flying into the eye of the storm again.
This year, Hurricane Hunters like Air Force Maj. Sean Cross will be especially busy as the 2013 hurricane season, which began June 1, promises to be a very active one.
The National Oceanic and Atmospheric Administration (NOAA) Climate Prediction Center (CPC) has indicated a "very active" 2013 Atlantic Hurricane Season, calling for a 70% chance of an above-normal season which would include the following ranges of activity:
• 13-20 Named Storms
• 7-11 Hurricanes
• 3-6 Major Hurricanes
(The Atlantic hurricane region includes the North Atlantic Ocean, Caribbean Sea, and Gulf of Mexico.)
The names for these storms have already been selected. The list of names starts with Andrea and ends with Wendy. This author's name is included in the list and here is hoping that storm or hurricane "Dorian" will be a gentle one -- if that can be attributed to a storm or hurricane.
Having tried to evade the fury of Hurricane Wilma in 2005, to no avail, I have every respect and admiration for these Hurricane Hunters who seek out and fly right into the jaws of these monsters so that others may be forewarned, seek safer ground and survive.
The craft, art, science -- some may call it "daredevilry" -- of "hurricane hunting" goes back a long way:
It all started in 1943 as a bar room dare, when two Army Air Corps pilots challenged each other to fly through a hurricane. On July 27, 1943, Maj. Joe Duckworth flew a propeller-driven, single-engine North American AT-6 "Texan" trainer into the eye of a hurricane. Major Duckworth flew into the eye of that storm twice that day, once with a navigator and again with a weather officer. These were generally considered to be the first airborne attempts to obtain data for use in plotting the position of a tropical cyclone as it approached land. Duckworth's pioneering efforts paved the way for further flights into tropical cyclones.
Today, the "dare" continues, but in a much more organized, state-of-the-art and effective manner.
The 53rd Weather Reconnaissance Squadron of the Air Force Reserve, a one-of-a-kind organization, has 10 Lockheed-Martin WC-130J Super Hercules aircraft equipped with palletized meteorological data-gathering instruments and is authorized 20 aircrews, all stationed at Keesler Air Force Base in Biloxi, Mississippi.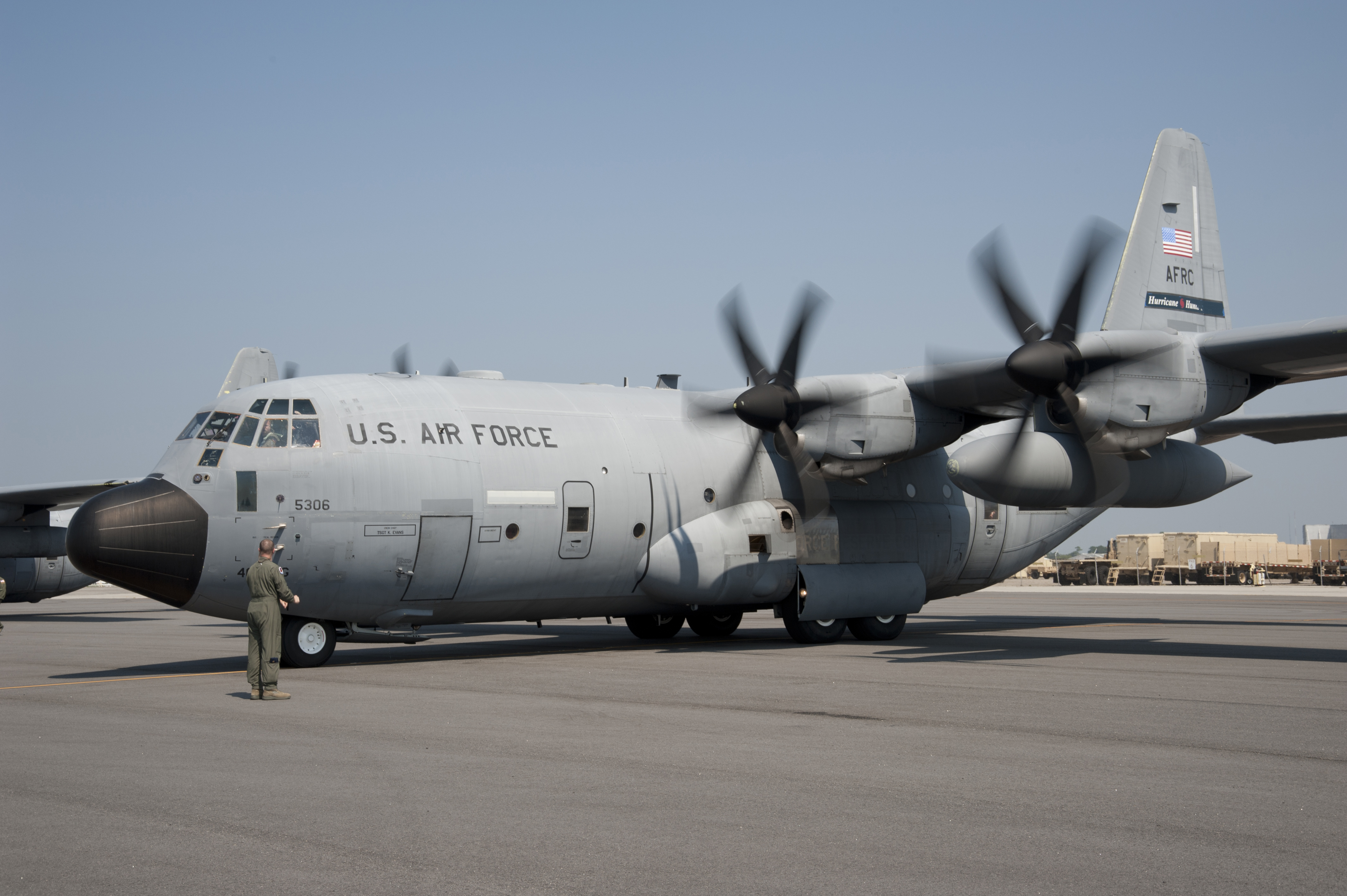 A WC-130J aircraft powers down after returning from the final flight into Hurricane Irene August 28, 2011. (U.S. Air Force photo/Tech. Sgt. Ryan Labadens)
The "Mission" sounds simple enough: "to conduct tropical storm reconnaissance."
But that includes flying an average of 11 hours, crisscrossing the storm and penetrating the powerful eyewall several times during each mission, releasing weather instruments in the eye, performing numerous measurements and analyses, establishing the exact latitude and longitude of the center as well as collecting wind speed, temperature, humidity barometric pressure and other information forecasters need to determine the path and strength of a hurricane.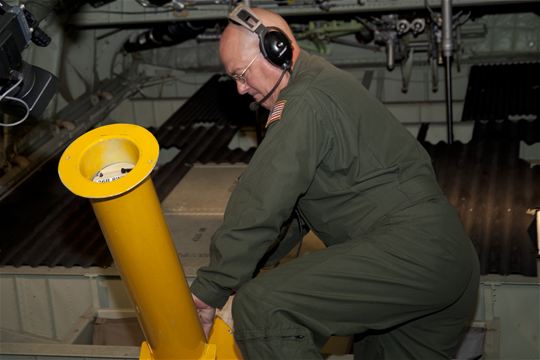 Senior Master Sgt. Anthony Hlavac, 53rd Weather Reconnaissance Squadron loadmaster, releases an airborne expendable bathythermograph over the Atlantic Ocean during Hurricane Irene August 27, 2011. (U.S. Air Force photo/Tech. Sgt. Ryan Labadens)
If and when needed, the 53rd WRS must be able to support 24-hour-a-day, continuous operations and have the ability to fly up to three storms at a time.
But flying these dangerous and demanding missions is not the only thing that makes the members of this unique Hurricane Hunters organization heroes in my eyes.
Many of the crewmembers flying these missions, such as Maj. Cross, a pilot, live with their families all along the Gulf Coast. As has happened all too often in the past, the same hurricanes they are flying into, may be heading straight for the areas where their loved ones live and are anxiously watching the progress of the storm.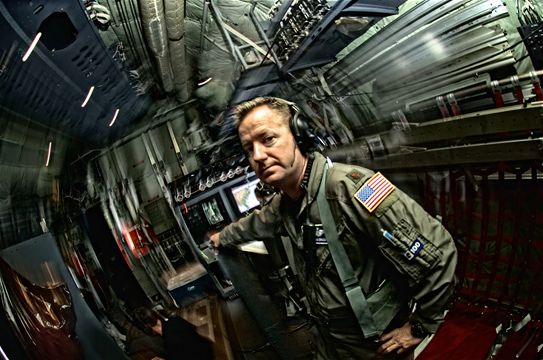 Maj. Sean Cross, pilot, 53rd Weather Reconnaissance Squadron's Hurricane Hunters, shown here as the flight commander on a mission into Hurricane Irene.
Instead of being there with their families, helping them prepare for the oncoming storm, perhaps even evacuating them, these men and women must stay laser focused on their mission and on the many other lives that are possibly at stake.
Major Cross who is now beginning his 13th season with the 53rd WRS and who has a wife and 3-year-old son in Biloxi, Mississippi, perhaps says it best:
We have crewmembers all across the Gulf Coast, so at any one time, anyone in the squadron can be directly affected by a storm. The tough part is when you're looking at the forecast as you're coming in to fly. Then, we go fly, and we're basically dropping crumbs along a trail as we're tracking the storm. We look at where we live and where this track is going and where it's shifting, and we're playing mind games with ourselves, basically trying to wish this storm somewhere else. No. 1, you've got to stay focused on the safety of the crew and the plane. But No. 2, you're thinking about the people on the ground and the lives that are going to be affected.
Cross flew into Hurricane Katrina twice in 2005. By the second flight it became clear that the hurricane was on a direct path toward the Mississippi coast, toward the homes of many of the Hurricane Hunters and their families.
Katrina killed more than 1,800 people and caused more than $95 billion in damage in Louisiana and Mississippi. Included in the list of victims are at least half a dozen members of the Hurricane Hunters who lost their homes to Katrina. Nevertheless, "[t]he squadron relocated to Dobbins Air Reserve Base, Ga., for the rest of the season and never missed a tasking from the National Hurricane Center," according to Randy Roughton of the Air Force News Service

Two months later, in October 2005, my family and I sought refuge in a cinderblock church annex in a poor section of Cancun as Hurricane Wilma, "the most intense hurricane ever recorded in the Atlantic Basin," battered Cancun with sustained winds of 145 miles per hour and gusts of nearly 200 miles per hour and "hovered" over and around Cancun for an incredible fifty hours.

Hurricane Wilma just offshore Cancun on October 20, 2005. (Image, Courtesy NASA)
While in the eye of the hurricane, the scores of tourists who had sought shelter in the church annex poured outside and looked up at the patches of blue sky clearly visible in the eye of the hurricane.
I did not see or hear our Hurricane Hunters then, but I know that they flew into Wilma and were instrumental in providing the warnings that may have saved our lives and certainly the lives of many others.
My thanks and admiration to these gallant and brave men and women in their WC-130J flying machines.
Read more about Maj. Sean Cross and his fellow Hurricane Hunters here.
Lead image: Hurricane Katrina. Courtesy NOAA. All other photos, DOD
Calling all HuffPost superfans!
Sign up for membership to become a founding member and help shape HuffPost's next chapter