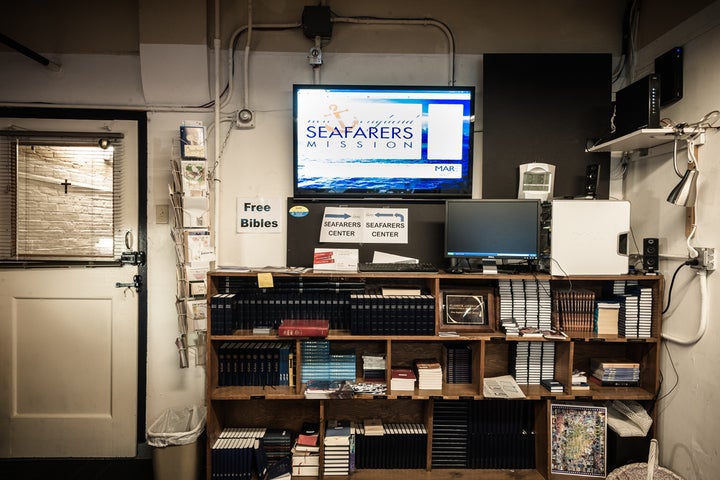 Boston celebrated its maritime heritage this weekend as we welcomed tall ships from all around the world into our port. From the fog-delayed televised parade of ships on Saturday morning to the thousands of people who visited the magnificent vessels at anchor – the pageantry and celebration showed Boston at its best.
I saw the tall ships on Sunday with representatives from the New England Seafarers Mission (NESM). From their headquarters in a building in the Boston Cruiseport Terminal, a group of chaplains deeply engaged in meeting the needs of modern sailors carries on work first begun in the nineteenth century.
The seafarers served by the chaplains of NESM are mostly non-American workers from developing nations who staff the container ships, tankers, cruise ships, and "ro-ros" (ships that cars roll on to and off of) that arrive in our port every day. While this weekend was about majestic sailing ships, these other everyday ships – and the unseen people who work on them – are the foundation of the global economy. Ninety percent of everything, author Rose George argues in her book by the same name, comes to us on these everyday ships via the global shipping industry, a sector invisible to most of us.
While the Coast Guard and Customs cares for the vessel and its cargo, port chaplains are the only people whose exclusive job it is to care for the crew. They visit the crews of shipping vessels, offering a human connection and ways to connect with families far away. They sell pre-paid SIM cards for voice calling and broadband data and loan modems so crew can connect with home. They transport seafarers with visas to local malls for the few hours they are in port. They offer friendship, conversation, local newspapers, and items like puzzles, toiletries and books to those without visas to disembark. They help workers send paychecks home to loved ones and sell comfort-food snacks from around the world. Most importantly, port chaplains offer a confidential listening ear and a safety net when wages are delayed, a seafarer is ill, or there are problems at home.
In Boston, port chaplains date to the early nineteenth century when Edward Thompson Taylor and other leaders of the Bethel Church movement built inns where sailors stayed between voyages. They held educational programs, offered religious services in the sail loft over the arch on Central Wharf, and provided religious libraries to departing vessels. The chaplaincy evolved from trying to save souls to mostly providing social services, and significantly changed its work after 1968 when facilities for container ships opened at Castle Island in South Boston and on the Mystic River in Charlestown. Containers allowed crews to be smaller and turn-around times shorter. Rather than bringing seafarers to their inns, port chaplains began to board vessels and connect with crew there. In 1986, when the port of Boston opened to cruise ships, hundreds more workers arrived regularly on these vessels and port chaplains adopted again – initially offering banks of telephones just off the vessels and ways cruise ship workers could send paychecks home to their families.
I have read about the history of port chaplains in Boston and interviewed and shadowed many of them in recent years while conducting research about their work. I have seen port chaplains humanize the port and show these foreign workers Boston at its most compassionate and hospitable. I watched one chaplain celebrate with a seafarer from the Philippines when he met his newborn by Skype for the first time. I have seen many laugh and joke with crew members who have seen no one but each other for weeks at sea. I have listened to chaplains talk about receiving the bodies of seafarers who died at sea, and holding memorials services on board. They have taken many sailors to area hospitals when ill and helped them get home when they were not able to continue with their vessels. Historically Christian, the majority of port chaplains in Boston and across the country offer services to all, speaking more with seafarers about common human experiences than explicitly religious concerns.
As we stand in awe of the tall ships as they depart from Boston tomorrow, let us not forget the everyday ships and their invisible workers who bring us ninety percent of the goods we use everyday. Let us also remember the port chaplains and the invisible safety nets they offer as they stand along-side foreign workers in the port of Boston and welcome them on their brief pause from traveling around and around and around the globe.
Related
Popular in the Community