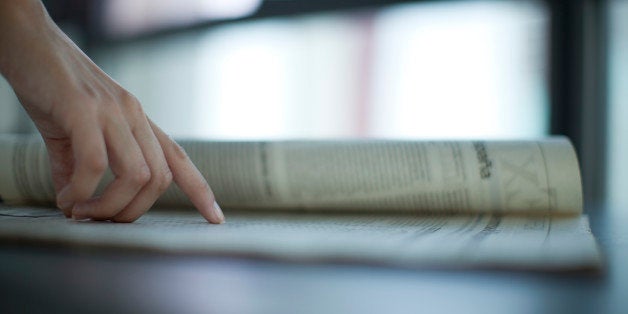 Sports are just for men, right?
Well, no, but that's what many people still believe. It's the 21st century, and in a time where feminism is such a popular topic, there are still men who question women's presence in press boxes, as well as their role in sports media. I was not going to write a piece like this, due to the fact that I am not too big on getting involved in politics or anything related to feminism. Trust me, I'm not even one who is easily offended when it comes to topics like this. However, as a young woman hoping to pursue a career in sports journalism, I feel like I need to speak the unspoken.
Being a woman in sports media sounds like a fun and exciting career, however, the reality is that the concept of a woman trying to work in the field of sports journalism is the equivalent to a season of American Horror Story. It seems fine and fun at first, but it's scary. First off, because you're a woman, and second, because that is the defining factor as to whether you make it or break it in the business.
Last week, in Twitter's "Moments" section, there was a post that caught my eye. It read "Women know sports, too." Considering I'm a young writer hoping to make a future career in sports journalism, I was immediately interested and clicked on the link, ready to see the stories of triumph from women in sports media.
And that's what I found, in the form of a series of tweets from Kate Feldman, a sports reporter who works for New York Daily News. She mainly reports on baseball, and took to Twitter to tell her story of how she broke into the world of sports journalism and decided to pursue her passion as a baseball writer. Her story was unbelievable.
https://twitter.com/kateefeldman/status/711249552007897088
She explained through an entire series of tweets that she is a reporter for the New York Daily News, and she covers sports and the Chicago Cubs. However, there are men who tell her that she knows nothing about sports and shouldn't be covering baseball because there are no professional female baseball players. There are grown male journalists working alongside her at Citi Field who ask her if she is in the wrong seat, because they seated her in the front row of the press box? Men tell her that her editors should be embarrassed for hiring her.
On a daily basis, even though she works at one of the world's largest publications, she faces disrespect, doubt and mortification. It's astonishing to know that it's 2016, and there are men allowed to sit in press boxes who believe that female reports shouldn't be there. Is this the early 1900s? Do women also need to stay home and take care of the children? I mean, come on.
When journalists are in a press box, they share a common bond, due to the fact that they are covering the same game and getting the same information. However, there's still a divide, and it's because of gender. There are journalists who look down on others and deny their capability and potential because of the fact that they are women. It's unbelievable to think about, and sounds silly when you put it in words, but the fact of the matter is that this is still a popular belief today.
And for me, that's terrifying.
In the Women's Media Center's most recent survey in 2014, women in sports media are an endangered species. Only 14.9 percent of sportswriting staffs are women, and 12.8 percent of surveyed sports columnists are women, and if you took away all of the ones that work for ESPN, that number plummets to 4.8 percent. The most chilling statistic of all? Ninety percent of all sports editors are white males, leaving only 10 percent of women in charge of sports sections.
I think that I speak for all women in sports media when I say, with confidence, that we know as much about sports as anybody else, and our sex is not a representation of our knowledge of any subject. Just because men dominate the majority of professional sports leagues does not mean that women are not allowed to report on it.
Right now, I work as a Washington Capitals beat reporter for the Sports Journal, and I am the editor of Oil on Whyte, FanSided's official site covering the Edmonton Oilers. And when I post my articles online, some of the feedback I get is positive, and at times, it is negative.
I have been told before that I know nothing about sports. I've been told that sports should be left to the big boys. But I'll let you know something: times are changing. Women don't "belong in the kitchen" and can absolutely care about sports.
In addition, think of this. What if I said that men can't work in the world of retail and cosmetics because it's a field dominated by women? Sounds ridiculous, right? If that's ridiculous, then why isn't the belief that women can't work in sports media because it's a field dominated by men also ridiculous? It makes no sense.
I'll even say this. I can take you to any sports bar on any given day, order a dozen hot wings then and tell you all I know about hockey. It goes beyond memorizing the names of hockey players and the logos of teams. I can tell you that Connor McDavid has passed Shayne Gostisbehere for fifth place in rookie scoring with 40 points in just 38 games. I can tell you exactly what Corsi and Fenwick is, and then go on to explain what the numbers say about defenders. I can tell you that Anze Kopitar is by far the best two-way forward in the league in my opinion.
You get the point. Women know sports, too. There should be more than 10 percent of female sports editors in the world, and there should be more female sports writers. Honestly, it is ridiculous that there are people who believe that gender is a reflection of how much you know about sports. And it's even more humiliating to know that the number of women who work in the industry is reflective of that belief.
To conclude this post (no, I'm really not trying to rant), I'm going to say this. There's a new wave coming, and women are not going to go extinct in the world of sports journalism. I'm a young journalism major who is already working to turn the tide in the world of sports journalism, and confidently, I can say that I am not alone. We are female sports writers, and we are ready to face the bleak reality of the sportswriting world today. But more importantly, we are ready to break that glass ceiling and pave the way for the future for women in sports media. There is only one way to go, and that is forward.
Calling all HuffPost superfans!
Sign up for membership to become a founding member and help shape HuffPost's next chapter