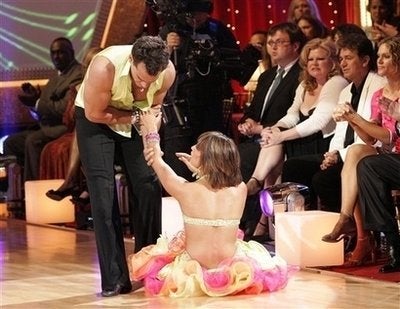 I said at the beginning of the season that Kristi Yamaguchi was the best contestant ever to be on the show, and last night she rightly won.
As one TV commentator once said of the show, "This isn't a pure dance competition; if it was it would be on PBS [as is the wonderful America's Ballroom Challenge]. This is largely a popularity contest." He was right, and so, one doesn't always know who will win. It could have easily been Jason Taylor (Miami Dolphin Defensive End) to emerge victorious since football players have so many fans and he had such an endearing personality. And Mario's (R&B singer) return performance last night made clear that, if the show revolved around who was best, he should have been dancing opposite Kristi in the finals.
Cristián de la Fuente and Jason put up an excellent fight though, and I think Monday night was the best finals show-down ever. Cristian is definitely the winner in the "most improved" category. I think he may be the most improved contestant ever on the show. At the beginning of the season I remember his limbs looking like spaghetti, totally out of control, no shaping or definition to his upper body, and he was dancing Latin too far up on his toes, had no grounding, and it just didn't look right.
Now all that is nearly gone. His hips are near perfect, he's much more weighted, his arms are not flailing out of control, and he has much better definition throughout his body. He's become just about the closest thing to a pro without actually being one, and, for someone who started out so poorly, it makes you proud for him. It bothered me that the judges criticized him for his freestyle lifts not being as spectacular as Jason's. Artistry should matter over theatrics, especially with judges.
Not only did Cristian do extremely well with the several waist-high lifts he did, but they were lovely and complemented the choreography and music nicely. Why does he need to raise his partner, Cheryl Bautista Burke, above his head just for the sake of showing he can? An overhead lift wouldn't have added anything to their routine; it would have been out of place with such fast, fluid music. And, other cute choreography more than made up. I liked the clever side steps over Cheryl's rolling body, which is harder than it looks; the timing must be perfect or disaster will happen. I just can't stop smiling whenever Cristian is on the floor, and that's what makes a dancer an artist.
Though Jason's group Cha Cha showed that he, unlike Cristian and Kristi, wasn't equally good at Standard and Latin, his freestyle was a real class act. His partner, Edyta Śliwińska (professional ballroom dancer), choreographed a perfectly fitting routine for him. It was like a downplayed, street-style hip hop and it looked perfect on him. I loved the little break-dancing floor moves, the playful punches, and just the funky bumping and grinding, rocking-out attitude of it all. I also loved the contrast with all of that, of the beautiful, and very ballet, overhead lift. That was something right out of Marius Petipa and I love that she had him doing it! Except his turning actually made it harder than typical ballet, where the danseur raises the ballerina far above his head and lightly transports her across stage that way. Jason's continuous spins while holding Edyta up there was another thing. Very dizzying; it takes a lot not to lose your balance as you turn like that! Anyway, maybe Jason will become as obsessed with ballet as he is with ballroom?
Watching Kristi on Monday night, I felt like I'd become less impressed with her since the beginning of the season, as if she did the opposite as Cristian and went from excellent to ordinary. That's not what happened of course. Mark Ballas began giving her more difficult routines, and he has been dancing at his fullest, showing her up a bit. Mark is a bit of a show-off in general; I noticed that last season when he'd do some crazy pirouette sequence and leave Sabrina Bryan off on her own. When Kristi mentioned in practice that Mark wanted to do a back flip in the freestyle, I rolled my eyes. But the way it came out, he didn't steal her light since he gave her a lot of tricky lifts to do as well. She's nearly flawless, but she is not completely so. Her legs don't come together properly and her upper body moves too much in her Cha Cha, and, in her freestyle, her leg lines in her upside-down lift were slightly off, unlike Julianne Hough's (professional ballroom dancer) as demonstrated during the practice session. And she just didn't have the height on the Jive jumps that Mark had or his polish.
I realized I was being harder on her than the others because I wanted perfection and it seemed like she could actually deliver. But, of course, she didn't have any ballroom background, so it was unfair to compare her to the ballroom pros. Still, figure skating being a form of dance (in that one needs to know the concept of a beautiful line, finding one's center, balance, coordination, artistic interpretation of music and theme, etc. etc. - all the dance basics). I think what really made me start to like her less, woman struggling against an anti-woman trend on the winner board or not, was that she was the antithesis of the underdog. Jason and Cristian were "normal" people who, through hard work and good training, learned to become dancers. And it's human nature to root for people to whom you can relate. But in the end, Kristi is by far the best ever to be on the show, and she rightly took home that trophy.
Popular in the Community