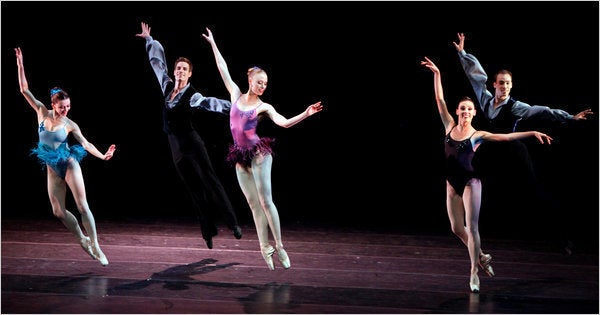 The Film: This morning, a friend sent me a link to this gorgeous, short 2D animation film featuring two dancers and I was blown away.
After nearly ten years as a dancer with the New York City Ballet, it's not very often that I see a drawing (let alone an animation) that I feel effectively reflects the form, aesthetic, movement, impetus, momentum, and emotion of a trained dancer moving through space. In addition to the impressive execution and choreographed dance steps, this piece takes on a beautiful artistic life all its own.
The Artist: After a quick search for more information about the project, I was surprised to discover that the animation was created by Ryan Woodward, a prolific storyboard artist and animator for Hollywood films like Ironman 2, Where the Wild Things Are and Spiderman 3. This particular film is part of a larger personal project of his called Conté Animated, which will be a gallery exhibition mixing figurative works with this animated short film.
Here are Ryan's own words about Conté Animated:
Conté Animated is a personal project of mine that combines several art forms into one exhibition. These concepts include the following:

1. The exploration of drawing the human figure in a variety of creative approaches. This stems from years of teaching creative gesture drawing.
2. 2d Animation. This process of animation revisits the passion in my early career as a 2d animator. The illusion of life!
3. Contemporary dance. Although I am not a dancer, I appreciate the talent and dedication that goes into a beautifully choreographed piece. A graceful moving human form can communicate more emotion than any length of dialogue.
4. and finally, the exploration of experimental processes and concepts contributes to my own personal growth as an artist. Having worked commercially for years, this project has allowed me to stretch beyond my former understanding of art.
The Process: Below is a documentary short about Ryan and choreographer Kori Wakamatsu experience creating "Thought of You". What's surprising to me is that even though Ryan is not a dancer, the quality and creativity with which he interpreted these dance movements feels as though he could be.
It was great to find this initial glimpse into the process at the end of my search for information about the project. When something new is created, particularly in the dance world, the focus is often entirely on the finished product.
As with any art form, the ultimate success or resonance of a final piece can't really be predicted. The initial inspiration and story behind the creative process, however, is something that can be invaluable to anyone interested in gaining further insight into a project, whether or not the final result is great. This material can even help garner more appreciation (or at the very least more context) for the final creation.
While some people prefer to experience a work of art without prior details, expectations or preconceived notions, illuminating the creative process provides an opportunity to inspire people on additional levels, whether it happens before or after they experience the final work.
Movement and Gesture: After reading Ryan's concepts for the piece, his interest in the exploration of creative gesture and communication through movement really stood out to me. While studying at the School of American Ballet, we had teachers who would devote so much time and energy to show us how a simple movement or gesture (like the offering of a hand, the presentation of a foot, the turn of a head) can be so rich with emotion and intention if approached a certain way. These are details I now strive to incorporate in my video work, whether the subject is dance or just a simple interview.
The depth of what can be communicated through human movement -- even when abstracted or interpreted in fewer dimensions -- is incredible.

Popular in the Community